Planning for an intentional summer is a great investment into your family. Use this summer bucket list printable to brainstorm and create a list of activities your family would like to complete together as a family over the summer months.
I'm kind of glad it's almost summer time, not because I particularly like hot weather (I don't) but because it will give us a chance to have some intentional family time.
The last two summers I have either been pregnant or in the newborn baby phase, so I'm excited to make the most of this summer with my 3 kids… even more so since my oldest heads off to Kindergarten in the fall which I'm still in complete denial about!
Recently I was reminded we only have 18 summers to invest in our children before they head off to college. While that seems so far off with my own little ones, I know it will be here before I know it.
I feel like it was just yesterday (June of 2010) when I found out I was pregnant for the very first time.  I blinked and here I am five years later with three little children.
The days are long but the years are short… oh my, how true is that!
I don't want to take for granted the time we have together during these precious years of babies and young children. Soon my kid's days will be filled with friends, sports, camps or other activities competing for their attention.
I want to make the most of this time we have now.
Creating a bucket list is a great way to be intentional with our time and will help us in planning for an intentional summer together.
There are so many fun activities we could add to fill up our summers but I don't want to fill it up with so much that it leaves us feeling tired and stressed. I want to make sure we have plenty of time this summer to rest and be at home as well.
Outside of fun summer activities and times of rest, the other important space I want to make sure we are creating time for is Bible study and intentional learning activities. Not only do I need a daily quiet time with the Lord but I want to teach my children the value of it and model it to them.
In terms of rest, I want to make sure our days aren't so full of activities and events that we miss needed time to stop, relax and just enjoy being together.
I want my kids to learn the importance of free time and how to be creative when they are bored. I want them to appreciate discovering adventure in our own backyard (even though it's relatively small) and use their imaginations.
Most importantly I just want to cherish these summer moments and enjoy this precious time as a family before the school year starts back up in August.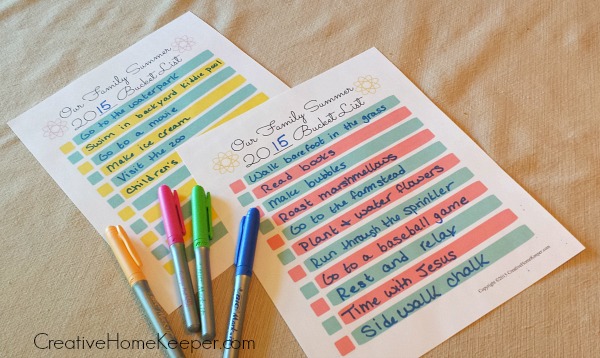 This past week I sat down with my older two to create a bucket list. We listed out some fun, meaningful activities they were excited to do, never mind the fact I pretty much had to prompt them because if it was up to them we would be blowing bubbles and playing with the trash cans every day! (My son is obsessed with trash cans, trash trucks and trash day. It is literally his favorite day of the week!)
So what's on our summer bucket list? 
Walk barefoot in the grass (because it's the little things)
Visit the summer display at the library to check out new books and read throughout the summer
Enroll my oldest in the library's summer reading program
Make homemade bubbles
Roast marshmallows
Go to the farmstead
Plant and water flowers
Run through the sprinklers
Go to a baseball game (Go Royals!)
Rest and relax at home
Time with Jesus every day
Create murals with sidewalk chalk
Go to the water park
Swim in the backyard kiddie pool
Go to a movie (my kids have never been to a movie and there are several summer frugal kid themed movies nearby to choose from)
Attend Vacation Bible School
Visit Daddy's office and have lunch with him
Sleepovers at Nana's & Mimi's house (my kids are so fortunate to have both grandmothers living nearby)
Make ice cream at home
Go to the zoo
Go to the children's museum (A.K.A. pick the hottest day of the summer and go to a destination that is inside with air conditioning!) 
To make it worthy to place on the refrigerator, I made up a fun printable bucket list with room to record your family's summer activities with a place to check off when completed.
Now that our bucket list is complete, it's up to me to include these activities in my calendar. It is so easy to write all of these things down and then just forget about them as we go through our days.
Part of being intentional is creating a plan of action. Sitting down today to create a flexible summer routine and entering some of these activities on the calendar is key.
Sure we might not get everything done on the list BUT I would rather that be from lack of time then lack of intention. 
What activities do you have planned for your summer bucket list? 
Live with Intention Every Single Day!
Download your free What's Your Purpose? workbook today!

Join the community of over 6,000 women who are learning how to prioritize their home life while nurturing a thriving faith with a little bit of encouragement delivered weekly to your inbox -- plus get this FREE workbook!