My head hung in shame, I can't believe I lost it with them again! Lord, I'm trying but why is this so hard?
Why is the job I have wanted my entire life (that of being a SAHM) is one where I am literally failing at AND losing my mind?
I felt defeated, guilty, overwhelmed. I felt like a failure as a mom.
I would like to say this inner conflict only happens every once in awhile but sadly it happens all too often. There are many days when I am so overcome with emotions on my lack of grace in my parenting.
And it's not even limited to how well I mothered my children either. I feel horrible about myself when I don't complete the self imposed list of expectations I put on myself.
Is the house cleaned? Nope. Did I go to the post office? Nope. Have I made the doctor's appointment I've been meaning to for weeks? Nope. Did I cross XYZ off my to do list yet? Nope.
What did I do all day? I silently ask myself.
"You were planting seeds" I hear whispered in my ear.
I can't believe God is still talking to me after the way I lost my temper, got impatient and acted unloving towards the people who I am supposed to love the most.
But He DOES and He WILL continue to.
In fact there isn't a day hour minute that goes by when He isn't whispering to me. It just that I may not hear it because I'm so caught up in beating myself up over my failures.
What if instead of being so hard on ourselves and worrying about the things we can't go back and change, we turned to God's grace at the end of each day?
What if instead of feeding our own negative self-talk, we filled our hearts and minds with the positive messages of love from Him every night?
There are so many books and blog posts about the importance of starting our day well, including several from me, but when we think about living intentionally and for Him, we can't ignore the daily discipline of ending our days well either.
What if instead of ending our day feeling guilty and defeated, we ended our day with grace?
How we end our day is just as important as how we begin it.
We may not be able to go back and change the outcome of the day or have the same feelings of anticipation for a fresh start of the day ahead, but we are able to reflect and pray.
How about instead of feeding the guilt and negative script Satan is trying to whisper in, we ask ourselves the following questions about our day.
3 Questions to Help You End Your Day with Grace
How was my heart?
I recently finished the book Hands Free Life and in one particular chapter she talks about ending her day with a heart check. It was a simple bedtime ritual she had completed with her daughters but as life got busy, those heart checks fell to the wayside. Until one day she was reminded about them.
She would go into each of her daughter's rooms at bedtime and place her head on their hearts and listen to their heart beat. Then she would replay the sound to her daughters opening up the conversation of how their hearts where that day.
That bedtime practice got me thinking about my own heart checks. Why don't I do something similar to evaluate my own heart at night?
So I started asking myself how my own heart was. Specifically I asked:
How well did I loved my people?
What was it that made me feel impatient, unloving or annoyed?
How did I display God's love?
What was a happy memory from today?
What is something I am thankful that happened today?
How did I see God at work in me today?
The more I started giving myself a daily heart check at the end of the day, the more the focus became off of me and unto how God worked.
Stop and Pray Right Then & There
Instead of fretting over these heart check questions, I would bring them to the Lord. I would pray over the day and ask God to reveal to me the areas where I still needed work and sharpening but I was also asking God to open my eyes to see where He was already equipping me.
I begin to see that God was already working through every moment in my day.
My own personal adult temper tantrums, as I like to call them, where evidence of my lack of faith, self control and love, but the more I started to think about my heart and pray for God's grace, the change in my heart during the day became evident as well.
We are often told to pray over our day before it even begins, as we should, but are we also praying over our day after it ends too?
Are we asking God to reveal to us how we can grow in faith and love which in turn will help us change our actions?
Give yourself a heart check at the end of every day and pray.
What memory do I want to remember?
Through my heart checks, another day ending discipline formed: asking myself to think about those special moments that I don't want to forget.
The sweet cuddle session I had with my daughter, the moment we were all squealing with delight during a rousing game of Hungry, Hungry, Hippo. The moment when I saw my son and daughter embrace in a momentary hug and proclaim that they love each other. The moment where my husband shot me a smile and blink from across the table while our children were going on and on about a particular story, very detailed I might add.
These, and many more, are the moments I don't want to forget.
Instead of replaying the moments where I lost my cool, responded angrily, or was annoyed by a particular behavior, I started filling my mind with the good moments of the day.
Every day isn't sunshine and roses, there are many hard days but in the midst of those hard days, there are plenty of moments to see God's smile too.
Are we looking for them?
Another thing I started to do, that come from more inspiration from Hands Free Life, is I started to ask my children three things they loved about today as I tuck them in. Cultivating a heart of gratitude is a spiritual discipline that automatically removes the focus off of ourselves and onto the heart of God.
What is it about a child's perspective that will make us stop right in our tracks.
Usually they recount the obvious, and more often than not they repeat each others answers or recycle their answers from the previous day. But every so often they shock me with their answers.
I loved finding the one leaf that had the hole from the caterpillar. 
I'm glad it was sunny outside so I could go out to pretend I was the trash man! (Trash day is my son's favorite day)
I liked when you read me that story, Mommy, how you ticked me during that one part. 
I love it when Daddy pretends to be a bear and growls as me before he starts wrestling. 
I'm glad that you kissed my boo-boo and made my finger feel better. 
Finally, brothers and sisters, whatever is true, whatever is noble, whatever is right, whatever is pure, whatever is lovely, whatever is admirable—if anything is excellent or praiseworthy—think about such things.  ~ Philippians 4:8
Every so often I will pull out my children's memory journal or my own personal keepsake journal, and record these things. It's so obvious but it's always funny to me that when the focus is removed from all the things that went wrong about the day, I see and feel so much love and peace.
I see God.
How will I give myself grace?
The final question I ask myself is about how I will give myself grace. We can't go back and change a single thing about our day, we can only ask God to shape our hearts and strengthen us to approach the next day.
Part of giving ourselves grace, outside of prayer and time with the Lord, is taking care of ourselves. End the day by doing something that will fill your tank, recharge you and leave you feeling inspired and encouraged to start the day.
Turn It Off & Fill YOUR Tank
Not only do we turn off those negative messages through the questions and disciplines above but we also should be turning off all the noise in our lives. The number one bit of advice to end your day well is to always turn off the media: phones, computers, electronics, TV, etc. It's easier said than done.
Next week I'll share more about how I've been limiting my own media consumption (because that's a whole post in itself) but I would encourage you to charge your phone in another room, quickly wrap up any computer work that has to be finished, watch just ONE episode of your favorite show then promptly turn off the TV.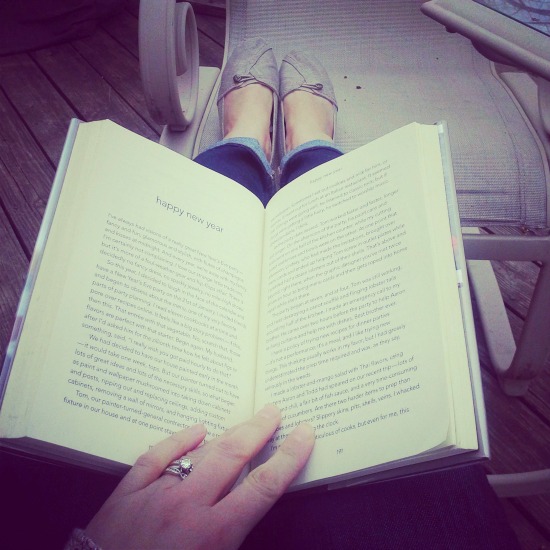 Instead fill your moments before bed with time with your spouse really talking and communicating about your day, time with the Lord, or time unwinding with a good book.
Fill your tank before the day ends so you can go to sleep and restore your weary heart, mind and body.
Oh and one more thing, actually GO TO SLEEP at a decent hour. 😉
Ending your day with grace won't change anything that happened during the course of the day but it will change your heart, spirit, mood and perspective. It will remind you that God is in everything.
Ending the day with grace will open your eyes to the moments and memories you may not have noticed or appreciated when they happened.
Ending your day with grace will remind you of all that is good so we can remember that:
Every good and perfect gift is from above, coming down from the Father of lights with whom there is no variation or shadow due to change. ~ James 1:7
What ways do you end your day with grace?
Live with Intention Every Single Day!
Download your free What's Your Purpose? workbook today!

Join the community of over 6,000 women who are learning how to prioritize their home life while nurturing a thriving faith with a little bit of encouragement delivered weekly to your inbox -- plus get this FREE workbook!