I'm always hesitant to post pictures of my home, not because I don't love it but because it never seems worthy of displaying. When I read other favorite blogs that have amazing pictures of their homes, there are usually always little feelings of discontentment that begin to form in the pit of my stomach stomach.
"Oh, her house is so cute."
"I love the color scheme"
"Even their toys are organized in a beautiful way!"
You get the gist. We always think someone else's home looks more put together, organized and better decorated than our own. I realize this is a heart problem that I deal with but I know many others battle these same feelings from time to time.
It's easy to look at someone else's home through rose colored glasses but something that I have to remind myself is that just as I stage some of my photos for better light, shadowing and presence, they also probably stage their photos too. Unless you are doing a post where you are showing before and after photos of your home, you aren't going to show the messes. The toys will all be picked up, the kitchen counters will be cleaned and the floors will be swept.
Just as when you know you have guests coming over to visit, you spend some time making your home presentable, so do many people who post pictures of their homes. They are displaying their home after moments of preparation, not moments of daily life.
My home is perfectly unique. It doesn't look like anyone else's. Most of our furniture is hand-me-down furniture from family. We don't have any super cute or organized ways to store books and toys outside of baskets. As with most homes build in the 50's and 60's, parts of my home are dark. Apparently dark wood and poor lighting was a trend?
We've done little updates here and there to try and lighten up the place and we have a huge, long list of things we would love to do but since we are in the baby stage of life, we haven't put much emphasis on redecorating over the past few years.
Sometimes loving the home you have right now, not the home you would like after completing a list of home improvement projects, is a choice. For some it comes easier and for others (myself included) it's a little harder.
I'm thankful that my family has a warm and comforting haven they can call home. A place for my children to play, grow, learn and discover. A place my husband can come home to after a long day of work. A place where I can cook meals, write and grow an online business to help bless my family.
Sure my house may not be perfect (whose is?) but it is our home.
Two babies, and one more, have been brought home from the hospital to this home. I have paced the floors at night trying to sooth crying babies. They have learned to crawl and take their first steps on these sticky wood floors.
We have made many memories here, and will continue to make more. So while I do look longingly at other homes that are beautifully decorated and organized, I am reminded that those pictures are not home.
Only my house is home to my family, and your house is the home to your family. However small or large that may be, however updated or retro that may be, however clean or organized that may be… our homes are a place of love, family, refuge, retreat and a safe haven for our dear family members.
So today I'm removing the fear that my home is not picture worthy and throwing open the front door and saying, "Welcome!"
I'm sharing with you a little peak of our simple fall decor. I like to add little touches of warmth here and there throughout our home to bring the season in as we savor fall this year. My children have been enjoying reading their fall books, playing with their little pumpkins and looking at the leaves strung around our mantle.
I enjoy the scents of cinnamon apple and pumpkin that have carried through our home thanks to candles, potpourri and making delicious fall themed treats. I love the deep reds, oranges and yellows that are the colors that define this season.
So without further ado, here is a little peak into our fall home.
Again, I say "Welcome!"
 Our fall wreath welcomes you at the front door.
An arrangement of small pumpkins sit just inside the door in our entry way. My kids love to remove these during the day and play with them. I may have even caught my daughter trying to sink her teeth into one! 🙂
Adding a few small touches to our dining room adds a welcoming fall feel. We actually eat every meal at our dining room table since we turned our breakfast nook into a playroom and I'm not a fan of having "formal rooms" that we don't use every day.
A simple basket with a pumpkin scented candle and pumpkin potpourri mixed in with some small fake pumpkins.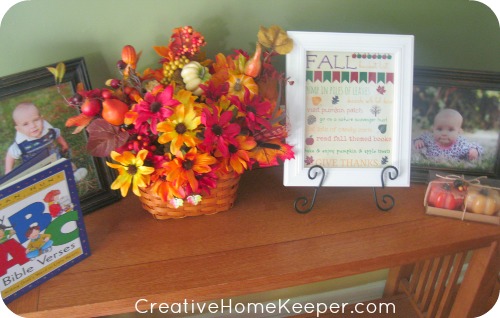 Our buffet which houses our fall flower arrangement (yes, it's fake… I have a hard time keeping real flowers alive!) and a framed picture of our Fall Bucket List. Two of my favorite baby pictures of my children also rest there year long, as well as our My ABC Bible Verses: Hiding God's Word in Little Hearts
which I read aloud periodically at meals.
A festive touch to our entry way closet.
 I love being reminded that the reason we celebrate Thanksgiving is to remember the harvest and how God abundantly provides.
 A few simple accents of pumpkins and cornucopias randomly placed along our build in book case in the living room add a little touch of fall without being overwhelming.
I added the word Thankful to my twine and leaf garland because I wanted to be reminded to be thankful and to teach my children gratitude, not only this time of year but all year long as well.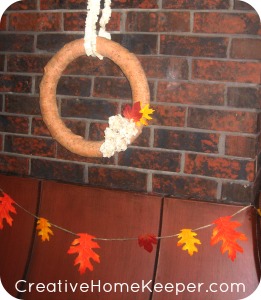 Our second fall wreath handing over our mantle in-between the kitchen and the living room.
In the window box over the kitchen sink I have a ceramic baking dish filled with small apples (they used to be potpourri but have lost their scent over time) surrounding a cinnamon apple scented candle.
And last, but not least, our fall themed book basket placed prominently on the living room floor so the kids can have access to these special themed books whenever they want.
So that's a look at our simple fall decor, maybe someday I might become brave enough to show you our entire home 😉
Do you like to decorate for fall?
This post is part of the 31 Days of Savoring Fall Series. Click here to see all the posts in the series.
Affiliate links may be used in this post meaning, at no additional cost to you, if you click through and make a purchase, I receive a small commission. Thank you for supporting CHK! You can read my disclosure policy here. 
Pray with Purpose
Download your free Scripture-based Prayer Calendar to pray over the entire school year!
Join the community of over +6,500 women who are learning how to prioritize their home life while nurturing a thriving faith with a little bit of encouragement delivered weekly to your inbox -- plus get this FREE calendar!