Last month I shared the books that I would be reading over the summer and I made the bold proclamation that I would be reading books that I could hold in my hand as I put my Kindle down for a season. But the truth is that a good book is a good book regardless of the form it comes in, whether that be traditional print or through an electronic device.
While there are many wonderful books that are on the best seller's list, there are also MANY wonderful eBooks from author's who have a much smaller audiences but none the less they are fantastic books that you should be reading, if you haven't read already!
Today I wanted to share with you 8 eBooks from 8 fantastic ladies, all of which have blogs that I read on a pretty consistent basis. While you may know some of the author's perhaps there is a hidden gem in here that you have yet to discover.
Note: This post contains affiliate links. You can read my disclosure policy here. 
Free eBooks with an email subscription
The Homemaker's Manifesto by Jenn from A Simple Haven
I love this simple reminder to love the home you have, not to waste time wishing your home was different. This simple and short eBook is filled with so much wisdom and encouragement, as well as practical ways to embrace your current home the way it is, not the way you wish it where.
21 Dates With God by Jane from Devoted SONRiser
Need to be spending more time with God and His Word? Jane walks you through 21 dates to do just that. This short devotional will remind you why you should be meeting with God daily and how to remove the feeling of you should to I can't wait to.
Budget Friendly eBooks
How She Does It: An everywoman's guide to breaking old rules, getting creative, and making time for work in your actual, everyday life
by Anne from The Modern Mrs. Darcy
I am a stay at home mom who is moving into a more of a work at home role as I continue to cast a vision and dream big of where I want to take this blog. Anne does a fantastic job of highlighting several busy moms who are SAHMS, WAHMS and even moms who work outside of the home for a part of their day. They are moms who also homeschool or send their kids to traditional school, but the message that Anne conveys is that it is possible to be an active, involved mom while still pursuing to work for a part of your days.
Front Porch Living: A Faith Journey To The Summers of Yester-year
by Lori from Standing With the Military Family
This was a breathe of fresh air as I read it in one sitting. Lori does a beautiful job of reminiscing about the summers of the past and how to strive for intention today as you seek to enjoy the days with your family and create new memories. The message is clear; slow down, simplify and enjoy today.
Everyone's Waiting for Something: searching for meaning when life's on hold
by Ashley at Ashley Talks A Lot…
This one is actually on my Kindle now as I have been in a season of reflection and thinking about what lies ahead. Ashley's subtitle is what initially captured my attention: "Searching for meaning when life is on hold." Sometimes God puts roadblocks into our plans causing us to wait but instead of using that time to be anxious, doubtful or fearful, use that time to seek out God's will and learn the value in being patient.
Live For Him: A Grace-Filled Look at Planning by Leigh Ann from Intentional by Grace
You know I love having a plan and a routine right? Leigh Ann uses this little eBook to guide you to seek Him as you go about the work of drafting goals and planning your days. Complete with printables to help you think through some tough questions to be realistic about where you are in your walk with God, this guide book is everything you need to create a plan and routine.
Your Retreat: A Guide to Giving Yourself a Personal Planing Day by Erin from The Humbled Homemaker
Similar to Leigh Ann's book above, Erin walks you through the process of why you need a personal retreat, how to plan one and what to do once you are on one. For me in this season, a personal retreat is just a morning alone at a nearby coffee shop for an hour or two as I review and reflect my mission and purpose and to create a plan. In this eBook Erin provides so many practical ways to make a personal planning retreat happen on any budget, as well as printables and worksheets to use as you create a plan.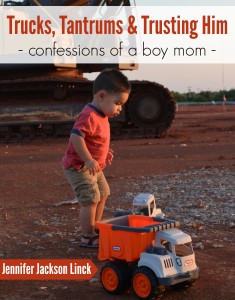 Trucks, Tantrums & Trusting Him: Confessions of a Boy Mom
by Jennifer from Bringing Home the Missing Linck
This is another eBook that I currently have downloaded on my Kindle. As a mom of a little boy sometimes I am astonished at the things that come out of his month or the actions that he does. Boys are different and I am learning how to love and embrace the characteristics and qualities God placed in my son to make him uniquely different. From one young mother of a little boy to another, Jennifer uses her story to help paint the picture of who God has created our sons to be.
So what hidden gems do you recommend in the terms of free or budget friendly eBooks that we should be reading?
Alright now it's time to link up your book related posts. Just a few things that I ask of you are:
Link up a post(s) about your reading goals, book reviews, or anything book or reading related.
Please only link up the specific post URL, not your home page.
Also please either add a text link back to this post or copy the button below and link back in your post.
Be sure to visit at least one other link to share in the love of reading
This link up will be open until July 31, and for those of you who like to plan ahead, August's Book Notes will be live on Monday August 4th.
Live with Intention Every Single Day!
Download your free What's Your Purpose? workbook today!

Join the community of over 6,000 women who are learning how to prioritize their home life while nurturing a thriving faith with a little bit of encouragement delivered weekly to your inbox -- plus get this FREE workbook!