2 Simple Ways to Lead Our Children to the Gospel
When I sat down to think through and plan out our learning goals for home this year, my main focus was on instilling Biblical truths in my children's hearts. I have been feeling the sense of urgency as I realized how quickly my children are growing up.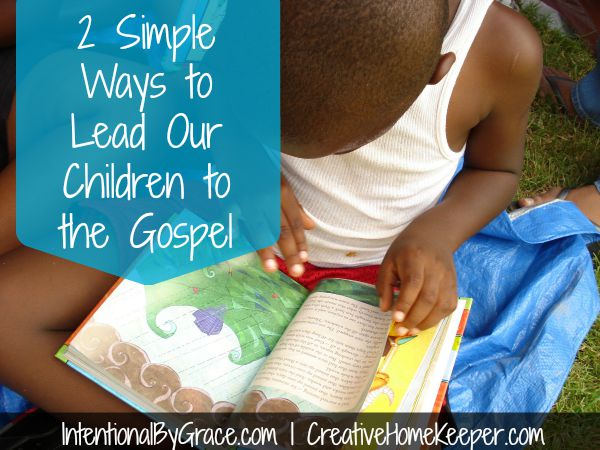 My son will be entering kindergarten next fall. We are still on the fence about our schooling options, but regardless what we choose, the reality is that if we want him to know and love the Lord with all his heart it has to start at home. Same with my daughter, although she's only 3, and the baby, all three of my children need to see God's love modeled at home, taught and lived out.
It's almost overwhelming, really, the responsibility we have as Christian parents to teach and train our children. The world we currently live in isn't a friendly place for truth. There are so many messages that go against what God's Word, all competing for our children's attention. It's easy to live in fear and want to keep them in a bubble but that isn't realistic nor is it Biblical.
We are called to be lights in the midst of darkness (Ephesians 5:8), to go and preach the good news (Mark 15:16) to stand strong in our faith and convictions against oppression (1 Corinthians 16:13), but it has to start at home first. Home is the first place our children have the opportunity to taste and see that God is good.
Some day they might be called out to go and serve in any number of places, but today we are home building the foundation of their faith.
Where do you even begin?
To read the rest of this post, head on over to Intentional By Grace where I'm sharing two super simple ways to naturally share the Gospel with our children authentically.