OK I'm going to be real with you all… my closet? It's a total pit right now.
And by "pit" I mean an overstuffed, disorganized mess of clothing and shoes. It's a chaotic combination of pre-pregnancy, maternity and postpartum clothing, many of which doesn't even fit.
Plus with the addition of the 3rd baby, I've gotten into a terrible habit of not hanging up clothing, instead just letting it pile up or drape over one another.
And my shoes? When they aren't just left out on the floor (can I reiterate that I have developed some really BAD habits lately?) they are carelessly tossed in my shoe basket where every morning I take a few seconds to dig through to find the matching pair.
You would think that someone who wrote an entire book and blog series on cleaning out your closet and creating a wardrobe you actually like, would have an incredibly organized closet that makes getting dressed every day such a breeze.
I did… but then I got pregnant again.
Out came all those comfortable and stretchy pants and tops that expanded with my body as it grew. However now that I'm about 10 weeks postpartum, most of those maternity clothes don't fit anymore yet a lot of my pre-pregnancy clothing don't quite fit yet either. In fact I can't even find the clothing that actually fits and enhances my shape in this season because my closet it too stuffed and overflowing!
It's time for an intervention… a closet clean out challenge to be exact!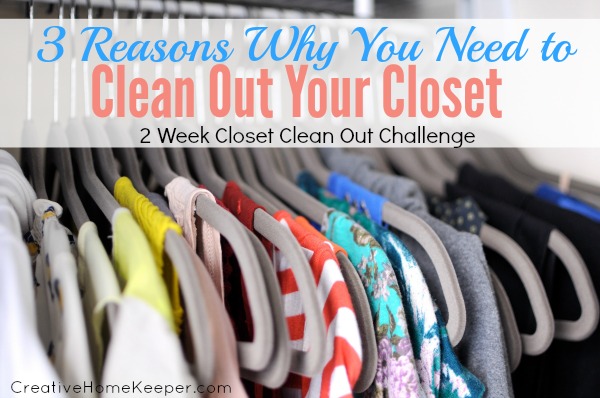 Now is the perfect time to tackle my closet because it's mid-March which means the weather is starting to change and I am ready to move up my lighter spring clothing to replace my bulky sweaters. Plus spring and cleaning just go together perfectly, don't you think?
So what about you? Do you need to tackle cleaning out your closet too?
If you're unsure, here are 3 reasons why you need to clean out your closet and join in on this 2 week closet clean-out challenge that I am about to partake in.
1. You can't put together an outfit
Do you have too many pieces of clothing that you experience decision fatigue every time you step into your closet? Do you even know what your style inspiration is?
If you are struggling to get dressed because you don't know what looks good on you or what fits, it's time to clean out your closet and put together some amazing, ready made outfits that make you look and feel great.
2. You can't remove a hanger
Can you even move the clothing on your hanging rack or do you have so much hanging up that trying to remove a hanger is almost impossible? Do yo have the room to slide the hangers down while you are searching for what you want to wear?
If your closet is so overstuffed that you can't even move clothing around to determine what fits and looks on you, it's time to get rid of the pieces that are too big, too small or aren't adding any value to your wardrobe.
3. You have nothing to wear
Do you stand in your over-stuffed closet every morning and lament that you just don't have anything to wear? Perhaps the biggest problem of all… you have a ton of clothing yet you feel like you have nothing to wear.
Do any of these 3 reasons sound familiar?
It's time to tackle the clutter, get ride of ill fitting clothing and rediscover pieces you do love. So are you ready to do something about it?
I am!
Starting on Monday, I am hosting a 2 week closet clean-out challenge (based off the principles of my eBook) where I tackle my closet and invite you to do the same. Why together? Because when we have accountability, we have support. Support and accountability lead to progress and the achievement of accomplishing goals. And our main goal here is to clean-out, purge and organize our closet so we can love our wardrobe again and not spend so much time in the morning trying to get dressed.
So here's how it will work– Every morning at 8am CST, I will post a bit of accountability on Facebook to encourage you to tackle the daily task. Then every evening I will post a picture of my progress and invite you to share yours as well.
If you have read Simply Dressed, the two week closet clean-out challenge will be based off that section. I won't be going into near the amount of detail that I cover in the book, so you if you haven't read it and want to join in, I hope you might consider purchasing a copy for yourself. But don't worry, you don't need to have purchased the book to participate!
So here is what the schedule will look like for the next two weeks:
I'll be updating this daily with my before and after links
Day 1: Monday 3/16– Pants (assignment and results)
Day 2: Tuesday 3/17– Dresses and Skirts (assignment and results)
Day 3: Wednesday 3/18– Tops, Sweaters and Cardigans (assignment and results)
Day 4: Thursday 3/19– Shoes (assignment and results)
Day 5: Friday 3/20– Accessories (scarves, belts, hats, jewelry, purses) (assignment and results)
Day 6: Saturday 3/21– Workout clothing and Pajamas (assignment and results)
Day 7: Sunday 3/22– Catch Up Day
Day 8: Monday 3/23– The Unmentionables (your underwear drawer) (assignment)
Day 9: Tuesday 3/24– Winter Coats and Accessories (assignment and results)
Day 10: Wednesday 3/25– Daily Beauty Routine (bathroom product organization) (assignment and results)
Day 11: Thursday 3/26– Organizing Your New Closet (assignment)
Day 12: Friday 3/27– Putting Together Some New Outfits (assignment)
Day 13: Saturday 3/28– Making a Plan for Your Wants and Needs List (assignment)
I built in a catch up day because I know that life happens. The main reason spread this challenge out over two weeks is because of daily time restrains. Most days I don't have several hours to try on every piece of my clothing and make decisions about whether to keep something or get rid of it. I do have about 20 to 30 minutes of time however.
You can obviously work at the pace you are more comfortable with because only you know how much time you have available each day. If you would rather wait and complete all the tasks over the weekend, that's fine. The point of this challenge is to clean-out, organize and put together a wardrobe that you truly love… on the time schedule that make sense for you!
The eBook Simply Dressed goes into much more detail about what to look for and think about as you as cleaning out your closet. To help encourage and inspire you to tackle this challenge and to create a wardrobe that you actually love.
So are you ready to tackle this 2 week closet clean-out challenge? 
Does creating a Christ-Centered home feel overwhelming?
It doesn't have to be!
Join our community and get the encouragement & guidance you need to find real joy & purpose in your homemaking today! To get started, you'll also get my FREE guide: 10 Easy Ways to Create a Christ-Centered Home!
Plus, when you join the Creative Home Keeper community you will join over 5,000 other women (just like YOU) who are becoming equipped to create a Christ-centered home and are transforming their hearts towards homemaking once and for all!
*By joining the Creative Home Keeper community, you agree to our Privacy Policy.