3 Reasons I Love Dollar Store Children's Books
I love good, quality children's books. I love classic, timeless stories as well as the appeal of the newer authors who write fun, engaging stories. As a former elementary school teacher I see the value in having plenty of books available to our children as they grow and develop.
Books to teach them about friendship, family, fantasy, play and a host of other topics, but most importantly our kids need plenty of books that also teach them about God.
Scripture is very clear about our role as believing parents to teach our children the basic tenants of our faith and to impress the Word on their hearts, just read Deuteronomy 6.
Never in history have parents had as many resources as we do today to teach our children about God and the gospel. We have access to hundreds of thousands of books, websites, music, coloring books and other children's toys and resources.
Can I tell you a little secret? One of my favorite places to buy books about God for my children is the dollar store.
The dollar store? Yes, seriously…  the dollar store.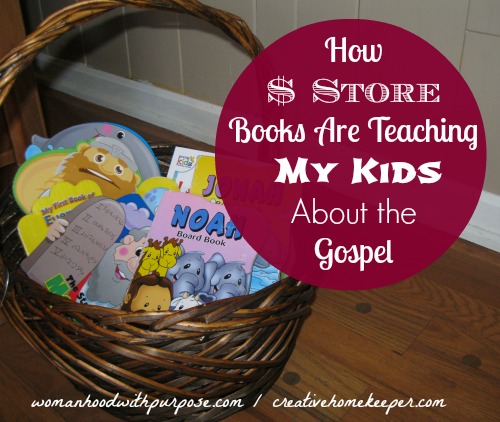 Maybe it's the area we live in or it's just good luck, but every time I go our neighborhood dollar store I always check the book section for children's books. Sure they might not be the best literature, or as some even call then "twaddle" , but don't discredit the books that can be found there. Here are my 3 reasons why I love dollar store books to teach my kids about God.
1. They are cheap (the obvious one right?)
While I do believe that having good quality literature and children's books available to our kids to read is so important, I'm not afraid of some simple dollar store books either. They are incredibly budget friendly, after all they are only a $1 or some times less.
I do periodically set aside some of out budget for quality books, both for the kids and me, but I never feel guilty about spending a few dollars on some basic books from the dollar store.
I have two toddlers who love books but are also really hard on them. My kids wear through board books quite quickly and I have gone through my fair share of tape to repair the bindings. I am trying to teach my kids how to properly care for books, after all books are not chew toys or rockets to be launched across the room! But I don't get so bent out of shape when I finally have to give in and throw out a book if it was less than a dollar to begin with.
2. They teach Bible stories and songs about God
To be honest I have been incredibly surprised by some of the quality of books that my kids have that are from the dollar store. I have bought board books that tell the story of Creation, Noah, Moses, Joseph, David, Jonah, and Jesus all from the dollar store. My three year old son knows these Bible stories by heart now because we have read them so many times together.
We also have a few small board books filled with simple praise and worship songs for young ones. It is not uncommon for my son to break out in song and sing…
The B-I-B-L-E! Yes that is the book for me! I stand alone on the word of God. The B-I-B-L-E !
I've got the joy, joy, joy, joy down in my heart! Where? Down in my heart to stay!
Jesus loves me this I know, for the Bible tells me so! 
These are just a few of the songs that he knows by heart because he has heard me read them to him from his dollar store board book, and he LOVES to sing them by himself too!
3. The music CDs are great
A few different times that I have gone to my dollar store they have had some song story books with a CD attached to the cover. The CDs contained readings of the book as well as several recorded praise songs. My son's favorite song is the one where they mention Paul and Silas spreading the Good News (his name is Silas). He is always so thrilled to hear his name on the song which has lead me to teach him about where his name came from and why he is named after a person from the Bible.
Along with those song lyrics I mentioned above, he also has several praise songs based on Bible stories memorized and sings them all the time. God's word is truly being impressed on his heart!
Best of all? These music CDs are cheap, as in a dollar cheap, which is good because remember how I told you how hard my kids are on books? Well you can imagine the CDs we have had to throw out because they had been dropped one to many times and are now scratched. Instead of spending $10-15 dollars on a music CD, I'm only spending a dollar!
I encourage you to take some time and seek out the nearest dollar store to you. Perhaps you too will be able to uncover a wealth of books, CDs, and other resources that teach about God, the Bible, Jesus and all the other stores from the Bible. Even if you don't have a dollar store near you or the selection isn't that great (do check back regularly though if you can as the inventory is always changing), thrift stores are another place to score some cheap books that teach about God too.
What are some of your favorite places to seek out affordable children's resources that teach your kids about God?