Recently I shared my list of 10 (really 11) Things that I Do Everyday to Keep and Clean and Organized Home, and boy did it spark a lot of interest! Thanks to everyone who shared, pinned, and commented on that post. Because of you it has become the most popular post and most pinned article to date!
So in the spirit of that post I wanted to break down my daily routine with you in a little more detail. Over the next few weeks, I'm going to be writing about my morning, afternoon, and evening routines. I'll be sharing exactly what I do, why I do it, and how I plan to do some of my tasks.
I also want to add (mainly due to some comments from this post that were very full of praise) that I aim to complete each task everyday. In all honestly sometimes it just doesn't all get done!
It doesn't always happen; life happens, my two little ones happen, I get tired and lazy some days. I'm not perfect and hopefully I'm not coming across that I have it all together. By sharing my routines, I am mainly holding myself accountable to do it, after all I AM emotionally allergic to cleaning! 🙂
OK now on to today's post:
 3 Things I Do Before Breakfast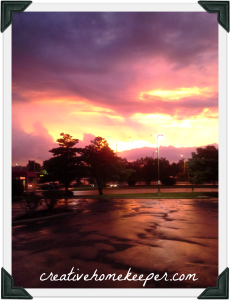 Remember this picture?
To start off, my wake up time is 5:00 AM. I set an early alarm on my phone that goes off at 4:45 and snoozes every 5 minutes until I get up. Yes, I know that is an insanely early time, and no, I don't think that everyone needs to get up early. Due to my husbands work schedule, if I want to work out in the morning then I need to wake up early too. I also aim to be in bed my 9:30 PM every night. 
1. Devotional Time
I love starting my day in prayer and Bible reading. Reading a few verses from my Bible and devotional books help me to focus my mind and my heart for the day ahead. Spending a few minutes in prayer and communication with Jesus helps to center me. Now most mornings I'm not doing an intense study (my brain isn't that awake yet), rather I'm mediating on a certain portion of scripture.
Currently I'm a part of the Hello Mornings online accountability groups where we are completing a study on Ephesians called Glorious Grace.  It is not intensive at all, in fact daily we read a short passage and meditate on it though just a few journal prompts.
To help keep me disciplined, I have a Bible book basket that I keep on an end table in the living room filled with my Bible
, journal, devotional books, my Kindle, and whatever other books I'm currently reading. All of my materials are in one place and they stay there through out the day. This way I always know where my Bible is, or my prayer journal is.
2. Exercise
Yes you heard me, EXERCISE!
What could be a better way to wake up and get you body moving and grooving?
My personal exercise of choice is Jazzercise. My goal is three mornings a week is to get up and go to the 5:30 AM class. Yes, that's early, and some mornings there is nothing more that I want to do than staying in bed. However once I'm there I have an amazing workout and how many people can really say they start out their day by dancing?
OK maybe Jazzercise is not for you, how about running, or going to the gym, or even a home workout DVD? The possibilities are endless.
I have two little ones (a 2 and a 1/2 year old, and an almost 1 year old), so I am aware of the challenges to get up and go somewhere to workout. I'm also aware of the unspoken rule, "Kids wake up when Mama Wakes Up." My best advice to combat these issues is to make a plan with your husband. Maybe he can be on-call for the (early) morning a few days a week so you can work out. 
Or possibly it might be unrealistic for you to work out so early in the morning. That's OK, everyone is different and are at different stages. It doesn't matter what time of day you exercise, what matters is that you DO IT!
If it's a nice morning, after breakfast load the kids in the stroller and take a walk (we love this double stroller
). Trade babysitting duties with another mom so you two can take turns going to the gym without having to pay for childcare.
There are plenty of creative ways to fit exercise into your day. Trust me, know one wants to work out, but once you do it you feel great, and your look great too! (OK maybe I don't look great while I'm Jazzercising, thankfully there are no mirrors! But your body probably looks great after some hard work and self discipline.)
3. Breathe
Take a few moments and just take a few deep breathes because all to soon the chaos starts. The kids are up, there are breakfast and lunches to be made. Maybe you have several kids you have to dress and get out the door by a certain time. Or maybe you too have to be dressed and out the door by a certain time!
Take a few minutes and think through your day.
Every night before I go to bed I fill out my Daily Docket and review my calendar so I know what I need to get done and what my goals are for the day. Once the morning comes,  I take a moment and review that list to make sure I don't forget anything.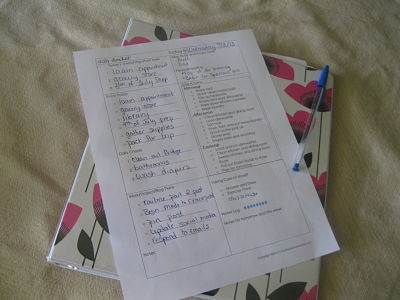 I realize that everyone is in different stages of life so these three things may not be practical for you to do every morning first thing. Most mornings I do complete all three, but there are also some mornings (at least once a week) that I don't due to various reasons, the main being if I was up during the night with a kid. 
So give yourself grace, and if you don't already have a morning routine that works for you, try just to get up and have a devotional time every morning and build on from there. Research suggests that it takes about 3 weeks to develop a habit, so give yourself some time.