3 Verses for Overcoming All That's Holding You Back
Are you ready to break-free from all barriers and live life confidently? It's time to break through those barriers and begin living free in Christ! It's time for overcoming all that' holding your back!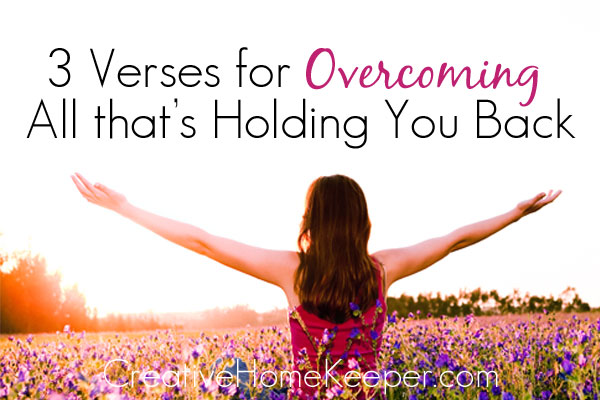 By Contributing Writer, Kelsey Ferguson
You know all those things you've always wanted to do?  You should go DO them! – Lara Casey
Those words are plastered above my desk. I hung it there to inspire me to do scary things, to step out of my comfort zone and truly live a life confident in God. Instead, it stares at me, tauntingly reminding me that I've still yet to move.
It's not that I lack passion. It's the follow-through that stops me.
I know I'm not alone in this. Forbes estimates a measly 8% achieve their New Year's resolutions.
8%
It makes you wonder what's holding back the 92%?
I'm sure it's partially due to unspecific, not-well-thought-out or planned goals, but what about the rest of us?
What's holding us back from the life we want? And more importantly, how can we overcome it?
Just a few weeks ago I found myself in a desperate place of wanting to say yes and run wholeheartedly after God and my God-given passions. And it was there that this post was born.
When We Want to Move Forward
It was late. The house was quiet. My littles were finally asleep, and the truth be told I should've been, too. But I was unsettled. My soul was on fire and it wanted to yell, 'Yes, God!' from the mountain tops.
Yes, I will live sold-out for you.
Yes, I will step out of my comfort zone.
Yes, I will do whatever you ask.
Yes, yes, yes, Lord.
But then my mind had to remind my heart that I'm a socially awkward introvert, and the very thought of leaping (heck, tiptoeing) over that line of true surrender sends me into near hysterics.
Hence, the unsettledness.
Then We Remember What's Holding Us Back
Can you relate?
You feel the Holy Spirit nudge, you are willing, and then your mind is suddenly filled with all of the reasons that it's a bad idea.
I'm not good enough. What will they think of me? I'm the wrong person for this. Surely, God can find someone better to do this.
Our minds present us with an endless supply of all the reasons we should give up before we even start.
But this isn't from God.
God wants us to be women who are confident in Him, women who overcome lies and live in Truth.
And the best place to start to overcoming what's been holding us back in on our knees in prayer and with our Bibles open.
Truth to Overcome What's Holding You Back From Your Goals
Let's open our Bibles and pray for Truth to overwrite the fear that paralyzes our willing hearts. Let's hold onto these 3 verses and use them to refute the lies we have been clinging to.
1. Luke 1:37
For nothing is impossible with God. (NLT)
There is nothing God can't do. He even impregnated a virgin girl with His own Son. Our worldly knowledge says that it's impossible—inconceivable—and yet, the virgin did conceive.
You do not have to be successful or popular in the world's eyes for you to be useful in God's Kingdom. Nothing God lays on your heart is impossible for Him to achieve.
2. Colossians 1:17
And he is before all things, and in him all things hold together. (NIV)
God created all. God is in all. He already knows what's going to happen. He's behind you, next to you, and before you. All things are held together by Him. As believers, we can rest confidently in the promise we have of eternity with Him—no matter the suffering we may face, now.
As believers, we can rest confidently in the promise we have of eternity with Him—no matter the suffering we may face, now.
3. Isaiah 41:10
So do not fear, for I am with you;
do not be dismayed, for I am your God.
I will strengthen you and help you;
I will uphold you with my righteous right hand. – (NIV)
Sometimes we can feel like those weary and anxious exiled Jews that God was speaking to in Isaiah. But God says we have nothing to be afraid of. He is with us. The great I AM is our God. He strengthens us and holds us. We aren't alone in this.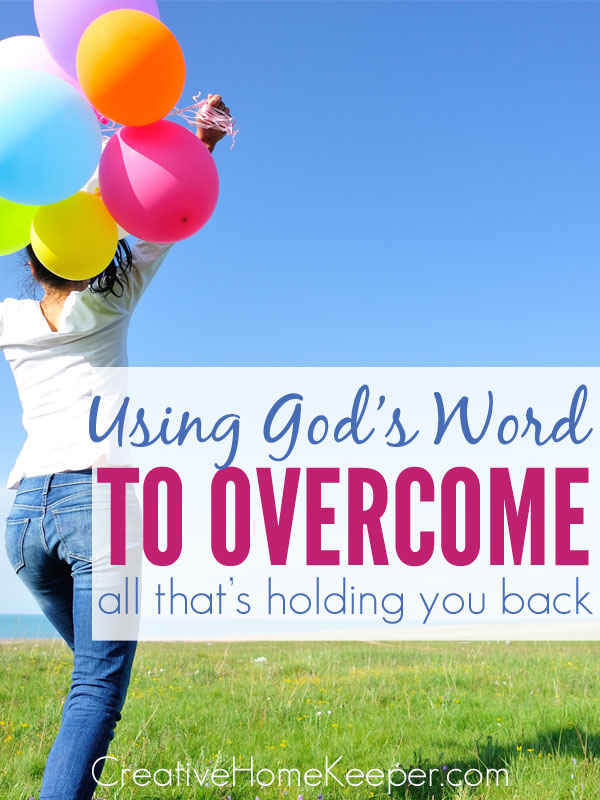 Overcoming to Move Forward in Grace
Whatever it is that is holding you back from following through on the Holy Spirit's nudging, Truth can overcome it. It's time to move forward in His grace.
I'm not promising it will be easy or simple or that you won't mess up or fall flat on your face. But I will promise that if you cling to Truth, it will be worth it.
It's time for you—and me—to start doing all those things we've wanted to do.
God's got us.
Don't know where to begin in finding or pursuing your passions? Check out this ultimate list of resources to help you get started!
What has held you back from doing the things you meant to do? 
Looking for some resources to help you as you overcome all that's holding your back and live with more purpose and intention? Check out one of these favorite, encouraging reads to inspire you.

Make it Happen: Surrender Your Fear. Take the Leap. Live On Purpose.
by Lara Casey

Thirty One Days of Prayer for the Dreamer and Doer
by by Jenn Sprinkle and Kelly Rucker

Own Your Life: Living with Deep Intention, Bold Faith, and Generous Love
by Sally Clarkson