Spring cleaning more than just tidying and cleaning the house. Don't forget these 4 areas to freshen up this spring. Growing your faith and taking care of your body impacts all areas of your life, home and family.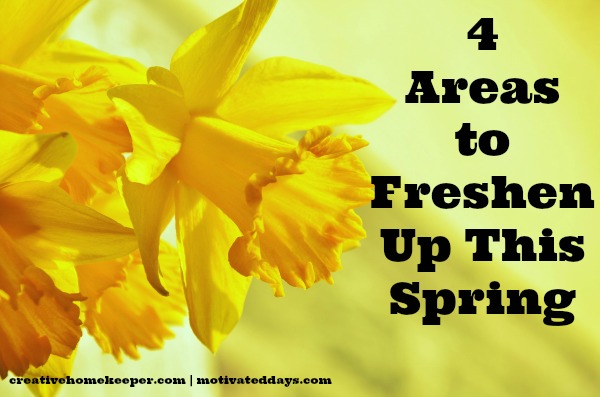 By Contributing Writer, Samantha
Spring time can be so refreshing!
A time of new beginnings. A new start. A time to rejuvenate.
As spring time comes most of us spend time freshening up the house inside and out. We spend time cleaning, organizing, airing out the house and raking, pruning and planting beautiful flower beds outside.
As I have been reflecting on the many things I want to accomplish around my home there are also 4 areas in myself that I want to spend time to freshen up and take care of.
As a mother and wife, I want to make sure I take care of myself so that I can take care of  the ones I love!
4 Areas to Freshen Up This Spring
Refreshing Your Soul
 The Lord is my Shepherd; I shall not want. He maketh me to lie down in green pastures: he leadeth me beside the still waters. He restoreth my soul.
Psalm 23:1-3
 The Law of the Lord is perfect converting the Soul.
Psalm 19:7
 Create in me a clean heart, O' God and renew a right spirit within me.
Psalm 51:10
As a Christian I need to be taking the time to renew my spirit; to keep my heart right with the Lord.
It can be so easy to get wrapped up in the daily to-dos that we can forget the most important Person in our lives! Taking time to spend alone with the Lord to renew our souls should be one of  our top priorities!
Keeping our soul refreshed will help us to deal with the many challenges we face throughout the day and will help us to have the right attitude and perspective!
Take time to communicate with OUR LORD today through the Word and prayer! As you are looking to refresh your soul look for a new bible study to do this spring!
Refreshing Your Mind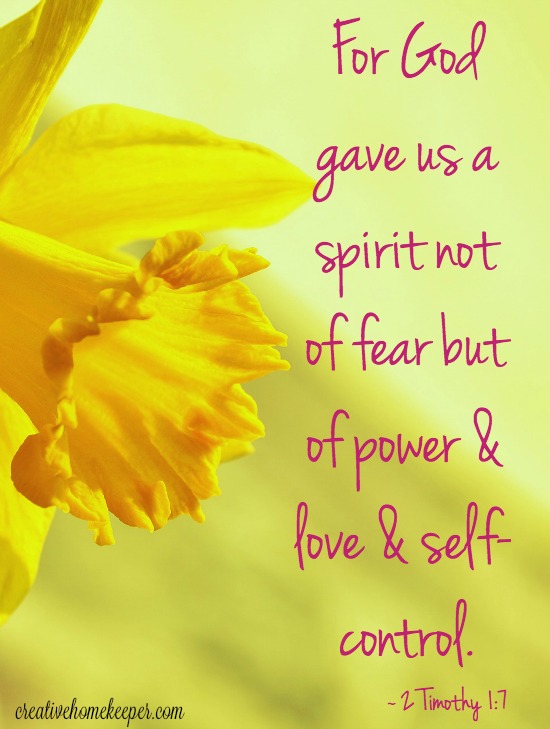 That ye put off concerning the former conversation the old man, which is corrupt according to the deceitful lusts and be renewed in the spirit of your mind; and that ye put on the new man, which after God is created in righteousness and true holiness.
Ephesians 4:22-24
And be not conformed to this world:but be ye transformed by the renewing of your mind, that ye may prove what is that good, and acceptable, and perfect, will of God.
Romans 12:2
For God hath not given us the spirit of fear; but of power, and of love and of a sound mind.
2 Tim 1:7
When we accepted Christ as our Savior we became a New Creature in Him and are called to holiness! It takes time and effort to change the way we think!
Our minds will be renewed through the Word.
When we spend time in God's word not only will it renew our souls but it will renew our minds!
One way to keep your mind renewed throughout the day is by memorizing scripture so that you can meditate on the Word of God.
1 Timothy 1:7 states God gave us a spirit of power, love and a SOUND MIND not one of fear. (Sound mind is one of self-control; discipline.)
What peace we can have when we have renewed our minds through the Word of God!
Refreshing Your Body
 But they that wait upon the Lord shall renew their strength; They shall mount up with wings as eagles; They shall run and not be weary; And they shall walk and not faint.
Isaiah 40:31
 I beseech you therefore, brethren but he mercies of God, that ye present your bodies a living sacrifice, holy acceptable unto God, Which is your reasonable service.
Romans 12:1
As Christians  keeping our bodies healthy should be important.
We can better serve God, our families , and others when we are healthy.
Our bodies are the temple of the Holy Ghost!  When you read about the Proverbs 31 woman her body was one filled with strength. It was one that was well nourished. It was one that was clothed well.
How easy it is to let these things fall to the wayside as we get busy with life! I know that I am guilty of this!
Take time to take care of your body! Do you need to change your diet? Need to find time to strengthen your body? Need to get dress everyday? And not just in lounge wear either! 😉
Refreshing Your Environment
 And whatsoever ye do, do it heartily as unto the Lord, and not unto men.
Colossians 3:23
Let all things be done decently and in order.
1 Corinthians 14:40
She looketh well to the ways of her household, And eateth not the bread of idleness.
Proverbs 31:27
Every wise women buildeth her house: But the foolish plucketh it down with her hands.
Proverbs 14:1
And of course part of spring cleaning is cleaning up our environment.
The Lord has given us so much! We are blessed!
Look around and be thankful for all that you have! How you take care of what you have will show your thankfulness.
Spring Cleaning doesn't have to be difficult! But it sure does give us the opportunity to renew our environment, to make it fresh, inviting, and beautiful!
As you take time to do your Spring cleaning, I hope you will take time to stop and reflect on these 4 areas in your life and take the time to freshen them up!
How are you planning to freshen up this spring?