Tomorrow is the first Sunday of Advent with December 1st being just two days away. Advent is such a special time of year as we wait in anxious anticipation of the birth of our Savior and move through the exciting Christmas season.
Just as in all of planning meaningful traditions for my family, we are super intentional about how we celebrate Advent. Even though Advent is almost upon us, there is still plenty of time to plan some meaningful and intentional family traditions. In fact, if you scroll down to the end of the post, I have some additional last minute Advent posts for you!
Today  I wanted to share with you what we are doing for our family Advent plan this year. I wrote this post last year but have gone back and updated it a bit to include current information and resources.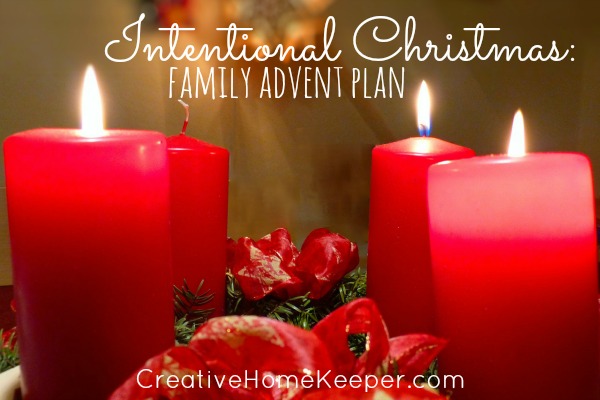 I tried to keep things simple but still intentional and meaningful, especially since we have a four-year-old, 3 years old and an eleven-month-old. What big brother and sister are into you can be sure the baby wants to be a part of too!
Two years ago I made a fun tissue paper popper Advent calendar in the shape of a Christmas tree and placed different daily activities inside along with doing Truth in the Tinsel.
I knew that this year I couldn't commit to doing a fun, special activity each day along with TNT, so I simplified a bit.
My main goal in our Advent plan this year was to continue to plant seeds of faith into my little one's hearts so that they can begin to comprehend that Christmas is so much more than presents, twinkle lights, and fun decorations.
While all of that is so much fun, and we will definitely be getting our fill of the fun holiday activities, I want my kids to know the true meaning of Christmas, the real Christmas story. 
To help them develop an understanding of Christmas and Advent, I have planned our family Advent plan around three main components.
Truth in the Tinsel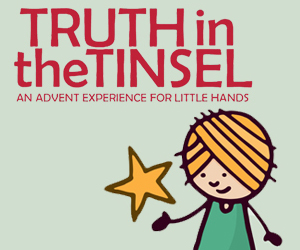 I shared a few weeks ago about why I love this resource so much. In previous years I've mainly done the printable ornaments  but this year since the kids are older I plan on doing most of the actual crafts.
Coloring the ornaments from Day 1, a candle to represent how Jesus came to overcome the darkness. And since my kids had no idea what a candle was, I did something I thought I would never do… light a candle within their reach! They did well with it too, except when it came to fighting over who got to blow it out 🙂
I'll still use the printable ornaments from time to time. This makes it easy for me, and possibly a grandmother when they go and spend the night.
Each morning I read the assigned Bible story and we talk about the lesson together. Then both kids will complete the craft or color the ornament and we will hang them on a small Advent tree we have in our dining room next to our nativity scene.
Hanging their ornaments on our Advent tree
It's not too late to order Truth in the Tinsel either! There are several alternative plans available in the book if you can't commit to doing the full 25 days devotional. The eBook is an instant download so you'll get immediate access to it once you purchase it.  To get the full details, head here.
Our Advent tree and Nativity set in the dining room
A Fun, Advent Wreath Countdown
I chose not to re-create the Advent popper that I made last year. Instead, I am using this fun wreath with removable boxes that I scored on clearance at Target post-Christmas. Inside each box, I have placed the printable clue cards that I printed off from Truth in the Tinsel.
I have seen similar Advent wreaths at Target but here are some links to similar ones on Amazon (if you have Prime you can use free two-shipping to get them just in time!) I love this one and this one is similar with pull out boxes to place small treats and clues inside.
Depending on whether we open the box in the morning or in the evening, the clue will serve as a way to build anticipation to the Bible story we will read or will serve as a review of what we read earlier in the day.
And because it's fun, I also placed two Hersey Kisses in each box, one for both of my kids. I know Advent countdowns are more than candy, but it's fun and we will be doing plenty to focus on Christ's birth throughout the month. After they remove the candy, they will see the clue card that I have taped inside each box. I won't replace the lids instead they will see the little pictures build throughout the month.
Unwrapping Christmas
The other day I shared our Advent storybook countdown and what books we would be unwrapping each day as we countdown towards Christmas. So far my kids have enjoyed opening a book, and yesterday I had to remind my son that we only open up one book a day 🙂
To make things fair, I will let my kids take turns. One day my son will open a book and my daughter will open the Advent wreath and the next day they will switch. That way they both can participate and each unwrap a book every other day.
This year I have added three new Christmas books to our collection including Humphrey's First Christmas, Charlie and the Christmas Kitty (love the Pioneer Woman) and Pete the Cat Saves Christmas (my kids LOVE Pete the Cat!)
They decided to "help each other" open the book the first day
All three of these activities are pretty simple in nature yet are intentional in helping to teach my kids the real Christmas story. I created a plan that was simple enough for me to carry out daily with the kids, and easy enough in case grandma has to step in for a few days.
I'm excited to experience the anticipation with my kids throughout the next few days as we prepare our hearts for the birth of Jesus, as well as enjoy the magic of the Christmas season together.
How are you and your family counting down the Advent season this year, or what traditions have you done in the past with your children? 
Need some more inspiration for some last minute Advent countdown activities?
Advent Ideas from Intentional By Grace (she includes a whole list of resources too!)
Gift of a Savior Free Advent Curriculum from A Joyful Simplicity
5 Key Elements of an Awesome DIY Advent Calendar (with FREE Printables) from Just a Girl and Her Blog
Plus I also have a huge Pinterest Board where I just pin Advent activities all year long! You can check it out here.
Does creating a Christ-Centered home feel overwhelming?
It doesn't have to be!
Join our community and get the encouragement & guidance you need to find real joy & purpose in your homemaking today! To get started, you'll also get my FREE guide: 10 Easy Ways to Create a Christ-Centered Home!
Plus, when you join the Creative Home Keeper community you will join over 5,000 other women (just like YOU) who are becoming equipped to create a Christ-centered home and are transforming their hearts towards homemaking once and for all!
*By joining the Creative Home Keeper community, you agree to our Privacy Policy.