Have I got a treat for you all today! I'm so thrilled to welcome the wisdom and experience from a Godly woman who has been through the trenches and has made it out to the other side. Ruthie has shared a fantastic post about the experiences she has observed while watching her husband love her children and lead her family.
Friends, share this post with your husbands, brothers, sons and any men in your life who want to leave a lasting impact on your family. A father's winning edge is all about the small, yet deeply impactful, things a man does every single day to win his family's heart for the Lord.
And now without further ado, I'm turning things over to Ruthie. Enjoy!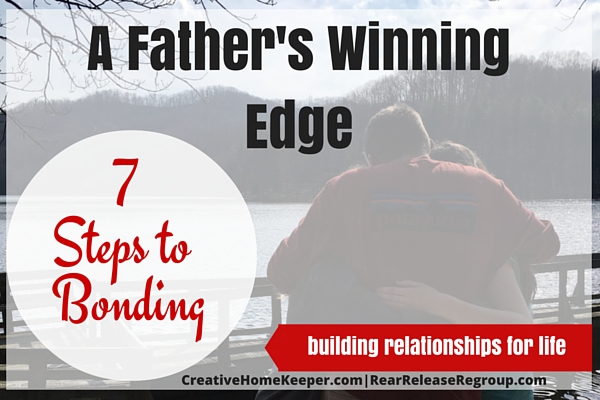 Guest Post by Ruthie Gray
When my son was about 14 years old, my husband announced that the two of them were going on a "pig hunt".
 "A what?!" I rubbed my forehead, "I didn't even know there was such a thing!"
Well there is – a giant, atrocious looking pig head hangs in my 25 year old son's (now empty) bedroom to prove it. Last week he texted his dad to say he was moving Big Snout to his place.
I cannot tell you how overjoyed I am.
Why did I allow an ugly pig mug in my house?
Because it supported something my husband stood for – and I'm not talking about hunting. I'm talking about bonding.
I've watched my husband in his role as father for 27 years. He has the complete love, admiration, and respect of our four grown children. They enjoy talking about his unique qualities, laughing at his antics, and hanging with him.
When considering career changes or life choices, they seek his wise counsel.
Dear ole' dad has achieved the winning edge in the fathering department, and today, I'm going to tell you how to get it.
How do I know? I've observed it first hand.
1.)  Tell your kids you love them every day
Even as teens, look them in the eye and say it, then back it up by your actions.
Also, physical affection is important for both sons and daughters.  My husband is naturally affectionate and I'm not (it's something I have to work at), so this provided good balance.
2.)  Sacrifice your time for theirs
Play kick-the-can instead of going to the gym after work.  Ride around in the yard on your ATV in lieu of soloing trails.
Let them help with projects and include them in trips to the home improvement store. Teach home repair and maintenance – it invests in both skill and bonding time.
Do life with them.
3.)  Love and respect their mother
Show affection towards her in front of them.  Brag on her, support her, scarf up her meals like they're the best thing on the planet (even if they aren't) 😉 and then tell her so.
Let your kids know how important she is to you.
4.)  Allow them to fail
My husband will tell you this is his biggest struggle, and he's still learning as our kids leave the nest and start doing life on their own.
But it starts young – step back and let them try (and fail).
5.)  Be willing to listen and not just hear
There's a big difference between actively listening to your kids and treating their conversation like rambling.
If they're small, let them chatter and do your best to interact. With t'weens and teens, try not to cut them off when they make a controversial statement.
Hear them out (if necessary, correct later) – if they think you're not listening, they'll talk to someone else who will.
You can't fool them into thinking you're listening when you aren't.  Not listening = don't care.  Don't send that message.
6.)  Make one-on-one time
It doesn't have to be an elaborate date to the local steak house or a father/daughter conference.  It's about snatching small pieces of time in your environment.
Teaching a child to ride a bike, noticing a kid alone in a tree house and crowding in, or lying on his bed at night talking basketball or whoopee cushions.
Don't have an agenda.  Just hang.
And hang tight.
7.)  A word on fathers of sons:  teach them to respect mom, sisters, and women in general
Teach him to hold doors, carry bulky groceries, and retrieve high objects.
This isn't about gender equality, it's about teaching good, old-fashioned manners (which seem to be a bit skewed in this day and age).
Besides, kindness and watchfulness for the care of others will go a long way towards finding a good wife someday – the kind you'd want as your daughter-in-law!
In all our years of rearing, my husband traveled often while I single-parented.  He beat himself up over the fact that he couldn't always be home (still does).
But he still found ways to be present.
He took time to call the kids and keep in touch in little ways while gone. And when home, he was actively involved. Our kids knew how much they were loved and to this day they rarely mention his time spent on the road.
They remember the time he spent with them.
And the pig hunt?
It was all about my son. My husband deferred to make sure he was the one bringing home Big Snout. And in the process, the relationship solidified.
Your circumstances don't need to change to have a winning edge as a father.
A better job, new location, or different lifestyle is not the answer.  God meets you right where you are, and He's entrusted your family to you with that in mind.
The time is now!
You can do this, dad.  You have all the time you need to do the will of God.  Pray and read the Word regularly, seeking the Lord's wisdom in rearing your children.
Fathers, do not provoke your children to anger, but bring them up in the discipline and instruction of the Lord.  ~Ephesians 6:4, ESV
Which of these bonding steps are easy for you?  Which ones do you need to work on, and what would you add to this list?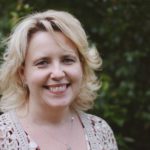 Ruthie Gray is a wife, mom of four, Gigi, and caregiver, living in the sandwich generation and blogging to keep her sanity.  When she's not snacking on plastic drumsticks with her two-year-old grandson, The Tiny Tornado, you can find her coaching other moms on how to raise responsible kids and enjoy them at RearReleaseRegroup.com and her closed Mom Time Out Facebook Group.  You can also connect with Ruthie on Facebook and Instagram.