Something that has been bothering me lately is just how many things I have pinned on Pinterest that I haven't (and probably won't ever) gotten around to making or following the suggested advice. My Pinterest boards are a little overwhelming, and I'm pretty sure yours are too if you are on Pinterest.
It is so easy to scan all the beautiful pictures and articles and pin them to one of your boards only to promptly forget about them. It's one thing to intentionally pin something, it's another thing to have thousands of items pinned that have never seen the light of day again.
So I'm challenging myself to do something about it this year. I've been spending a few minutes here and there cleaning up my boards by either deleting pins that I know I won't ever use, or making sure the pins that I want are organized in a more user friendly way.
Another thing that I am challenging myself to do is to pick one pin a month that I like and actually take action on it. Whether it's a craft, home improvement project, learning activity, recipe (although I'm pretty good about trying most of the recipes I pin), or organizing tip, I'm going to pick one a month and either create or do.
So welcome to the first installment of Pinned It… Made It!
Today I'm tackling a photo keepsake project that I have wanted to make since seeing this pin. I have plenty of keepsakes from my kids outside of their journals and memory trackers. Most of those are safely stored in a plastic tub located in the kids' closets. But I have been wanting to make something to remind me of their first days. So here is my version of the baby's first day keepsake boxes I came up.

Material Needed
Shadow Boxes (Frugal tip: I purchased mine from Michael's during a buy one get one free event with a coupon. Also always check their weekly ad because periodically they have a coupon you can use on sale items too, making them even cheaper!)
push pins and/or thumb tacks
double sided tape or Mounting Squares (I also used some double sided Velcro that came with my shadow box)
Keepsake memorabilia which could include a newborn bodysuit, coming home outfit, birth announcement, hospital wrist band, etc.

Directions
First gather whatever keepsakes you plan to use. For mine I choose to use both my children's birth announcements, my favorite bodysuits from when they were newborns, and a painted wooden monogram of the first letter of their name that my sister-in-law panted for them.
Next arrange how you want each item to lay in the box. This part takes the longest because you want to make sure everything is spaced evenly and is visually appealing (something that my non-crafty self is not so gifted with which probably explains why this step took my forever!) Also it should go without saying that before you start to layout your keepsakes, you probably want to make sure that the hanging hook on the back is positioned at the top, mine was not which also explains why it took me longer than the average person to complete!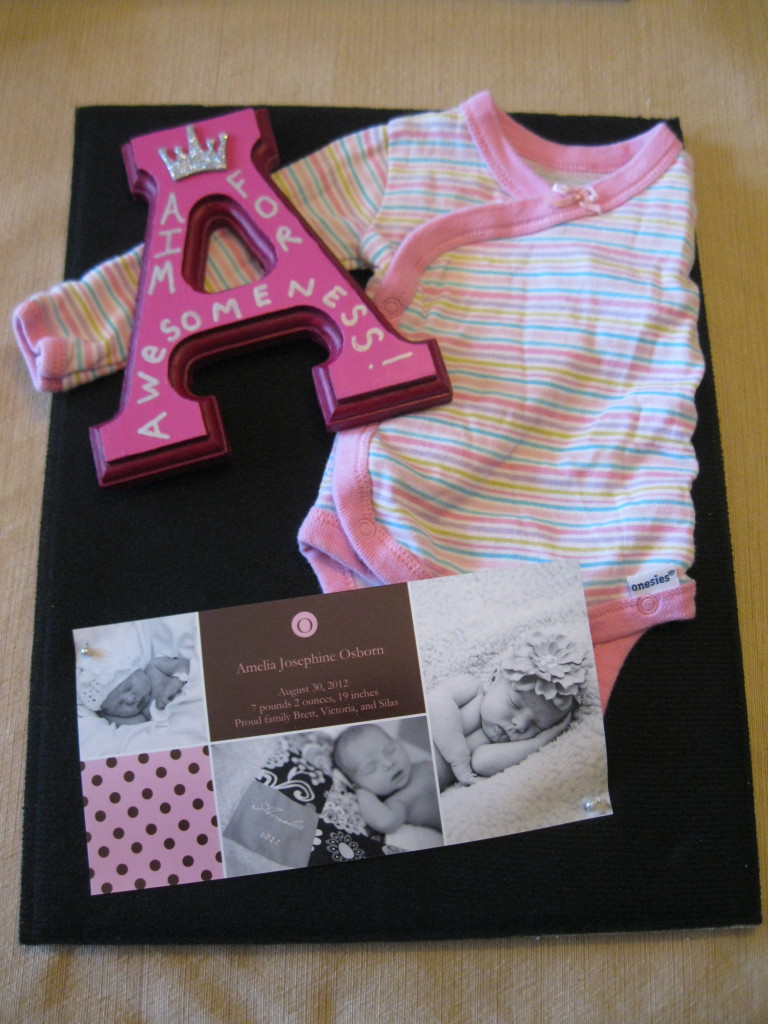 I first laid out the bodysuit since it would be the main focal point and would also take up the most room. I used the thumb tacks to secure it down. Then I continued to layer the keepsakes and attach with either thumb tacks, mounting tape or Velcro.
One of my pet peeves when it comes to frames are those small triangle hooks that you hang on the nail in the wall. The problem is that the hooks are usually so small and they rotate so it's almost impossible to attach to the wall. It's even worse when there are two hangers only inches apart. Not only do you have to nail in two nails on your wall that are perfectly even (we have our fair share of slanted pictures around our house) but then you have to try to try and hang it on the wall. Maybe I make it harder than it needs to be, but every time it's a chore.
Well I finally got smart and purchased some hanging wire
that I string through those hooks. It makes the process so much easier!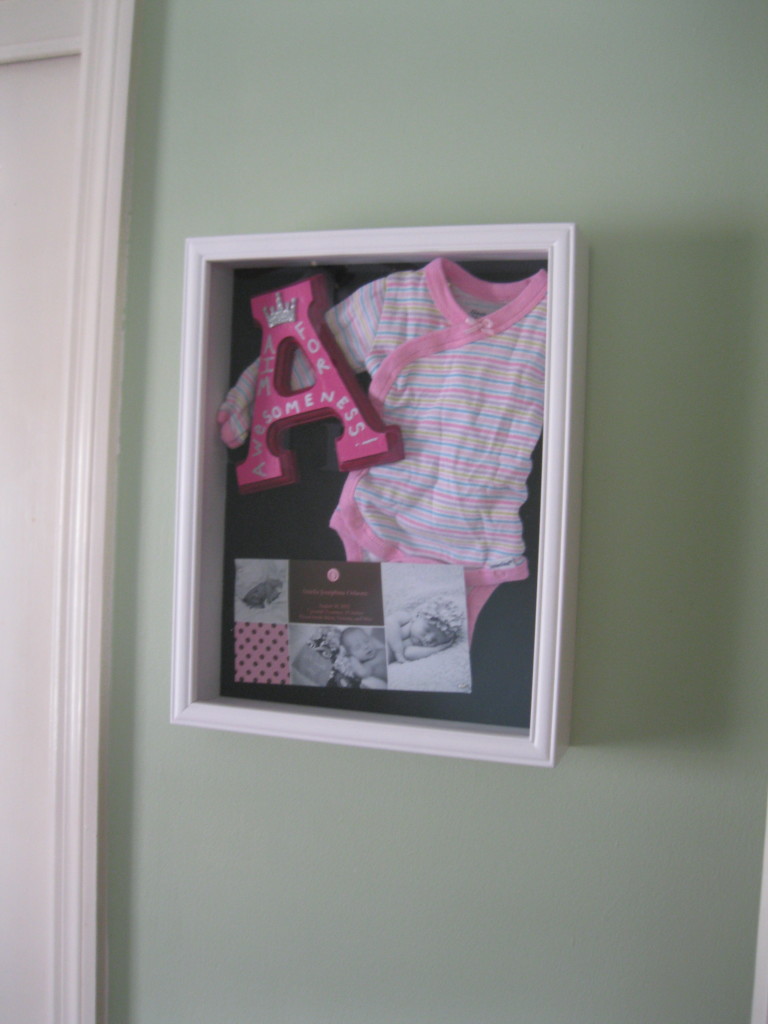 I'm pretty pleased how the keepsake boxes turned out. They look great hanging on the wall in their shared bedroom. It is so sweet to look at those small bodysuits and think about how tiny they once were and how much they have grown!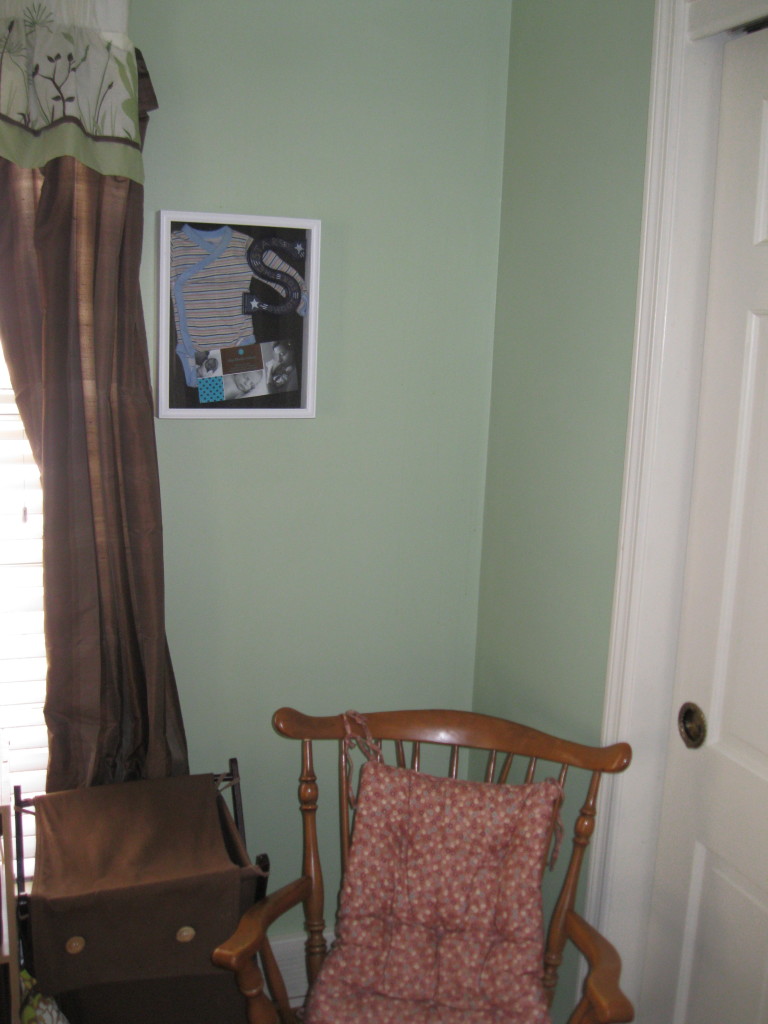 You can see even more keepsake inspired pins on my Keepsake board.
Follow Victoria @ Creative Home Keeper's board Keepsakes on Pinterest.


What is your favorite way to showcase some of your child's first days keepsakes?
Want to me more intentional as a family?… Have you heard about the Ultimate Homemaking Bundle? A HUGE collection of books, eCourses, audio downloads, printables and bonus offers to inspire you towards creativity in your home, marriage, motherhood and homemaking. It's only available for a limited time and you don't want to miss it! Get all the details here.