Last week I shared my struggle with memorizing scripture and my new plan of action. Today I'm pleased to announce the first passage of Scripture that I (and hopefully you too!) will be focusing on this month.
The first Bible to Brain to Heart memory verse is going to be Titus 3: 4-7
But when the goodness and loving kindness of God our Savior appeared, He saved us, not because of works done by us in righteousness,  but according to His own mercy, by the washing of regeneration and renewal of the Holy Spirit, whom He poured out on us richly through Jesus Christ our Savior, so that being justified by His grace we might become heirs according to the hope of eternal life.
Ever have one of those moments when you are sitting at your Bible going to look up a specific scripture only to have God redirect you to a different one? That is exactly what happened to me. I was flipping in my Bible to 1 Peter (it's what I'm currently studying) when I landed in Titus instead.
I had Titus 3: 4-7 underlined and as I was reading it I was reminded of God's goodness and His grace, and that nothing I do can earn merit with Him or change the way that He loves me.
It was a moment when I heard His gentle voice directing me to sit and reflect on His goodness and the promise of eternal life. So I knew that these few verses in Titus 3 where what I needed to spend some time reflecting on over the next few weeks.
To help me memorize it I created a pretty printable to carry with me and place in a prominent location where I will be able to see it often. Last fall when I was working on studying Ephesian 1, I was introduced to the concept of using the first letter of each word as a memory prompt and aid, so I also created a Titus 3:4-7 first letters card.
In the download below you will have 2 memory verse cards plus 1 first letters card.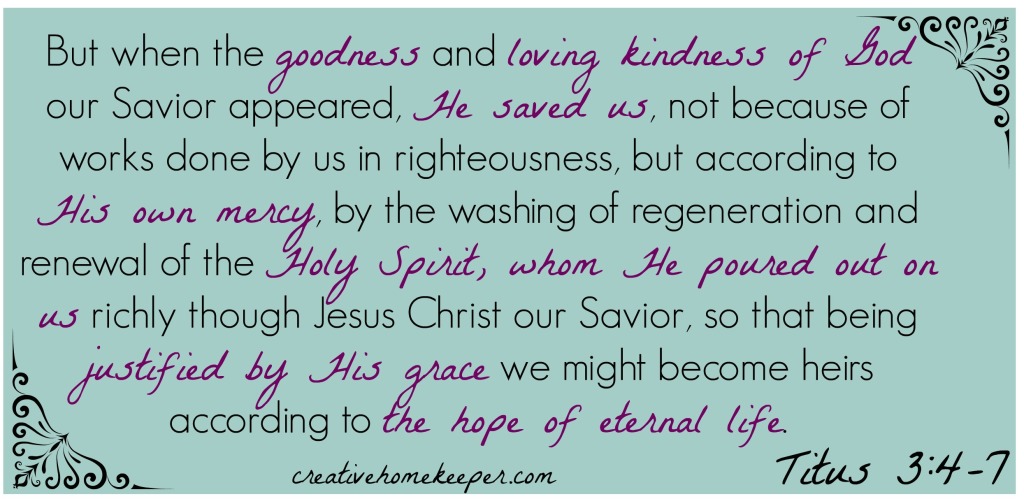 The Bible to Brain to Heart scripture memory challenge is more than just memorizing scripture but also to reflect on it's meaning and what God is saying through His words. So here is my plan for taking Titus 3:4-7 from Bible to Brain to Heart using the S.O.A.P method:
Scripture: Read Titus- I'll spend the next few weeks reading the entire book of Titus (it's only 3 chapters) several times
Observations: Using my journal I'll record any observations, a summary, or what God is speaking through me while reading
Application: How does this scripture apply to my life?
Prayer: Again using my journal I'll record my prayers. Prayers for God to reveal His message to me through this scripture. Prayers for an understanding
Please don't feel that in order for you to memorize Titus 3:4-7 with me this month that you have to do the same thing that I am doing. I'm simply sharing my plan to help make God's word more meaningful to me in my life.
So are you joining in with me this month on the first Bible to Brain to Heart Challenge? Please let me know!
If you don't already have a memory verse challenge that you are participating in, I'd love for you to join in with me on memorizing Titus 3:4-7 this month. If you are joining in, I'd love for you to share with others on Facebook, tweeting about the challenge on Twitter using the hashtag  #BibleBrainHeart or pinning the graphic above on Pinterest.
Want a creative way to help memorize scripture? Check out Creative Home Keeper's newest sponsor Armed with Truth temporary tattoo packs for memorizing scripture.