The Big Box Challenge (Round 2)
This year let's create a haven at home with the 52-week home project. Small, managable weekly tasks and challenges to create a space that promotes peace, inspires creativity, nurtures your family and is not only more organized but also runs with more purpose and intention.
To catch up on all the previous projects, head here. 
Since it's Labor Day weekend and we have a little bit of extra time to spend with family and to enjoy the unofficial last days of summer, this week's challenge will be short and sweet as we revisit a previous week's project.
It seemed only fitting to go back and do another big box challenge at the end of summer. I don't know about your home, but over the summer months our house has gotten a teeeeny bit out of control. The clutter has been pushed to the corners, covered by pool tools. There are so many items that need to be put back to their original spot, packed away in the appropriate summer storage spot or just given away all together.
So this week, we are going to do a house sweep through to help get our homes in order as we head into another busy season.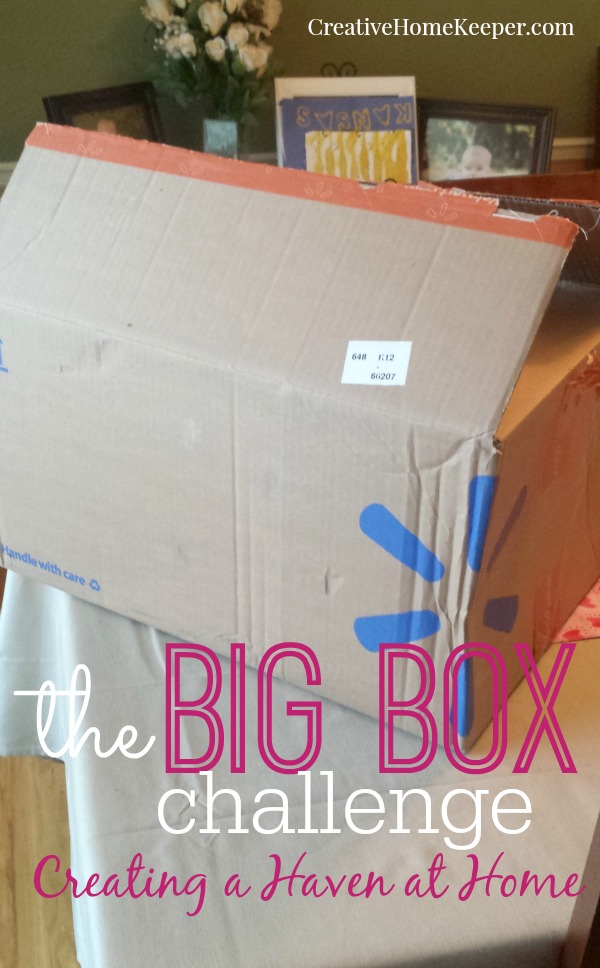 Project 32: The Big Box Challenge
Gather a large box, preferably a cardboard one so you don't have to empty the contents before you donate. If you don't have a large box, use a trash sack.
Set a goal of how many items you would like to collect. This could be something like 5 items per room or even 7 items a day. Be specific for your home and decluttering needs.
Walk through your home room-by-room. Give each room a scan and place items you are ready to depart with in the box. Don't think too hard about this, just gather those items that are no longer being used, enjoyed, or played with. It's best to get your family's input on this too, don't discard belongings that belong to others. If you have young kids, make a game out of it but really explain to them that what they place in the box they won't have anymore.
Sort through the box to throw away any items that aren't in good condition to donate.
Place the box in your car to drop off at your nearest donation center. If you don't have one nearby, schedule a pickup with a local charity. Don't let the giveaway box remain in your home, it will only add more clutter or you may even be tempted to go through it again to "rediscover" items. It's best to just part with it as quickly as possible.
A New Project for a New Week
Each week I'll share a new challenge to help us tackle one small area of our homes.
Some weeks it might be a deep cleaning task, some weeks it might be a decluttering task, some weeks it might be a challenge to help you create a space you love, and some weeks it might be a combination of a few different challenges.
The goal for the 52-Week Home Project is to have a home that is not only more organized but also runs with more purpose and intention and just feels more peaceful and calm.
Next Sunday I'll share my progress as well as give our next challenge in the 52-Week Home Project so be sure to stay tuned.
Missed a project in the 52-Week Home Project? Head here to see the complete list of all 52 projects!
How did you do with your 52-Week Home Project this wee? Share your results in the comments below, including a link to your blog post or photo you shared on Instagram, Facebook or Twitter with the hashtags #The52WeekHomeProject