Easy and delicious, homemade chicken alfredo pizza is a crowd-pleasing meal your whole family will love. Perfect for pizza night!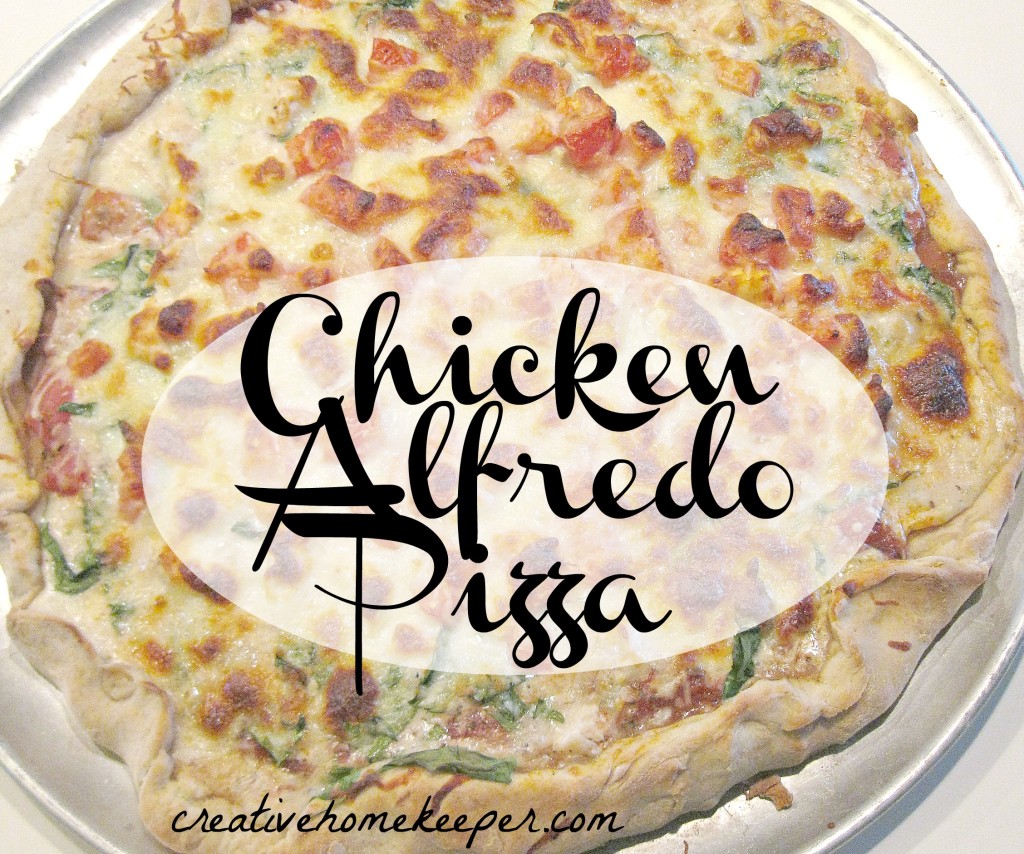 Who doesn't love pizza night?
We sure do in our house, but I'll admit that I sometimes get bored with the standard supreme pizza variety.
What I love about pizza is that the choice of toppings are endless.
Last Friday night I made one of my new favorite varieties, delicious Chicken Alfredo Pizza!
Chicken Alfredo Pizza
Author:
Prep time:
Cook time:
Total time:
Ingredients
Pizza dough
2 cups Alfredo sauce
1 14.5 oz can of diced Italian seasoned tomatoes (drained) or 1 cup of diced fresh tomatoes sprinkled with Italian seasoning
1 cup chopped spinach
1 cup cooked, chopped chicken breast
2 cups shredded mozzarella cheese
Instructions
Prepare the pizza dough according to directions. Roll out on a floured surface and transfer to a pizza pan.
Spread Alfredo sauce liberally over the center of the pizza dough. Leave about an inch to form the crust of the pizza.
Layer on the spinach, chicken, and tomatoes. Cover with the mozzarella cheese.
Fold in the outer crust of the pizza to make a thick border to keep the ingredients in.
Bake in a 500-degree oven for about 10-12 minutes, or until the inner crust is cooked and the cheese is melted and bubbly.
Chicken Alfredo Pizza Recipe Notes: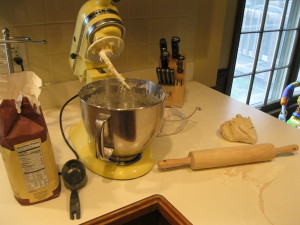 You could use store-bought dough, but I much prefer to make my own. I use this homemade pizza dough recipe from Money Saving Mom.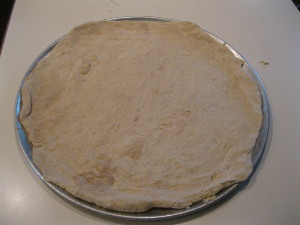 Alfredo sauce is super easy to make yourself if you didn't want to use some from the jar. (Confession: I regularly use jarred Alfredo sauce but fresh tastes so much better!)
If you want to make your own, this recipe is delicious and easy.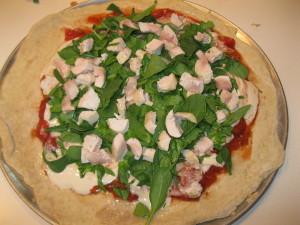 Folding up the pizza crust on the outer edge helps make a thicker crust and also keeps those ingredients inside instead of running out.
Sometimes when I cook chicken breast for pizza toppings, I find that the cooked chicken gets a little dry while the pizza is cooking.
So what I do is take the chicken out of the oven before it is completely cooked, and chop it up. The chicken should still be undercooked. This way the chicken will finish cooking with the pizza and still taste juicy, not tries out.
I'm not going to lie, this is definitely a fork and knife kind of pizza. It is thick, gooey, and SOOOO delicious!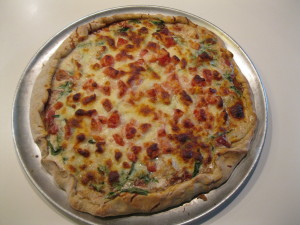 Enjoy! 
What is your favorite way to make homemade pizza?