Guest Post By Angela
We have three boys in our family who are 14, 12, and 6  years old. When school gets out for the summer, there is always a big sigh of relief from the whole family.
The lunch packing, children waking, breakfast making, morning rush will be over for two and a half months. One of the things that can also go out the door, though, is prioritizing self care as moms.
If you homeschool, or have little ones who aren't school age, you may have already figured out how to maintain some kind of self care routine while everyone is home together. I always have to remember how to balance out my needs with theirs every summer. My natural default is to put their needs and schedules above my own at all times.
You might be a mom who is already convinced of the benefits of regular and daily self care. It may not happen every day and it may never happen perfectly, but you know the importance of taking care of your body, mind, and spirit. This post will encourage you to keep up the great work!
You may, however, be a mom who is just barely getting through the day and have never thought about what your needs are on a daily or a weekly basis. This post is for you!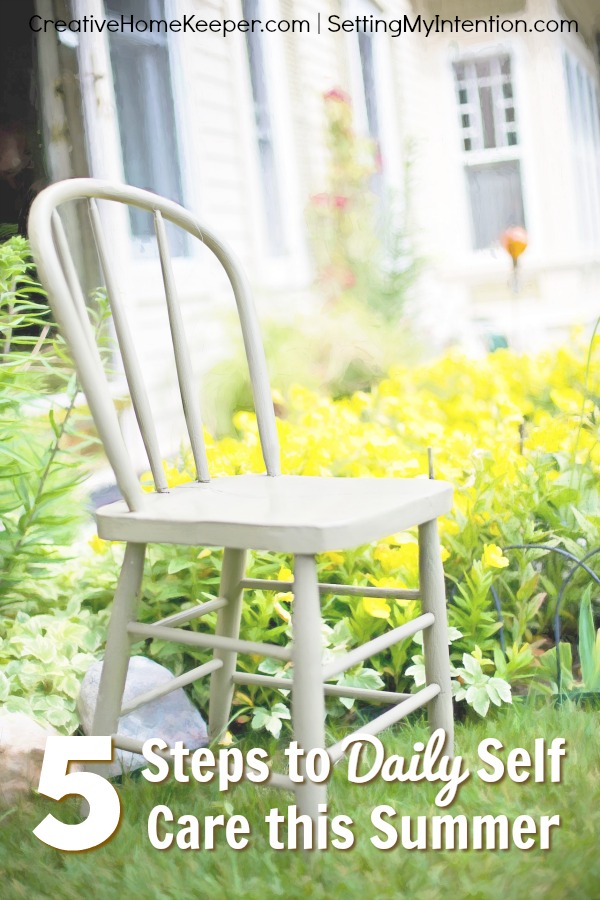 Image from Pixabay.com
WHAT IS SELF CARE?
First, self care is not a luxury.
It's about meeting the basic needs of your body, mind, and spirit so that you can fully show up for yourself, your family, and your larger community.
Sometimes when people hear self care, they think of getting massages or taking private retreats. These could very well be part of a larger self care plan, but today we're going to talk about a basic self care plan for the summer.
OUR BEST SELVES
I want you to take a minute to think about what you're like when you're your best self. Write down a few words that come to mind.
What do you need, to show up at your best?
Most people need the following to show up at their best:
Sleep

Meals and water intake

Pleasure
The basic self care plan for the summer focuses on these key areas.
In order to be at our best, we all need to make sure we're getting enough sleep, movement, and eating healthy food. This is something we all know in our heads. What are we actually doing in our daily lives, though?
Before I started tracking my habits on a daily basis, I thought I was meeting my personal goal of getting six hours of sleep every night. I was surprised to find that what I thought and what I was actually getting every night didn't match up.
So how do we make self care a priority this summer?
Image from Pixabay.com
5 STEPS TOWARD SELF CARE THIS SUMMER
One
Out of the top three basic self care areas of sleep, movement, and what you put in your body, which is your top priority?
Two
Track your sleep, movement, and eating daily. Or you can track your top priority area only. You can get a free monthly habit tracker here.
Three
Write down specific and small actions you will take daily to make your self care a priority. Know your baseline, and plan from there.
If you're getting 4-5 hours of sleep a night, an example of an action is "Get at least 6 hours of sleep a night." "If I don't get at least 6 hours of sleep, I will take a 20 minute nap during the day."

Another example is "Take a 10 minute walk everyday" or "Do 10 squats and one 30 second plank everyday." This goal will depend on what your baseline movement is now.

If you're trying to eat healthy and drink more water, set a goal that increases the amount of vegetables/fruits that you'll eat on a daily basis as well as increases the cups of water you drink a day.
Four
When you have your basic self care needs met for your body, move to planning a simple morning routine to meet your spiritual needs. That might include prayer, meditation, and/or reading daily. This doesn't have to be long. It can start at 5 minutes a day.
Five
Last, but not least, write a list of things you find pleasure and enjoyment in. You can get a list of 50 ideas to get you started that may help you brainstorm your own personal list on my blog. Try to do one pleasurable activity a day during the summer. Take a few minutes while the children are still sleeping, or watching a video, or having quiet time in their rooms.
When I am my best self, I am patient with others (and myself), peaceful, happy, and only focusing on one thing and one person at a time. We want to be our best selves in order to serve and love our families well. In order to do that, we need to make sure we're filling our cups first through self care.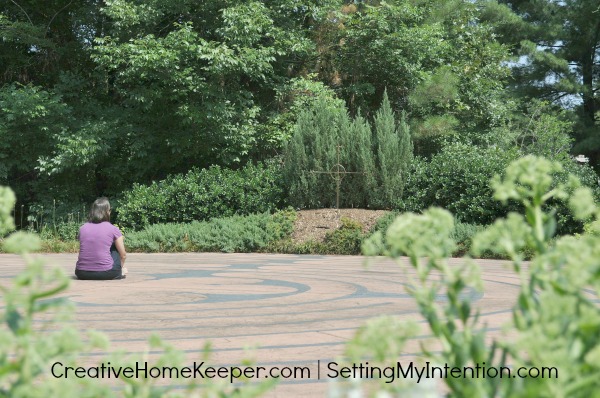 Image from Pixabay.com
What ideas will you implement this summer? Do you already have a self care routine?
Angela blogs at Setting My Intention where she focuses on intentional change and developing healthy habits in the midst of the daily demands of life. She calls herself an aspiring minimalist, hoping to create a peaceful home and a slow schedule for her and her family…one step at a time. You can keep up with her progress (and join in the fun) here:
Facebook | Twitter | Pinterest | Instagram | Google + | StumbleUpon | Bloglovin