This DIY bug spray is safe, natural and effective! Just a few ingredients that you probably already have in your home making this not only green, safe and natural but also frugal too!!!
With Memorial Day weekend upon us, it is hard to believe that summer is here!
Summer brings around a lot of traditions, including BBQs, lazy pool days, flip flops (OK I actually wear those year 'round!), and of course those pesky little mosquitoes.
I'm pretty sure summer insects are very attracted to my skin, I always have a ton of mosquito bites every year. My kids also love to play outside, and their sticky skin is also very prone to getting lots of bites.
As I have been (slowly) making the transition to a more green and natural way of life, I have spent a lot of time reading the ingredients on products, especially products that go on our skin.
The rather long list of unpronounceable ingredients/chemicals on a bottle of standard bug repellent gives me the same he-bee-gee-bees that the bugs themselves give me! Even some of the more "natural" brands still have questionable ingredients, plus they are very expensive.
So I started googling do-it-yourself alternatives and found a ton of recipes that (mostly) have natural and safe ingredients. I knew making our own bug repellent would not only be the safer option but also the more frugal option as well.
There are so many DIY bug spray recipes out there but many include lots of ingredients, some I already had on hand and others I didn't. I know how I work, if it's a recipe that requires a lot of ingredients and steps, I won't keep up with making it. But if there are only a few simple ingredients and all is required of me to is combine, shake and spray… then count me in!
After researching recipes and ingredients, this is the recipe that I came up with. An added bonus was that I already have ALL of these ingredients in my home so I didn't have to go out and buy any extras.
DIY Bug Spray
1/4 c apple cider vinegar
1/4 c witch hazel
5 drops eucalyptus essential oil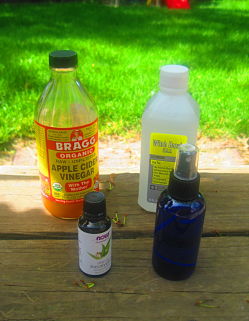 Pure all the ingredients in an 8 ounce glass spray bottle, and shake before each use
That's it, easy peasy!
Now I know that essential oils can be expensive, especially the higher quality ones. But they last a LONG time, and are so versatile. I use them in my homemade cleaners, and I have also been reading up on how to use them to build a more natural medicine cabinet.
So once you make the investment, they will come in handy for a variety of uses. I should also add that I'm not brand specific. My oil collection included essential oils from some of the premium brands, as well as oils I have purchased at the health food store.
My verdict, and personal opinion, is that if it is going on our skin then I use the highest quality I can afford. If I'm using it as a cleaning aid or to defuse, then I'm fine with the health store's brand. But that's just my two cents….
It's also important to use a glass spray bottle since the oils may erode the plastic over time. I personally love the Grove Collaborative Glass Spray bottles. I have a few I use for both cleaning purposes, and for our leave-in conditioning spray.
I keep our DIY Bug Spray bottle near the garage door so I can give everyone a quick spray before they head outside. Do make sure you spray the bottle away from eyes and mouths, I also don't spray hands especially since the littlest one still likes to suck on his fingers.
A few little sprays is all you need for some carefree playtime outdoors!
What are your outdoor summer essentials?