Easy Oven Chicken Fajitas
Get dinner on the table in a snap with these mouth-watering and super easy oven chicken fajitas! Quick prep and go dinner, perfect for busy moms!
One of our favorite dishes is chicken fajitas. We eat it all the time and even my two toddlers love it!
You could easily make this dish on the stove top very quickly, but you have to watch it closely. Also when you cook it on the stove, it loses that crispy, smokey flavor and texture of fajitas fresh out the oven.
What I LOVE about this dish is how easy it is to throw together, plus how much better it tastes if it has a chance to marinate longer before going into the oven.
I usually prep the cooking dish with the chopped vegetables, meat, and seasoning during my kid's nap time. Then at the appropriate time, I can just throw it in the oven and walk away!
This also makes a wonderful dish to bless a family with either a new mom or a family with a need.
I usually serve the chicken fajitas with black beans and a side salad. This is a great dish for all year: winter, spring, summer, and fall.
You can also easily swap out the chicken for beef to make steak fajitas, those are delicious too!
Easy Oven Chicken Fajitas
Author:
Prep time:
Cook time:
Total time:
Ingredients
1 large white onion
2 green bell peppers
1 red bell pepper
1 yellow bell pepper
1 lb. chicken breast
1 Tbsp coconut oil
1 lime
8 corn tortillas
¼ cup chopped fresh cilantro
1 Tbsp chili powder
½ Tbsp paprika
½ tsp onion powder
¼ tsp garlic powder
¼ tsp cumin
⅛ tsp cayenne pepper
½ tsp dried cilantro
Instructions
Pre-heat the oven to 400 degrees.
Mix all of the ingredients for the fajita seasoning in a small bowl and set aside.
Cut the onion and bell peppers into thin strips. Arrange them in a large baking dish.
Cut each chicken breast in half through the middle to make a thinner slice of meat. Then cut each piece into long, thin strips. Add the chicken to the baking dish.
Sprinkle the seasoning over the meat and vegetables.
Spoon in the coconut oil and then use your hands to toss the ingredients until everything is well coated in the oil and seasoning.
Bake in the preheated oven for 35-40 minutes.
Squeeze the juice from the lime over top of the meat and vegetables, and sprinkle with the fresh cilantro after it comes out of the oven.
Spoon the mixture on top of the tortillas
Notes
I like to make a big batch of the fajita seasoning and store it in my pantry with my other dry spices. To make, I triple the recipe and then scoop out 2 Tbsp per serving. It stores well in a glass jar.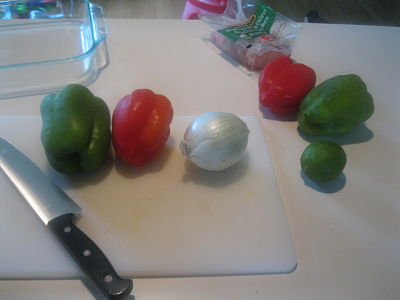 For an even added time-saving measure, you can easily make fajita starter bags for your freezer!
Just cut up all the veggies and meat to place in a gallon sized freezer bags. Add the seasonings on top and seal the bag tightly and mix together.
Write the contents, date and cooking ingredients on the baggie and throw in the freezer. When you are ready for a quick dinner, just thaw in the refrigerator and then dump into your baking dish!
I like to double this recipe when I make it so I always have a fajita starter bag in the freezer.
Enjoy! And if your family is like mine, there probably won't be any leftovers! 🙂