Embracing a Standard of Grace, Not Perfection
Recently in my email newsletter I asked you, my sweet sisters, what it is you have the most struggle with when it comes to balancing your home life and what is holding you back from nurturing a thriving faith. The answers where overwhelming:
I'm struggling to keep up with it all which leaves me feeling like I'm doing nothing well. 

My schedule is so full between my activities, the kids, church commitments, PTA volunteering and on and on the list gos. My life seems so out of balance and my marriage is hanging on by a thread. 

Nurturing a thriving faith?!?!? I can barely keep my eyes open after spending the day with my two little ones. I love them so much but they require so much of me that I hardly have anything left to give!

My problem is I know I'm not focusing on the most important things but I don't know how to stop what I'm doing.

I'll admit it, I'm chasing after the idea of Pinterest perfect life for my home, my cooking and my closet. My poor family is going to revolt if I bring them one more "family building" activity!
Does any of this sound familiar?
Oh sweet sisters, why do we do this to ourselves? I'm right there with you too by the way!
My plate is full between spending time with my husband, caring for the kids (the whole school schedule also throws things for a loop now!), managing the home front and building a small business here in this space. There was season not to long ago when my faith completely hit a dry spell and I was on a first class ticket straight to burnout 'ville.
Overwhelmed, frazzled, lacking joy… that was the cycle I felt so stuck in. I wanted to be experiencing the abundant life Jesus promised but I was so caught up in the never ending, mundane day-to-day tasks that I completely lost focus on what was truly important. Trying to do it all was taking a toll.
Instead of being the loving, creative and nurturing wife and mother I desired to be, I was grumpy and tired all the time. 
I knew things had to change. I wanted more focus, more purpose and more intention in my life. I needed to let go of the guilt that was holding me back and to stop believing the lie that if I was to be the woman, wife and mother God called me to be, I needed to be doing certain things every single day.
After reading those emails, I know my story matches so many others. So what do we do?
Well first we have to stop living by other people's standard and start living by the Grace our Father so freely has given us. Because here is something I truly believe with all of my heart….
I believe intentional living is saying YES to the Grace found in Christ allowing you to focus on what truly matters most. 
Let me rephrase that another way: when we stop trying to do all of the things and be all of the people to everyone else, instead turning our eyes Heavenward and allow Him to lead us, image the peace and joy that takes place in hearts?!?!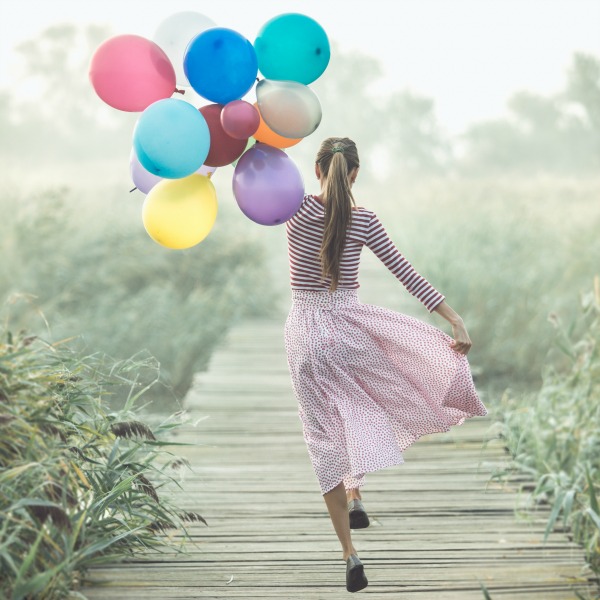 Activities, volunteering, decorating our homes, implementing new systems and routines into our families, cooking mouthwatering recipes, making our own health concoctions… all of those things are not necessarily bad in and of themselves. In fact many of them can be good but do they truly matter in the grand scheme of things? 
If you were to sit down right now and list out your priorities, you know… the things that matter most, would how you are spending your time, focus and energy match up?
I'll be honest, even though I know what my priorities are, what my mission statement is and I have a really good grasp on how I should be spending my time, it's hard!
It's easy for my eyes to diverted from the ultimate goal and that is exactly what Satan wants.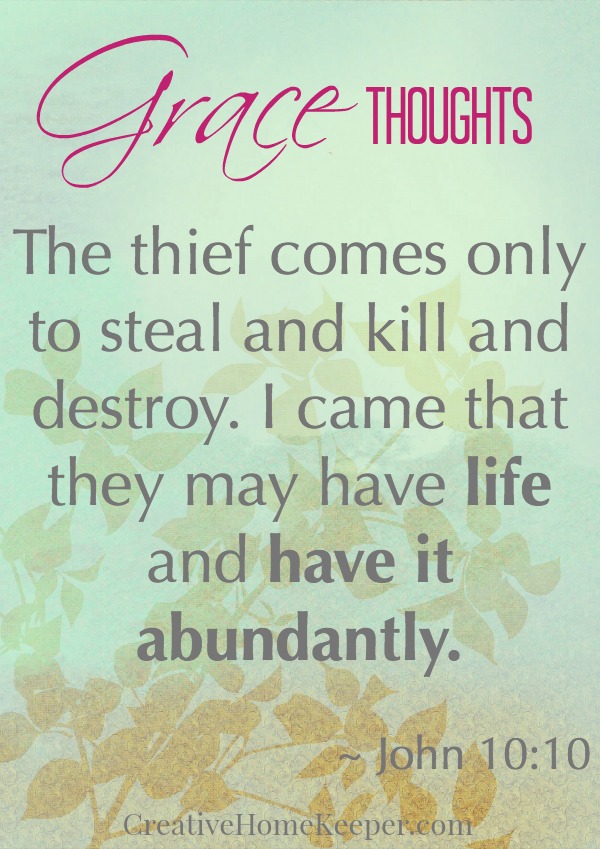 He wants us to get lost in the hustle and bustle of daily life, to keep up with the Jones', to continue to strive for that ever elusive goal of perfection only to leave us feeling empty, alone and like utter failures. Satan wants us to stay on the hamster wheel of trying to achieve the Pinterest perfect life because he knows the truth.
That abundant life, filled with peace, restoration, growth and JOY only comes from one source… the wellspring of life.
[clickToTweet tweet="The abundant life filled with peace, restoration, growth & JOY only comes from one source, God " quote="The abundant life filled with peace, restoration, growth & JOY only comes from one source, God "]
This week in my Bible study we were reading about the woman at the well and the promising words Jesus spoke to her
Whoever drinks from the water that I give will never be thirsty again. The water that I give will become in him a spring of water welling up to eternal life.  ~ John 4:14
Jesus is the only source to quench our dry, weary and exhausted souls. He is the One who has given us, from His fullness, grace upon grace (John 1:16).

Simply put if we want to live the intentional Grace-filled life with purpose, joy and a sense of freedom to let go of the unimportant things, we have to cling to Him first and foremost.
I love how Emily Ley says "You can't draw water from an empty well."
[clickToTweet tweet="You can't draw water from an empty well #GraceNotPerfection" quote="You can't draw water from an empty well."]
The to-do lists, activities, Pinterest inspired projects and anything else that places our focus on a standard of perfection are all being pulled from that empty well. I don't know about you but I have spent a lot of time and energy scraping the bottom of that well trying to fill my life with good things and it's not working.
Proverbs 4: 23 reminds us to
Above all else, guard your hearts, for everything you do flows from it.

So how do we guard our hearts let go of the standard of perfection?
Believe in the Grace We Have Already Been Given
For it is by grace you have been saved, through faith — and this is not from yourselves, it is the gift of God. (Ephesians 2:8)
Did you catch that?
It is not from you. There is nothing you can do, say, or be. The Grace-filled life comes only from Him.
[clickToTweet tweet="There is nothing you can do, The Grace-filled life comes only from Him. #GraceNotPerfection" quote="There is nothing you can do, The Grace-filled life comes only from Him. "]
I love how Emily Ley writes,
Here's the thing about Grace: you don't have to be perfect to embrace it. Grace is free – for imperfect and unworthy people like you and me. You don't have to be perfect. Jesus took care of that for us. He went before us and made a way. While we are busy trying to plan extravagant birthday parties and have exquisitely put-together home's, God has set a standard totally outside our realm of thinking. Instead of calling us to hopeless overachievers, He calls us to "walk by the Spirt… [with] love, joy, peace, forbearance, kindness, goodness, faithfulness, gentleness and self-control" (Galatians 5:16, 22-23). … God cares more about us abiding by His commandments and loving big — feeling deeply alive and free from the traps of perfection and comparison. God is pouring Grace on us every day, abundantly and without restraint." Grace Not Perfection, pgs. 8-9
Meditate on These Scriptures
Write this verses out on pretty paper (or if you are like me, a sticky note) and display them over your house. Fill your house and heart with God's Word as a reminder that our standard is not perfection but instead embracing the Grace He has called us to.
Stop Comparing Yourself to Others
Oh sweet sister, why do we constantly do this ourselves?
Falling into the comparison trap is a big way Satan tries to steal our joy. And it's so easy to do it too!
Comparison starts to reveal itself in seemingly innocent ways. Scrolling through Facebook or Instagram, peering out the kitchen window to our neighbor's perfectly manicured life, listening to the women in our Bible studies… you name it and there Satan is trying to whisper lies of comparison into our hearts.
When you start to feel to feel yourself entering into that trap, remember these words
For You created my inmost being, You knit me together in my mother's womb. I praise You because I am fearfully and wonderfully made; Your works are wonderful, I know that full well. My frame was not hidden from You when I was made in the secret pace, when I was woven together in the depths of the earth.  ~ Psalm 139:13-15.
God created you to be you, His creation. Remember that!
Repeat after me,
I will hold myself to a standard of Grace, not perfection. I will choose Jesus to draw water from to fill my dry and thirsty soul. I will cling to the Father as the author and perfector of my faith. I will set my sight on the things that are unseen because they are eternal and His Grace will never wither or fade away!
How will you embrace Grace today? 
I am so excited that one of my favorite entrepreneurs, and creator of my beloved Simplified Planner, is releasing her first book today, Grace Not Perfection: Embracing Simplicity, Celebrating Joy. It is filled with grace and truth. Along with her inspiring tips on living simply, she reminds us that when we are trying to do it all, we do nothing well.
A beautiful hardback book filled with words of wisdom, captivating photography and space to journal, Grace Not Perfection is the perfect edition to your library. Available from Thomas Nelson wherever books are sold.
Do yourself a favor and get your hands on a copy today! 
** I received a copy of the book from Emily Ley and Thomas Nelson for my honest opinion but it was already on my to-read list anyway! 😉