As the year is drawing to close, it's time to spend a little intentional time planning and looking forward to a New Year. This week between Christmas and the New Year is another favorite of mine.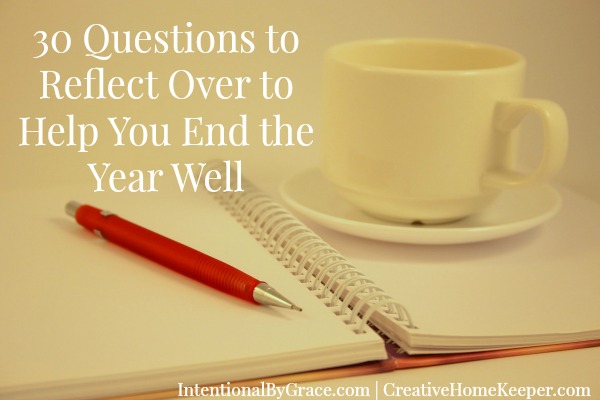 It's a chance for reflection, goal setting, filling in my planner and examining my priorities. While I do spend a fair amount of time planning for the New Year, before I can even do that I must reflect on the previous year.
Looking back helps to look ahead. 
When we spend some time going back over the year and reflecting on what we did well and what we want to work on, it helps with planning out goals and ideas for the next year.
Today I'm sharing 30 questions to reflect over as you are ending the year well to plan for the New Year over on Intentional By Grace. Head on over to get the complete list then plan a some time to set aside where you can sit quietly with your Bible, journal and planner to reflect and plan ahead.
Ask God to lead you in your reflective time, as well as prayerfully plan for new goals and plans for the coming year.
How do you reflect over the past and plan for the New Year?
Plant God's Word Deep in Your Heart!
Download your free Scripture Graces Quick Start Guide to Writing Through the Bible today!

Join the community of over 8,000 women who are learning how to prioritize their home life while nurturing a thriving faith with a little bit of encouragement delivered weekly to your inbox -- plus get this FREE workbook!