I'm big on goal setting. It's no secret, I talk about them all of the time.
But I wasn't always the best at setting goals.
I would create these lofty ideas and dreams disguised as goals. I didn't take into account my season, my real life or my purpose when I created them.
Instead, I just wrote down whatever came out of my head, called them goals and made a pretty printable of them to display…. because they're not really goals without a pretty printable! 😉
Then life would happen, my days were filled with the important tasks of caring for my family and running a home. I was accomplishing important things, but that list of lofty ideas and dreams? … Well, it basically sat untouched for the majority of the year.
December 31st would roll around and I would look at the list with sadness and frustration. So many things unchecked, so many "goals" left undone.
Why can't I accomplish anything? I would ask myself. continuing to ignore the reality of my circumstances.
So the following day, January 1st, I would repeat this same cycle, as if I hadn't learned anything from my previous goal setting attempt, creating new goals that were just as big and lofty.
Does this sound familiar? 
Research says that many people set goals at the start of the year (otherwise known as New Year's Resolutions) only to have them abandoned a short time later. In fact, the majority of people don't accomplish a single goal they set at the start of the year!
Why is this?
After being in my own cycle of goal setting failure, I had one of those lightbulb moments a few years ago. It became abundantly clear to me the real reason why I wasn't making any headway on my goals.
My goals were not aligned with what matters most.
They had nothing to do with my priorities or my personal mission statement.
This is the part where many of you may start wrinkling your noses… A mission statement? That sounds super cheesy. I'm a person (wife, mother, friend, etc.), not a corporation!
I get it, I really do!
When I used to hear the term mission statement I was reminded back to college when every education class I took, I had to write a mission statement based on my philosophy of education.
Or I think of companies who try to market a product or service. To create a productive workforce environment, they created mission statements to guide performance and expectations.
I didn't think of how a personal mission statement could actually be applied to real life.
And then my perspective shifted. 
I changed the way I viewed having a personal mission statement. Rooted in my priorities based on what I value most, I realized that having a mission statement guides me.
It allows me to evaluate opportunities and to choose with confidence what I say yes to, and also what I say no too!
By creating a personal mission statement for myself, I have become:
more productive
more purposeful
more intentional
more inspired
When I started out writing mine, my purpose was to become a better mom by having a motherhood mission statement. However, as I worked through the process I quickly realized that having a personal mission statement applies to so much more than motherhood.
My approach to goal setting was revolutionized. 
Instead of just creating a list of those lofty ideas and dreams at the start of the year and crossing my fingers hoping this was the year they just might be accomplished, I had a new vision for what type of goals I was setting.
With my priorities and mission statement in front of me, I began to set goals that matter.
I started to evaluate those ideas and dreams, and while many are still good and big dreams of mine, they aren't the specific goals I set for the year anymore.
Having identified my priorities and setting a mission statement not only helps dictate how I spend my time, but it also helps me set goals and make plans for the year.
When I sit down to think through the goals I want to tackle each year, I always go back to my priorities based mission statement. If my goals don't align, then they either aren't worth having or something needs to change.
Have you evaluated your own personal mission statement recently? Better yet, have you ever stopped to create one, to begin with?
I want to help!
Because I firmly believe in the value of understanding your roles and priorities and creating a personal mission statement, I have a resource just for you to walk you through the process!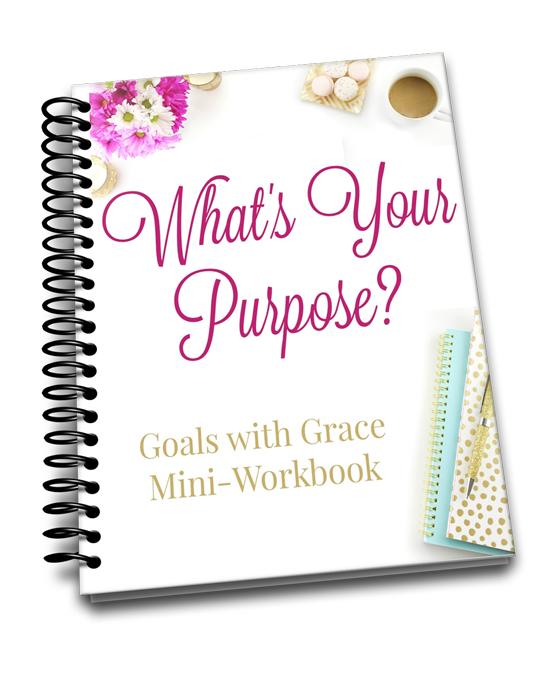 You can now download the What's Your Purpose workbook and begin understanding what matters most!
To access it, head to the CHK Resource Library
This short What's Your Purpose workbook includes:
a detailed description of how to evaluate what matters most
a step-by-step process to evaluating your priorities and creating a personal statement
5 beautiful, full-color printables to help walk you through the process of creating a priorities based mission statement
The printables will guide you to:
List out your priorities based on your current season, where you are NOW
Write action statements or descriptive phrases that describe and expand on what your priorities are
Combine those action statements into a mission statement that is concise, yet broad enough
Create a beautiful, display-worthy personal statement that will help you create goals that matter
Are you ready to start living more intentionally and purposefully? Download your free workbook today!
Do you have a personal statement? How has it helped you set goals that matter and live with more intention?