Ready to set goals that are intentional, purposeful, and GRACE-ful? Goals with Grace is for you! 
Several years ago, December 2013 to be exact, I launched my very first (tiny) eBook called The Goal Planning Work. It looked something like this:
It eventually got a more modern cover makeover, though the content was untouched, and looked something like this:
It was a freebie incentive to join my email list but then I started charging only $1 for this little bitty workbook. It went on to be one of my top sellers before I removed it from my shop years ago.
I was proud of The Goal Planning Workbook, it was my first step in eBook writing but I knew it was missing the mark on some levels. There was a lot of information left out of it and since writing it, my own goal setting system had slightly changed.
I was no longer making goals just for the sake of writing out a list of goals on January 1st anymore. Instead, my process of goal setting was much more intentional, it was now based off of things that actually mattered… my priorities.
Last year I set about the process of updating The Goal Planning Workbook but those plans got pushed to the side. I kept hearing God's whisper of "Not now", resulting in me having no creative motivation to work on it.
I put it aside, honestly thinking it would remain untouched but then something funny happened.
January hit and while I working on my own new set of yearly goals, the whisper turned from "Not now" to "Go for it" and the floodgates of creativity opened.
I sat at my computer one Friday early in the year and the bones for Goals with Grace was formed!
Sometimes listening to God's voice and being obedient to Him doesn't feel like it makes a whole lot of sense at the time, but the fruit of your obedience becomes abundantly clear when the timing is right!
Goals with Grace has been a labor of love on many levels. I was planning on releasing it earlier this spring but more creativity opened up allowing me to expand it even more so the launch date was pushed back to right now.
I've had a few of what are called "soft releases" allowing those who purchased this year's Ultimate Homemaking Bundle from me get early access to it and the feedback has been amazing! My heart's desire of sharing a goal setting system that is based on grace and what matters most was well met by a large group of women!
Eager to get it into even more hands, today Goals with Grace officially launches and is available to purchase for everyone!
What you will learn in Goals with Grace
What is truly important to you in this season
Identify your roles and responsibilities
Define what your purpose is
Create and evaluate goals that align towards your priorities
Create a plan of action to complete your goals
Accountability tools
Evaluations to help you accomplish your goals
and so much more!
What's Included in this New Edition?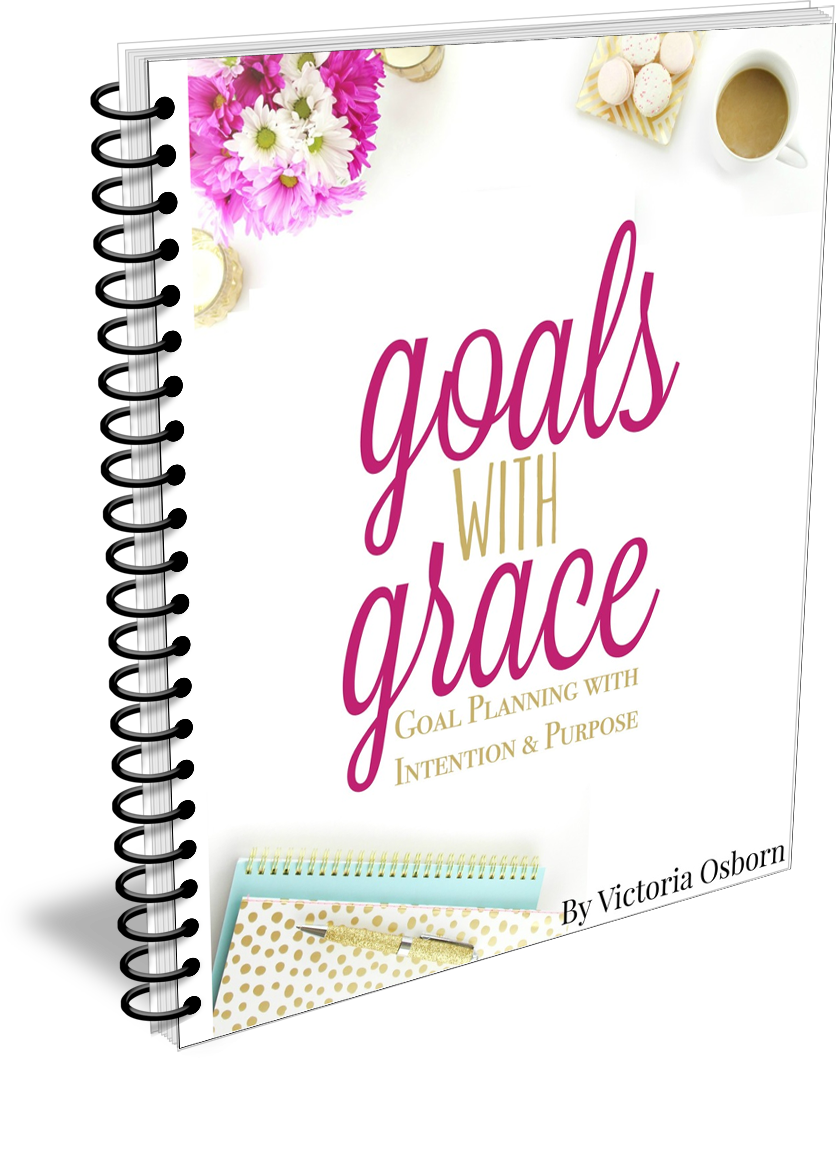 Goals with Grace (formally The Goals Planning Workbook) has been completely updated and revised. Each chapter is upgraded with fresh new information and assignments that walk you through the process of creating goals that matter today.
Also included is a brand new printable pack with gorgeous and appealing worksheets to lead and guide you through the goal planning process.
What Is Included?
60 page PDF Ebook
11 chapters with assignments
26 beautiful worksheets for you to print off and work through
Lifetime access to any future updates — FREE!
Special Deluxe and Premium Editions with even more great resources and content to help you plan goals that matter. (see below for more inf0)
Who is Goals with Grace for?
In a nutshell… everyone!
Whether you are single, married, work outside of the home or stay at home with the children, creating realistic goals that align with your priorities and season of life is important for everyone.
Goals with Grace is for women who want to:
Define their purpose and live with more intention
Create goals that are meaningful, purposeful and aligned with what matters
Work hard through this goal planning process, and
To see real, actionable results!
Are you a busy Mom and don't have a whole lot of time to sit down and read a book?
There's an audio version for your listening pleasure!
Listen to each chapter while you complete chores around your home, go for a walk, run a few errands or just sit with your eyes relaxed at the end of a long day.
Need more room and less description on the goal planning printables?
The Premium Edition comes with a bonus printable pack that is the exact same as the printables found in Goals with Grace, except all of the descriptions are removed allowing you plenty of space to write and making them more printer friendly.
Need some extra encouragement and inspiration?
Premium Edition comes with a set of inspirational printables to print off for beautiful decor and to serve as a reminder to what matters most.
If you have even more wiggle room in your budget I highly recommend you go straight for the Premium Edition because it really is the best value for your buck!
On top of everything you get in the Deluxe Edition, you also get access to 5 step-by-step video tutorials making it perfect for those of you learn by example! Each video walks you through a few chapters at a time in much more detail, even providing examples!
The Premium Edition also includes one of my absolute favorite parts of this goal planning system….
The Goals with Grace Action Planner!
It's easy to create goals, but creating an action plan so your goals actually happen is another story. The Action Planner is a complete planning system designed to help you map out your goals, create a yearly plan and then break them down into monthly, weekly & daily action steps. Valued at $15, The Action Planner is only available with the Premium Edition.
Best of all, this entire planner is undated so you can start using it anytime!
Does creating a Christ-Centered home feel overwhelming?
It doesn't have to be!
Join our community and get the encouragement & guidance you need to find real joy & purpose in your homemaking today! To get started, you'll also get my FREE guide: 10 Easy Ways to Create a Christ-Centered Home!
Plus, when you join the Creative Home Keeper community you will join over 5,000 other women (just like YOU) who are becoming equipped to create a Christ-centered home and are transforming their hearts towards homemaking once and for all!
*By joining the Creative Home Keeper community, you agree to our Privacy Policy.