Um… how is it already the 31st of January?
I still feel like I'm in post-holiday recovery mode! 😉
Thankfully, I'm aiming for progress, not perfection this year as I make intentional steps towards achieving my goals. I always feel like there is this huge emphasis on the magical number of January 1st but coming off of a busy holiday season, it seems like more and more of us are also taking a slow approach to the start of the year.
So here I sit on this final morning of the month and look back.
While I didn't hit every mini-goal I had for myself this month as I work towards my big ones, I made progress and that my sweet friends is what it is all about!
So here is a peek into what I accomplished this month.
My Goals for 2018
This year I structured my goals a little different than before.
I created action statements. These serve as the focal point, a mini-mission statement if you will. These will be the guiding lights.
Underneath each action statement, I have listed the action steps, the work I need to take to achieve my main goals.
As I have made little steps toward achieving them, under each action step I have listed a goal update statement.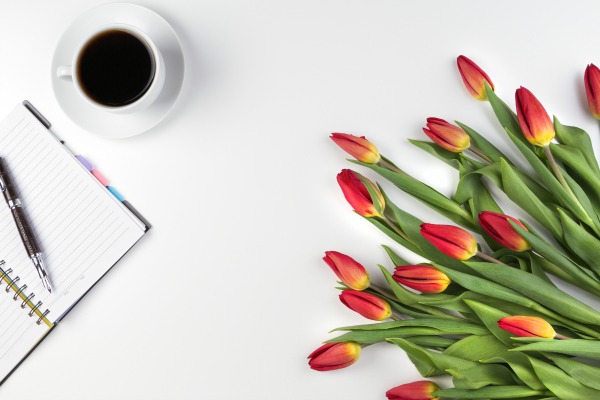 ---
I will cultivate my faith by growing in the knowledge of the Word and strengthen my prayer life.
To do this, I will:
Read through the entire Bible this year through The One Year Praying Through the Bible for Your Kids reading plan and devotional by Nancy Guthrie and follow the She Reads Truth reading plans for more in-depth study.
Goal Update: I have stayed caught up with both my yearly Bible reading plan and the Matthew study from She Reads Truth. This week I began the 1 & 2 Thessalonian's plan.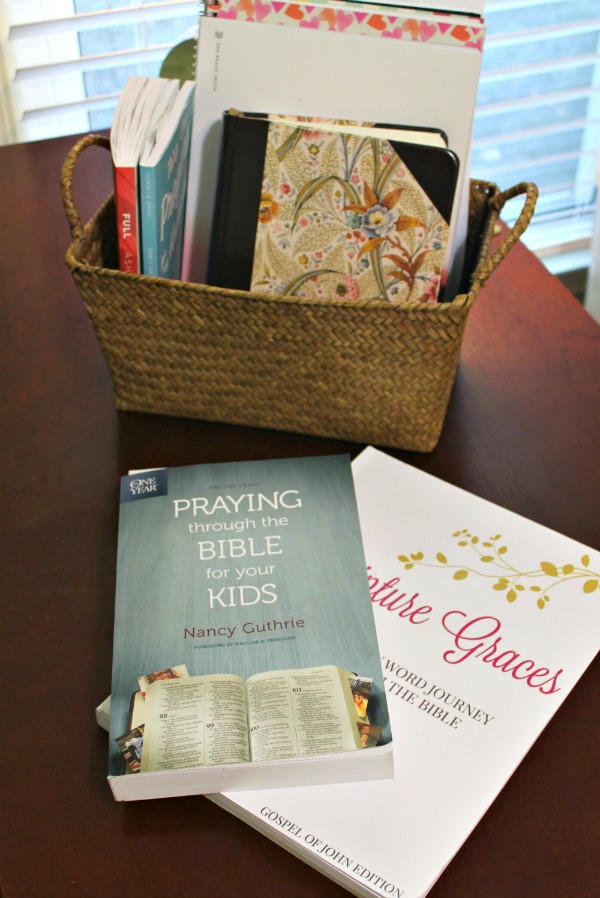 Continue to write the Word this year by completing writing through the Gospel of John, Romans, and 1 book from the Old Testament (TBD)
Goal Update: I set a mini-goal to write in my Scripture Graces journal 3 times a week but in January I only wrote it in 5 days total.
Create a prayer box (inspired by Mandy Hoffman's Unboxing Your Prayer Life session from the 2017 Online Homemaking Conference) to help guide my prayers each day.
Goal Update: I have not done this yet
Read one spiritual growth book a month
Goal Update: I finished reading Full: Food, Jesus, and the Battle for Satisfaction by Asheritah Cicuciu and have started re-reading Spiritual Disciplines for the Christian Life by Donald Whitney (Leigh Ann from Intentional By Grace is hosting a book club on this book!)
Lead and participate in the woman's Bible study at my church both in the spring and fall. (This spring we will be doing Jen Wilkin's 1 Peter, the fall study is TBD)
Goal Update: We just had our first meeting! I am so excited about this study 🙂
I will strengthen my marriage by daily acts of affirmation, affection, and service towards my husband.
To do this, I will:
Ask, "How can I help you today?" on a daily basis (The idea is to seek ways I can better serve, help and meet his needs to bless and encourage him which I'll be sharing more about the heart of this soon)
Goal Update: I'll admit I haven't been so great with this one yet but I started writing this down in my planner each day as a reminder this week to help me keep this at the forefront of my mind.
Go one 1 set aside date-night each month (Running errands together do not count)
Goal Update: The kids spend President's Day weekend at Nana's house so we were able to go out to dinner and have alone time at home!
Initiate intimacy and affection by kissing, hand holding, and hugging each day. Other activities encouraged too 😉 (I need to FLIRT with my husband more!)
Goal Update: I am writing this in my daily planner to help remind me to get into the habit of doing this on a regular basis. Writing it out also reminds me how I have failed to pursue my husband more than I should be doing.
Read the Word and pray together on a more consistent basis
Goal Update: We got out of the habit over the holidays and this one has been hard to get back into.
Read 4 books on marriage this year
Goal Update: I didn't read any marriage specific books this month

I will build our family culture by pouring into and investing into each of my children.
I will do this by:
Working on stating clear expectations with plenty of time for my kids (This means working on patience, grace, and not getting frustrated with the kids for my poor or lack of planning to get everyone out the door on time)
Goal Update: I am working on clearly explaining what I expect for my children to do by listing out 1 to 2 things at a time instead of overwhelming them with a long list. I still need to work on being more realistic with our time and what we can reasonably get done in a set time frame.
Continue our afternoon table time once everyone is home from school where we read the Bible together, read aloud a chapter book, enjoy a snack, and just set aside time each afternoon to decompress from the day before the evening begins. (More on afternoon table time is coming soon!)
Goal Update: We have started to listen to the audio version of the Jesus Storybook Bible and finished reading aloud Charlotte's Web. I just checked out the original cartoon movie for us to watch this week together.
Have focused, undistracted one-on-one time with each child every week.
Goal Update: This naturally occurs with my youngest, who isn't in school yet, so I need to work on figuring out how to incorporate this into my routine with my other two.
Attend church together as a family, and serve together in Sunday school at least twice a month.
Goal Update: For the next several weeks, we are serving in my youngest child's Sunday school class as the teachers.
Read 4 parenting books this year
Goal Update: I am currently reading The Life-Giving Home by Sally Clarkson, which is both a parenting and home book.
I will embrace homemaking and create a life-giving home.
To do this, I will:
Create a homemaking system for cleaning, decluttering, meal planning systems that is simple and works for our family in this season.
Goal Update: This is a work in progress but I think I have adapted our meal planning into a new weekly routine that I'm still trying to tweak to make better use of my time.
Complete a massive, room-by-room decluttering and deep-cleaning house sweep-through
Goal Update: I have the master list made and I just tackled our master closet this past weekend.
Read, work-through, and invite our family into conversations through both books, The Life-Giving Home (book and monthly guide) as well as the Bible and character study book Our 24 Family Ways.
Goal Update: Just started The Life-Giving Home by Sally Clarkson.
Read 4 books on homemaking, both from a spiritual and practical viewpoint
Goal Update: I finished reading A Simplified Life by Emily Ley which gave me some inspiration to simplify our home and my home management routine.
Fill my cup with soul-care activities that pour in, so I can pour out and love well
To do this, I will:
Walk through myself, and guide other women, through my new course, Fill Your Cup, this winter and again later this year.
Goal Update: We just started and I am so excited about this course!
Complete a Whole30 in January and continue to follow my dietary plan to heal my body from the inside out.
Goal Update: I did it! I finished my January Whole30 now I am working on implementing lasting change through realistic healthy habits that are sustainable.
Read 75 books this year (from the categories above, as well as adding in more fiction this year by reading 1 fiction book each month)
Goal Update: In January, I completed 10 books (3 of which were carryovers from last year) and 3 more where audiobooks that I was able to listen to. I am giving audio books a strong priority this year to help me read more and to meet this reading goal.
If you follow me on Goodreads, you can see exactly what I read and what I'm currently reading, but here is a highlight of what I read in January:
Full: Food, Jesus, and the Battle for Satisfaction by Asheritah Ciuciu
Business Boutique by Christy Wright (audiobook)
At Home in Mitford by Jan Karon
Food Freedom Forever: Letting Go of Bad Habits, Guilt, and Anxiety  by Melissa Hartwig
A Simplified Life: Tactical Tools for Intentional Living by Emily Ley
Emily Climbs and Emily's Quest (Books #2 & #3 in the Emily series) by L.M. Montgomery (both audiobooks)
Charlotte's Web by E.B. White (read aloud with children)
Whole30 Fast & Easy Cookbook by Melissa Hartwig (cookbooks count in my reading goals!)
Whole30 Day by Day by Melissa Hartwig
Making workout a priority and "scheduling" it into my calendar as a non-negotiable
Goal Update: Still struggling with this one, and it didn't help that January was so cold! I only worked out about 10 times so that's progress!
Give my body rest by embracing the Sabbath and completely unplugging one day each week.
Goal Update: For a variety of reasons, Saturday is my rest day and so far I have been making a lot of good habits and disciplines on this day, not perfect but progress!
I will continue to pour into this online community by growing and maintaining the blog.
To do this, I will:
Focus on three new resources/products this year ( I went more in-depth to these here)
Fill Your Cup (Biblical self-care)
Goal Update: Working on this right now!
A resource for creating and establishing a daily devotional time
Goal Update: I'm in the gathering ideas and resources phase so I can begin drafting soon.
Creating a Haven, a framework for understanding and embracing our roles as Biblical homemakers
Review and update existing resources/products
Create work hours and stick to them by batch-working and prioritizing tasks
Goal Update: Wednesdays, Thursday & Friday afternoons are my dedicated blog work blocks so I am working on creating specific work hours for this time to be the most productive.
Work behind the scenes to update and improve the site, old content, and other blog housekeeping tasks. (There are some super specific, nitty-gritty steps that I will spear you from)
Read 4 business books
Goal Update: I listened to The Business Boutique by Christy Wright this month. I had been listening to her podcast for a while, so I felt like I have heard a lot of her stories before but there was definitely some golden nuggets in there to help me better set up and organize my business for sustainable growth.
---
What small steps have you taken towards your goals this month? 
Does creating a Christ-Centered home feel overwhelming?
It doesn't have to be!
Join our community and get the encouragement & guidance you need to find real joy & purpose in your homemaking today! To get started, you'll also get my FREE guide: 10 Easy Ways to Create a Christ-Centered Home!
Plus, when you join the Creative Home Keeper community you will join over 5,000 other women (just like YOU) who are becoming equipped to create a Christ-centered home and are transforming their hearts towards homemaking once and for all!
*By joining the Creative Home Keeper community, you agree to our Privacy Policy.