Keeping a Memory Journal for Your Children
Do you keep a memory journal for your kids? I do and let me tell you why I do and why I think you should too.
I don't want to forget the small, everyday things. I'm not talking about milestones, like learning to walk, eating food for the first time, or saying a first word. I think those are pretty special too, and to remember those things I write them down in my kid's baby books.
What I'm talking about is an actual journal where I record specific stories, events, funny things they said or did, and it's also where I write each of my children letters periodically.
Back when I was pregnant with Silas, I started to keep a log of my pregnancy. I went out and bought a small lime green notebook. The first entries were pretty much just recording basic information so I wouldn't forget them later. I recorded the date when I found out I was pregnant, information from my first doctor's appointment, and how and when we shared the news with our family.
Then something magical happened after I heard his little heart beat for the first time. My pregnancy became very real. I went from not fully understanding why I was so nauseous and tired all the time, to actually embracing the miracle of life that was growing inside of me. The words that I wrote down from that doctor's appointment changed from information of how many weeks I was and what the doctor recommended, to how I was feeling and the reality of being pregnant with my first child.
That day in my little green journal I wrote a letter to "Baby O" (it would be several more weeks before we found out Baby O was a boy, and the O is the initial of our last name). I told him how I stared to cry when I heard the pitter-patter of his little heart for the first time. I wrote about how excited his daddy and I were to welcome him into our family. My words transformed into a letter where I stared sharing some of my hopes and dreams for him.
As the pregnancy progressed, I continued to write progress reports of how I was feeling and how big he was getting, including milestones of when my belly first started to really show and the day we found out he was a boy. Along with those progress reports, I continued to write letters to my son, all the way up to his birth.
A few days after he was born, I recorded in detail, the events of his birth and the stressful ordeal of having to admit him to the children's hospital only a day after he was released (he had pretty severe jaundice and wasn't nursing so he had to spend 24 hours under the photo-therapy lights hooked up to an IV while he slowly learned how to nurse). While that time was magical and traumatic for me all at once, I'm so glad that I recorded it so I wouldn't forget.
Throughout his first year I wrote down cute little things he did that really didn't fit in the categories of the baby book, like the time he stopped nursing and looked up at me smiling while milk was dribbling down his chin. In my sleep deprived state I knew I wouldn't remember those little, everyday things unless I wrote them down. And I'm glad that I did.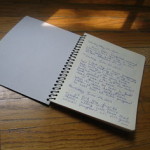 Like the typical first time mommy, I wrote very detailed letters and journal entries throughout his pregnancy and first year. I updated his baby book regularly, including pictures too! Then only about 11 months after Silas was born, I found out I was pregnant again.
I'll be honest and tell you that Amelia's memory journal is not quite so detailed in the events of my pregnancy with her, but I worked very hard to record her birth story, and letters to her throughout her first year of life.
While my kids are very young and nowhere near ready to read them themselves, I am committed to continue writing in them so that someday they can read them and know how I prayed for them before they were even born. What hopes and dreams I had about being their mother, and how much I cherished all those everyday moments.
Even if your kids are older, I don't think it's too late to start writing them letters or record special memories for them. Even though my own baby book was just a typical fill-in-the-blank baby book, I still enjoyed flipping through the pages and reading about the milestones of my first year.
All you need is some paper, or even a small journal, and a pen. That's it. No fancy baby book with scrapbook embellishments and writing prompts to fill in. While those are great, (I have one for each of my kids) they don't tell the full story. They don't account for those moments when you feel so overwhelmed that you want to quit, only to have your little one look up and say Ma-Ma for the first time making your heart melt with pure joy and love.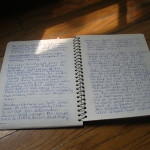 Maybe you can commit to just writing two personal letters to your children every year. Maybe you can write more than that, or less. The point is not to keep a detailed journal for the purpose of keeping a detailed journal, the point is to write from the heart about your children to your children.
My journals are very treasured to me. I love going back and reading through them in the (few) quiet moments that I have.  I look forward to the day when I get to give them to Silas and Amelia for them to cherish and read through too.
I'm always looking for ideas and creative ways to record and store away keepsakes from my children's childhood, what do you do to preserve your memories with your children?