A Massive Reading List for Christian Women
Need some inspiration for books to add to your reading list? Check out this MASSIVE reading list for Christian women… over 50 suggestions for Christian women in all sessions of life. These are must read books for your year!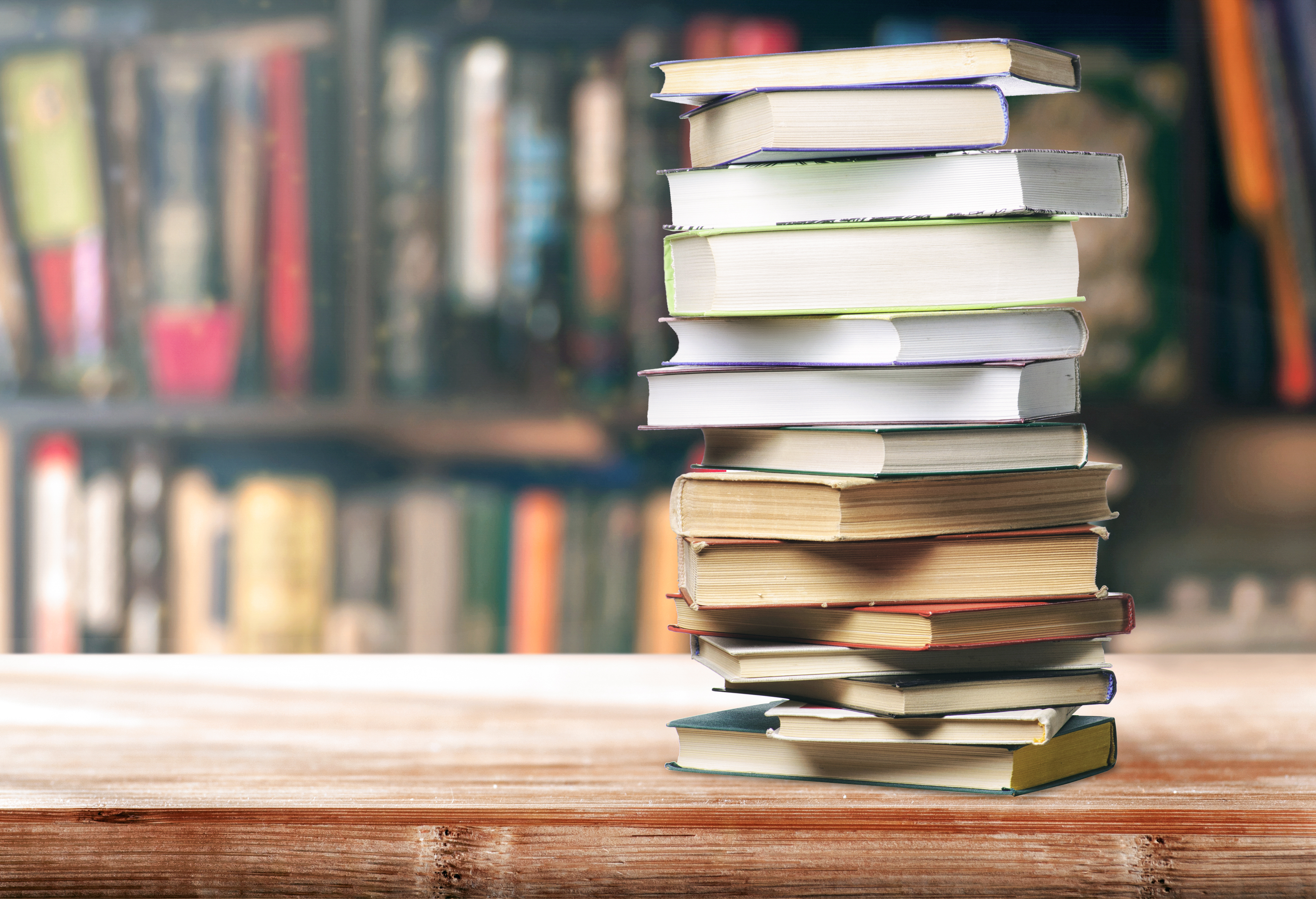 The other day I shared a bit on how I'm fitting in more reading time and the reading goals I have for this year. I've been asked by many of what exactly I plan to read to meet those goals so today I thought I would share my MASSIVE list with you.
Note: Yes, it's a huge list and there is a good chance I may not get to read every single book on this list but I believe in the value of aiming high to reach big goals. I am purposely committing myself to read these books this year, especially the ones I have on my bookshelves that are waiting to be read.
My reading goal is to read at least 4 books a month with the goal of reading 50 books this year. Hopefully, I will read more than that because I have more than 50 books on my list but this is the number I am aiming for.
My reading goal is high so don't set your goals based on mine. Aim for a number that you know is realistic for you but still challenges you to read more. Perhaps you have gotten out of the habit of reading, so maybe your number is 6 books read this year.
Set a realistic reading goal for your life!
When I sat down to make my reading list, I made sure I had a variety of categories to choose from. Not only would this make sure my reading included a variety but also to challenge my to read some books I may not normally pick up to read.
You can read more specifically about each category here, but the categories I am included this year are:
Spiritual Growth
Biblical Homemaking
Biography/Memoir
Personal Growth
Blogging & Business Growth
Contemporary Fiction
Classic Fiction
Favorite Re-Read
Each book I included in my reading list had to be a book I already owned — either physically or on my Kindle — or was available from my library as a traditional book, an ebook or an audiobook.
I do have a handful of titles of books I want to read that I don't own or aren't currently available in my library system. I have left them off of this list but if I get the chance to purchase them (with an Amazon gift card I earn through Swagbucks) or they do become available from the library, I will add them in.
So without further ado, here is my massive list of books I am planning on reading this year.

Spiritual Growth

Biblical Homemaking

Biography/Memoir
Roots & Sky by 

Christie Purifoy

Simply Tuesday by Emily Freeman
The Beauty of Grace by Dawn Camp
Every Little Thing by Deidra Riggs
Rhinestone Jesus by Kristen Welch
Love Idol by
The Magnolia Story by Chip and Joanna Gaines

Personal Growth

Blogging & Business Growth

Contemporary Fiction
Classic Fiction
Little Women by
Anne of Green Gables by L.M. Montgomery
Emma by Jane Austin

Favorite Re-Read
I told you it was massive! And if you are doing the math, there are more than 50 books on this list.
Some of these books are quick reads or books I will be able to listen to allowing me to get through them faster than others. Some months I will probably be able to read more than 4 (like during my prime summer reading time), other months I may struggle to get in 4.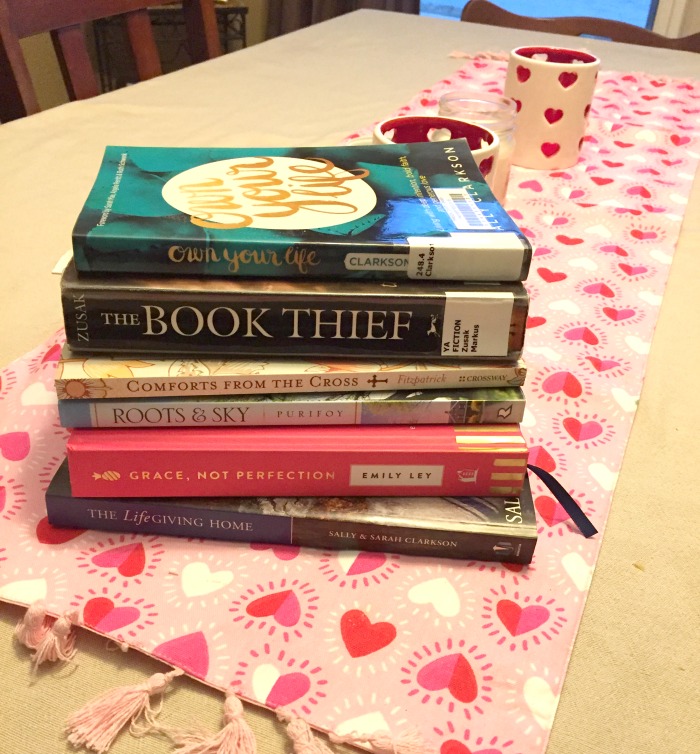 To start the year, my January picks are:
Comforts from the Cross — I've been reading a chapter each morning after I read my Bible. It's a daily devotional style book designed to be read over one month and it is powerful! Rooted deep in Scripture, every single day I am challenged, convicted and reminded of God's great love for us.
Own Your Life — I love everything Sally Clarkson writes and this one is no exception. I first read Own Your Life about 2 years ago. It's the perfect book to start the New Year with!
Grace Not Perfection — This book is gorgeous! It's hardback, with full-color pictures, it's a book you will want to display. Plus it's filled with encouragement and grace. I haven't learned anything new or earth shattering but I've been thinking a lot about our routines and rhythms in our home.
Roots & Sky — I've been slowly reading this one since last fall but it's a beautifully written account of one family's life within the span of a year. The only downside? Now I want to live in an old farmhouse!
The Book Thief — I'm reading through this one with a group of friends. It's been on my reading list forever so I'm glad we decided to choose this one for our first book to read together.
iBloom in Business — I love reading business books from a Christian woman's perspective and this book is such a fresh air as it's rooted in building your priorities first. There is also a built-in journaling and reflection questions that are allowing me to process what I'm reading and create some big plans for the blog and business this year!
The Lifegiving Home — I'm going to be slowly reading this one over the next few months, as well as working through the monthly companion book all year long. I love Sally Clarkson so much, her wisdom and teachings are also so inspirational and encouraging to me.
This year I am tracking my reading goals and the books I want to read on Goodreads, as well as posting monthly here what I'm reading each month and how I'm staying on track to reach my goals. I would love to have you join me too!
If you are on Goodreads, follow me here so I can follow you too. Having some good old fashioned reading accountability and community is KEY!
I'm also going to be sharing my reading progress on my Instagram page using the hashtag #chkreadingchallenge. Follow the hashtag and use it yourself when you share your own reading progress this year!
Feel free to share with me your own reading goals, as well as your January reading list below in the comments and be sure to watch out for my monthly reading posts towards the end of each month. Let's encourage one another to make 2017 our best year of reading!
What are your reading goals for this year & what books are you planning on reading this month?