The Why, How, When and Where of My Meal Planning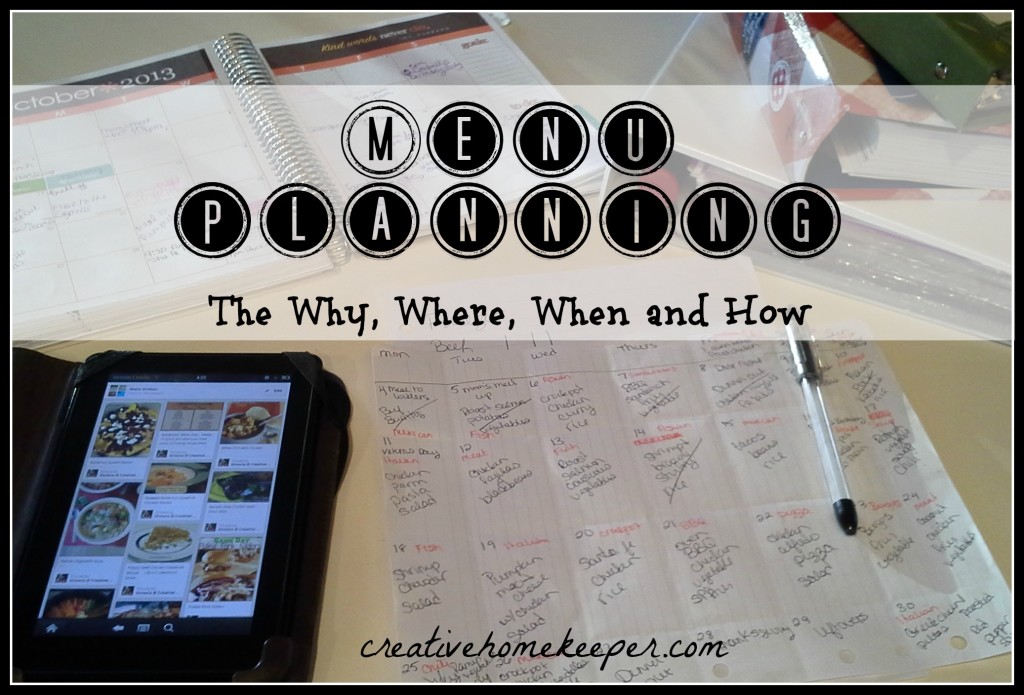 It seems like there are many different ways to meal plan, and each are unique. Most likely no two people meal plan the same and there are oodles of meal planning tips, tutorials, and guides on the internet. In fact many are from bloggers just like me sharing how they make meal planning work for their family.
The past few months I have begun sharing my monthly meal plan with you. Some, like me, plan for the whole month at a time. Others plan maybe only for the week ahead. I have gone back and forth on those, but currently I have fallen into a pretty good routine of planning for the whole month in advance.
Below I have laid out exactly why, how, when, and where I meal plan.
Why?
Basically it saves me time and money. I like having a plan in general as I'm not a fly by the seat of my pants kind of girl. This is part of the reason I have a slight love affair with planners too.
I'm also not creative enough to just go to the store, buy whatever I feel like, and use them to throw together a bunch of different meals for a week. Some people are and I give them serious props for their creativity.
The days that I don't plan very well result in me standing in front of the freezer at 5 pm wondering just how I'm going to thaw out the frozen meat that I forgot to pull out yesterday. This usually results in a trip to the drive through, and that can add up to a lot of moo-lah over time.
When?
I sit down to meal plan at the end of the month. I look over the calendar for the month, note any days where we have commitments, and make a plan for the nights that I will cook dinner. It also helps for me to meal plan in the morning when I am the most alert, I am just not as productive in the afternoon so mornings are my best thinking time.
I also only meal plan for dinner at this stage. We pretty much eat the same thing for breakfasts most mornings which consists of a rotation of scrambled eggs, breakfast smoothie, toast, applesauce, yogurt, fruit (bananas are my kid's favorite), or Cheerios. Lunch consists of leftovers or turkey and cheese, with vegetables and fruits.
How?
I plan for the entire month because this way I only have to think about menu planning once a month. Yes, it does take a bit more effort to think through 30 days worth of meals upfront, but the relief once that hour is over is great knowing that I don't have to do it again for another 30 days or so.
Like I said before, I look at the calendar for the upcoming month to note any days where I might be busier or we have appointments. I usually like to keep the menu simple on those days. I also make a note to what meals I didn't end up making the previous month. If I have all of the ingredients that need to be used, then I will plan to have that dish soon.
I also gather up all of my supplies including my freezer inventory (our deep freezer is in the basement so I keep a running list of all that is in there), my recipe binder, and my Pinterest app. Every month I try to balance between trusted family favorites and trying out some new recipes that I have pinned or have clipped from a magazine. If the recipe is a winner then it gets added to our rotation, and if it's a dud then it gets deleted or thrown away.
Rather than planning for an entire month of 30 or 31 dinners, I only plan for 24 meals, or 4 weeks of 6 meals. This way I leave room for unexpected dinner plans (dinner out with friends, someone bring us a meal, etc.) as well as a few nights of having to eat from the pantry or freezer. We usually end up eating out at least once a month either on a date or as a family, and it always seems like we get invited somewhere for dinner too. More times than often, I usually have 1 or 2 planned meals that I carry over to the next month. Since we are in the holiday season, I have purposely planned for several nights to be unplanned this month.
I also like to use themes, meaning that I plan my dinner around a set theme. The themes that we are using this fall and winter are:
Italian
Mexican
Soup/Chili
BBQ/Grill
Asian
Seafood – we eat a lot of shrimp or salmon
Family Favorite/Classic Chicken- any classic chicken dish or family favorite that doesn't necessarily fit into of the above categories
New Recipe
I know that some people like to assign each theme to an assigned night (Meatless Monday, Mexican Tuesday, etc.), I've tried doing that and felt to restrictive. I just like to sprinkle the themes around based on what meat I have in the freezer that needs to be used first, or whatever my husband suggests for the menu. Sometimes this does mean that we might have a week where we are a little unbalanced. Last month for instance, we ate Mexican inspired food several times over the course of a week. It usually doesn't bother us, but it can get old fast.
Where?
I meal plan right in the kitchen where all of my recipes are stashed and where the refrigerator and pantry are located. No point in doing it anywhere else, I would just be running back and forth anyways! 🙂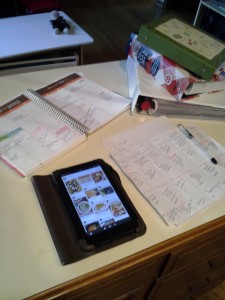 Other Details?
Once I have my menu for the month, I make a master shopping list. At the start of each month I make one large trip to Costco for all of the items that I can buy in bulk, and I also buy most of my meat there too. I know that some people think that buying your meat at Costco or Sam's Club is more expensive, but when I buy my meat there I immediately come home and cut it up into several smaller portions. Much to my husband's dismay, I try to fill our plates with more fresh fruits or grains than meat, making my meat stretch farther.
I also go to the grocery store once a week for items such as fresh produce, dairy, or other things that aren't economical to buy in bulk. I make two stops each week, Aldi's and Hy-Vee (regional grocery store). I know that there are other grocery stores around my area where I could probably save a bit more money, but I value my time as a factor. I can pull out of driveway, go to Aldi's and Hy-Vee (they are next to each other), and pull back into my driveway in under an hour, making the desire to go to several different stores vanish. My only exception is a trip to the farmer's market when it's open or if I see another store ad with some really good deals.
So that's in a nutshell how I meal plan. There are some really great resources out there that lay it out better for you if you are new to this meal planning business. My favorite is Plan It, Don't Panic by Stephanie Langford (also available for Kindle). She goes into much more detail about all of the different ways to meal plan, so if the idea of sitting down and planning for an entire month is not for you she lays out several different other ways too.
One last final note, I know that we are living in a digital age, but I just haven't jumped on board (just yet anyways) with online meal planning calendars. I really like the idea of them, including being able to upload Pinterest recipes, but call me frugal because I have a hard time paying for any service where I can do it for free myself. Nothing against anyone else who does, and this could very well change for me as I keep reading about all of the great features of Plan to Eat, among others.
So that's it. That is the process of how I meal plan for the month. It's by no means the perfect system, what works for me may not work very well for you. I'm always curious to learn how others plan to eat, so if you have a tried and true method or tips that works for you and your family, I'd love for you to share them below.