Organizing Your Digital eBooks: A Step By Step Guide
Have you ever taken the time to clean out and organize your eReader? Or all those PDF eBook files you have stored on your computer? I'm going to make an argument that maybe it's time to start permanently deleting some of those files.
Last month I shared my thoughts on balancing traditional books with eReaders and one of my biggest issues with eBooks is that once you buy and read them, you really can't re-sell or share it with others legally.
I love to pass along a great book to a friend who I feel would also love reading it as well, and I have earned a small amount of money by selling some used books on Amazon or to Half Price Books. I know on Amazon Prime some eBooks you are able to share with other Amazon users for a 30 day window, but that doesn't include all books.
I also understand, and even agree with, the thought that eBook authors want people to buy their books instead of sharing because file sharing in much different then loaning out one hardback book to one person. There are also copyright laws the prohibit certain eBook file sharing.
So after you buy or download a free eBook (either through Amazon Prime, another book store, or a PDF) you read it and then what?
You are basically stuck with it, and you can imagine those eFiles can start to build up fast, especially if you are like me (ah-hem) who likes to download a lot of free eBooks for no other reason then that they are free. I  may or may not have a small problem in this area 😉
I have had the original Kindle Fire for about two and a half years now and I have downloaded hundreds of books, most of them being free. One of the ways I have been simplifying my electronic files is by organizing them, and even in most cases, deleting them.
This January when I was making my reading list, I spent an entire afternoon really examining all the eBooks I had downloaded and stored on either my Kindle or computer. And you know what? I gave myself permission to delete a lot of books I had…
no intention of ever reading,
I had attempted to read and turned out to be a dud or
I had completely read and knew it was time to move along
There were also several books I knew I wanted to keep because I paid for them and really enjoyed, just like I keep my favorite hardback books. But in the interest of simplicity and organization, I'm going to show you the process I went through to once and for all get my eBooks in order.

On the Computer
In my personal opinion I think the easiest way to organize all of those PDF files is to great a master EBOOKS folder. Inside of that, you can break them down into specific categories like homemaking, marriage, parenting, learning at home, etc.
I went through each file and deleted the books I had already read and knew I probably wouldn't be coming back to. I also even deleted some I knew I would never read.
Sometimes when you buy one of those giant eBook bundles you also get a ton of books that either aren't applicable or of interest to you. Instead of hanging on to them, you can either delete them or gift them. (If you are gifting them, you have to delete the file on your computer.) For example I deleted all of the books on pregnancies and childbirth, just to name a few. I was pretty confident with that decision because if I ever do get pregnant again I'm pretty educated on the whole process and don't really need to read a whole lot of books on the topic.
Once I went through and deleted those files, I went back and created a new folder titled TO READ. Here is where I now house all of the eBooks that I have not read yet but do want to read soon. Once I read them I will either make the decision to either delete them or move to the appropriate folder to keep.
I should also note that I don't have many of these types of eBooks that I am keeping, maybe just a handful.
On My Kindle
So here is where I spent the majority of my time because as I mentioned before, I had A LOT of eBooks downloaded on my Kindle, most of which I downloaded for free.
I also want to note that I am describing the process of how to organize and delete books on my version, the original Amazon Kindle Fire. I'm going to assume most of the Kindle's have the same features in terms of storing books on your device or on the cloud, but I could be wrong. Either way I think the same steps could easily be applied to whatever device you are using.
Step One
Open up your cloud file on your device and go through each book and decide it it's a keeper or one to delete. As far as I know, or at least in my experience so I maybe wrong here, you can't permanently delete a file from your device. You can remove it but it will still be stored on your cloud.
Step Two
To remove it from your cloud, which is what I recommend if it's something you are no longer interested in keeping, you have to log into your Amazon account and delete if there.
To do that log on to your Amazon account and click on the Hello (your name), Your Account button on the top tool bar.
Scroll down and click on the Manage Your Kindle button.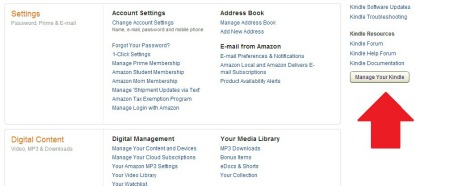 Your Kindle Library will come up and after each book title there is an Action Box button. Click on that.
You can either delete it, send it to your device, or loan it (if it's a loan-able book). A word of caution, once it's deleted you will have to repay to have it uploaded again so make sure you are really ready to delete it.
Step Three
After all the unwanted books are deleted, I like to add the books that I am planning to read to my Favorites file (again this is an original Kindle Fire so I'm not sure if all devices have a favorite file or not.)
The books that I want to keep are left on the cloud but not on my device, you can easily upload them to your device at anytime if they are stored on the cloud.
So the only books that I currently have on my Kindle right now are books that I am currently reading, planning on reading soon (as in the next few months) and some books that I have downloaded for my kids.
I'm also being a lot more cautious, and even more discerning, about what I download from here on out. Just because it's free doesn't necessarily mean it needs to be downloaded! 🙂
I realize this might be overkill for some but I have found when I went through and organized my files I actually found several books that I forgot I had and was planning on buying soon. Just another example of how being organized can actually save your money!
So I'm curious to know, because I'm sure there are several different ways, how do you organize your eBooks?
Speaking of eBooks… have you heard about the Ultimate Homemaking Bundle? A HUGE collection of books, eCourses, audio downloads, printables and bonus offers to inspire you towards creativity in your home, marriage, motherhood and homemaking. It's only available for a limited time and you don't want to miss it! Get all the details here.