A Peek into My Bible Book Basket
One of the best organizational systems I have in my home are book baskets. Since my kids and I are such avid readers and have a lot of books, by keeping baskets around the house to contain them helps keep the clutter at bay.
My kids have several baskets including seasonal and library books, board books, picture books and their Bible story books. I keep a basket by the couch that houses the books I am currently reading along with any random magazines or catalogs I haven't gotten around to reading or filing.
I also have my own Bible book basket I keep beside my desk that contains not only my Bible but also several other books I can reference during my devotional time. I keep my Bible book basket beside my desk for two reasons:
One: So I have a visual reminder to open my Bible before I turn on the computer, and
Two: A lot of time I reference my Bible, or a passage I read in my devotional book, when I am writing.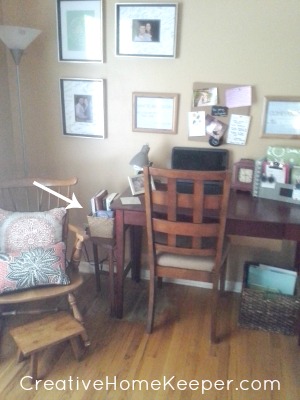 While I'm still not quite perfect at not turning on the computer before I have spend some time with God, I'm getting better and it's mainly because the basket is right there in plain sight and all my Bible study materials are there too.
No more tracking down a book or journal or pen in the wee hours of the morning while I'm trying to tip-toe across old, squeaky hardwood floors so I don't wake a child.
Nope because I have everything I need in my basket!
So what's in my Bible books basket? Why… I'm so glad you asked 😉
1. Bible
My favorite Bible for daily reading is the ESV Bible
(although I do keep a small collection of other translations on a nearby shelf in the office for reference). As a bridesmaid gift from one of my dearest friend's weddings, I received a small engraved leather bound ESV Bible
that is small enough to carry in my purse or bag, yet large enough to read the print and make markings and notes.
Currently my daily Bible reading consists of reading through a Psalm, a Proverb and one chapter in Paul's letters (I'm currently in 1 Thessalonians). I keep a picture of my brother and another picture of me from high school with both of my parents, to serve as book marks along with the attached ribbon.
2. Prayer Books
I like to keep a few prayers books handy to aid in my prayer time. Some mornings I have no words to express my prayers to God so it's nice to have a script to help guide my time along. Usually when I pray a prayer from one of my books, the Holy Spirit intercedes and words start to pour out.
I don't use all these prayer books on a daily basis, some days I don't use any while other days I might use more than one. Here are the few that I always keep handy:

Prayers Of An Excellent Wife: Intercession For Him
by Andrew Case
I referenced this one many times before because it's such a great book to help guide my prayers for my husband.

At the Throne of Grace: A Book of Prayers
by John MacArthur
What I especially love about this prayer book is it contains a scripture passage followed by an outlined prayer aligned to that passage so you are learning to pray through the Scriptures.

Praying God's Word: Breaking Free from Spiritual Strongholds
by Beth Moore
I find this prayer book especially helpful when I'm struggling with a stronghold such as fear, anxiety, bitterness or helplessness. I also love that Beth Moore includes in each chapter some commentary on how to pray over a certain situation and bases all the prayers off of Scripture.
3. Current Spiritual Grown Book
Some mornings I have the desire to read so I always keep one of the spiritual growth books that I'm currently reading here handy so that I can read a chapter or two during my devotional time. Currently I am slowly reading through Pursue the Intentional Life by Jean Flemming (I was reading it as part of my summer reading list to coincide with the Bloom Book Club but since morning sickness happened all through June and July, I ended up not following along with the assigned reading days.)
During the school year I also keep whatever Bible study book I am working through with the ladies in my small group Bible study at church. We purposely pick a simple study with little to no homework, since most of us are busy moms with young children, but I do like to spend some time previewing the questions and material before our time together so I'm prepared.
4. Journal
While I don't journal as often or as regular as I would like, I find it convenient to have my journal nearby for recording an observation, a Bible verse that stuck out to me or to record my prayers. I personally prefer a spiral bound journal so that I can flip the binding back and I also love writing on College Ruled lines. Usually my journal is just a small Mead notebook
.
So that's what I keep in my Bible book basket. Another benefit of keeping all my devotional books in a basket, is that it is portable. I can move the basket where I need it to be.
Other practical items you might consider storing in your Bible book basket:
Pens
Highlighters
Bible commentaries
Bookmarks
Prayer list
Scripture memory cards
Some mornings when my kids wake up early, they want to cuddle on the couch watching Curious George. If I were to sit on the couch and watch an episode with them I can guarantee you that I will fall asleep which will leave me to feeling terrible and tired for the rest of the morning.
So while they are watching an episode curled up at my side, I have my Bible book basket and can read my Bible or journal my prayers. No it's not quiet but it will do, and it's another opportunity to model what a devotional time looks like to my kids.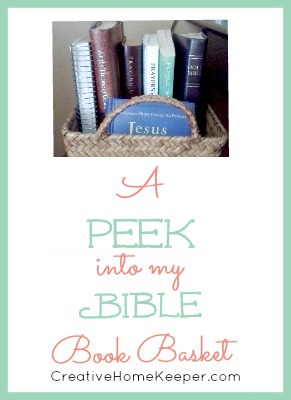 Do you keep a Bible book basket handy? What devotional books or study aids to you refer to daily as part of your Bible study time?