Praying Scripture is a powerful weapon we have to fight off anxiety and fear in the unknown. This prayer calendar for the school year is Scripture based and includes 31 days of prayer that can be customized and adapted for any school situation from public, private or homeschool. Download your free prayer calendar today and commit to praying every single day of the new school year!
Download your free prayer calendar today and commit to praying every single day of the new school year!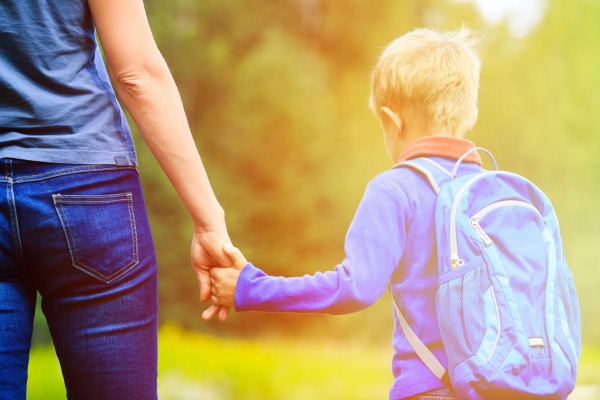 A new school year is almost upon us and I have ALL the feelings.
I have found peace in our school choice and am excited to watch my children grow in knowledge and learn new things. I look forward to seeing the relationships form between peers and, hoping that my children find true friends who love God.
I am grateful for teachers this year. As a former teacher myself, I know how hard teaching is. I look forward to working together with her to create a positive learning experience for all, as well as encouraging the other teachers and administrators in the building.
Last year my oldest started Kindergarten. This year, I will have a first grader, a pre-Kindergartner, and a (pre) preschooler 😉
Starting Kindergarten was a milestone last year, one that I had been anxiously awaiting since the day he was born. It felt like it would be a long way off but here we are. As a six-year-old, I am sure he has his own anxious and excited feelings, though probably very different from mine.
This summer as I have been mentally preparing to send him off to school, where he will spend 7 hours a day out of our home, I have discovered even more just how important prayer is.
I'm an anxious person by nature. I have long struggled with anxiety, fear and panic attacks. As I've gotten older and learn to identify my triggers (that's an entire blog series in itself and one I may share soon!), I know just how important praying the Scripture is over my life.
Last year as I was anxious about my son starting Kindergarten, praying Scriptures was the only thing to calm my anxious heart.
I knew his first day would be both exciting and a little sad. I cried but it wasn't because of fear.
I have the peace and comfort of praying God's Word over my son, his school, his teacher and my own anxiety.
We will continue the tradition of me praying over him on our way to school as I model for him the power of prayer and teach him to pray his own prayers when he is feeling overwhelmed, scared or anxious.
Along with praying with him, I will also be praying for him.
I will be praying God's Word over his school day, his spirit, his teacher, relationships with peers and for the entire school community.
As a way to help me prepare, I've created a prayer calendar that touched just about every aspect of his school day but, most importantly, is based on Scripture.
It is powerful to pray God's Word.
It is living and active, it is inspired by Him who knows perfect peace. God gave us His Word to help us know Him better and it's the perfect tool to help build our prayers.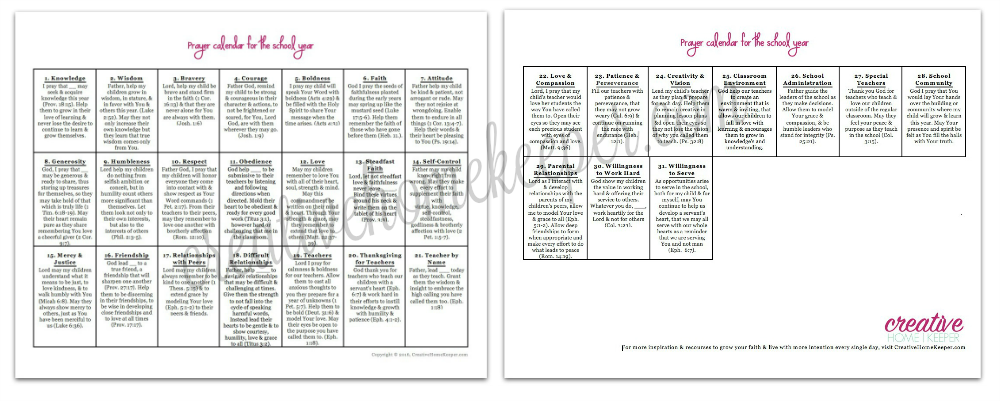 The prayers below are generic but are totally customizable. Include your children's names, swap out the pronouns his/her/him/his to make it even more personalized. Use these short prayers as prompts to spring into even deeper times of prayer.
These prayers can be used and adapted for any school situation, whether that be public, private or homeschool.
At the bottom of this post, you can download your own prayer calendar. Print it off, front to back, and place it in your Bible or prayer journal.
Pray one a day, or more, just commit to praying for your children's school year every single day of the school year, not just at the beginning. As the year progresses and attitudes change, prayer is even more beneficial!
---
Prayer Calendar for the School Year
Knowledge
I pray that ____ may seek and acquire knowledge this year as they learn and grow (Proverbs 18:15). Help them to grow in their love of learning and never lose the desire to continue to learn and grow themselves.
Wisdom
Father, help my children grow in wisdom and in stature and in favor with You and others this year. (Luke 2:52). May they not only increase their own knowledge but they learn that true wisdom comes only from You.
Bravery
Lord, help my child be brave and stand firm in the faith (1 Corinthians 16:13) and that he/she is never alone for You are always with them (Joshua 1:6).
Courage
Father God, remind my child to be strong and courageous in their character and actions, to not be frightened or scared, for You, Lord God, are with them wherever they may go (Joshua 1:9).
Boldness
I pray that my child will speak Your Word with boldness (Acts 4:29) and be filled with the Holy Spirit to share Your message when the time arises (Acts 4:31).
Faith
God, I pray the seeds of faithfulness planted during the early years may spring up like the mustard seed (Luke 17:5-6) and become deeply rooted in my children's hearts. Help them remember the faith of those who have gone before them (Hebrews 11) when they feel weak.
Attitude
Father help my child be kind and patient, not arrogant or rude. May they not rejoice at wrongdoing but rather rejoice in the truth. Enable him/her to endure in all things (1 Corinthians 13:4-7). Help their words and their heart be pleasing to You (Psalm 19:14).
Generosity
God, I pray that _____ may be generous and ready to share, thus storing up treasures for themselves as a good foundation for the future, so they may take hold of that which is truly life (1 Timothy 6:18-19). May their heart remain pure as they share and give their offerings, remembering You love a cheerful giver (2 Corinthians 9:7).
Humbleness
Lord help my children do nothing from selfish ambition or conceit but in humility count others more significant than themselves. Let them look not only to their own interests but also to the interests of others. May they think of Jesus and what He would do (Philippians 2:3-5).
Respect
Father God, I pray that my children will honor everyone they come into contact with and show respect as Your Word commands (1 Peter 2:17). From their teachers to their peers, may they remember to love one another with brotherly affection (Romans 12:10).
Obedience
God help _____ to be submissive to his/her teachers by listening and following directions when directed. Mold their heart to be obedient and be ready for every good work (Titus 3:1), however hard or challenging that may be in the classroom.
Love
Father, I pray that my children will remember to love You, their God, with all of their heart, soul, strength, and mind. May this commandment be written on the forefront of their mind and heart. Through Your strength and grace, may they remember to extend that love to others (Matthew 22:37-39).
Steadfast Faith
Lord, let not steadfast love and faithfulness never leave _______. Bind these virtues around his/her neck and write them on the tablet of his/her heart (Proverbs 3:3).
Self-Control
Father may my child know right from wrong. May they make every effort to supplement their faith with virtue, and virtue with knowledge, and knowledge with self-control, and self-control with steadfastness, and steadfastness with godliness, and godliness with brotherly affection, and brotherly affection with love (2 Peter 1:5-7). 
Mercy & Justice
Lord may my children understand what it means to be just and to love kindness and to walk humbly with You, God (Micah 6:8). May they always show mercy to others, just as You have been merciful to us (Luke 6:36). 
Friendship
God lead ______ to a true friend, a friendship that will sharpen one another (Proverbs 27:17). Help them to be discerning in their friendships, to be wise in developing close friendships and to love at all times (Proverbs 17:17).
Relationships with Peers
Lord may my children always remember to be kind to one another (1 Thessalonians 5:15) and to extend grace by modeling Your love (Ephesians 5:1-2) to their peers and friends.
Handling Difficult Friendships
Father help ______ to navigate relationships that may be difficult and challenging at times. Give them the strength to not fall into the cycle of speaking harmful words to or about these people, and to avoid useless quarreling. Instead lead their hearts to be gentle and to show courtesy, humility, love, and grace to all (Titus 3:2).
Teachers
Lord, I pray for calmness, boldness, and purpose for our teachers as they begin a new school year. Allow them to cast all anxious thoughts to you they prepare for a year of unknowns (1 Peter 5:7). Help them to be bold (Deuteronomy 31:6) and model Your love when they are not able to speak up about their faith, and may their eyes be open to the purpose you have called them to. Open his/her eyes so he/she may know who You have created them to be (Ephesians 1:18).
Thanksgiving for Teachers
God thank you for teachers who teach our children with a servant's heart (Ephesians 6:7) and work hard in their efforts to instill knowledge and growth with humility and patience (Ephesians 4:1-2).
Your Child's Teacher (s) by Name
Father, lead _________ today as she/he teaches. Grant him/her the wisdom and insight to embrace the high calling you have called them too. (Ephesians 1:18)
Love & Compassion for Teachers
Lord, I pray that my child's teacher would love his/her students the way You have called them to. Open their eyes so they may see each precious student with eyes of compassion and love. (Matthew 9:36)
Patience & Perseverance for Teachers
Fill our teachers with patience and perseverance as the year goes on, that they may not grow weary (Galatians 6:9) and continue on running the race with endurance (Hebrews 12:1).
Creativity & Vision for Teachers
Lead my child's teacher as they plan and prepare for each day. Help them to remain creative in planning lesson plans for the day and open their eyes so they do not lose the vision of why you called them to teach. (Psalm 32:8)
Classroom Environment
God help our teachers to create an environment that is warm and inviting and allows our children to fall in love with learning and encourages them to grow in knowledge and understanding.
School Administration  
Father guide the leaders of the school as they make decisions. Allow them to model Your grace and compassion and be humble leaders who stand for integrity (Psalm 25:21).
Special Teachers
Thank you, God, for teachers who teach and love our children outside of the regular classroom. May they feel your peace and purpose as they teach whether that be in the library, art room, gym or any other classroom in the school (Colossians 3:15).
School Building & Community
God, I pray that You would lay Your hands over the building or community where my child will grow and learn this year. May Your presence and spirit be felt as You fill the halls with Your truth.
Parental Relationships
Lord as I interact with and develop relationships with the parents of my children's friends and peers, allow me to model Your love and grace to all (Ephesians 5:1-2). Allow deep friendships to form when appropriate and make every effort to do what leads to peace (Romans 14:19).
Willingness to Work Hard & to Serve
God show my children the value in working hard and offering their service to others. Whatever you do, ______, work heartily for the Lord and not for others (Colossians 3:23).
Willingness to Serve
As opportunities arise to serve in the school, both for my child and for myself, may You continue to help us develop a servant's heart, that we may all serve with our whole hearts as a reminder that we are serving You and not man (Ephesians 6:7).
---
As a reminder to pray these prayers for the entire school year, I have created a prayer calendar that I have printed off and is placed in my prayer journal. Along with my regular prayers for the day, I will also lift these Scripture based prayers up every day.
***Printing Note: Print front to back on a standard piece of printing paper. To keep the calendar small, several of the prayers have been shortened. 
Pray with Purpose
Download your free Scripture-based Prayer Calendar to pray over the entire school year!
Join the community of over +6,500 women who are learning how to prioritize their home life while nurturing a thriving faith with a little bit of encouragement delivered weekly to your inbox -- plus get this FREE calendar!

Pin It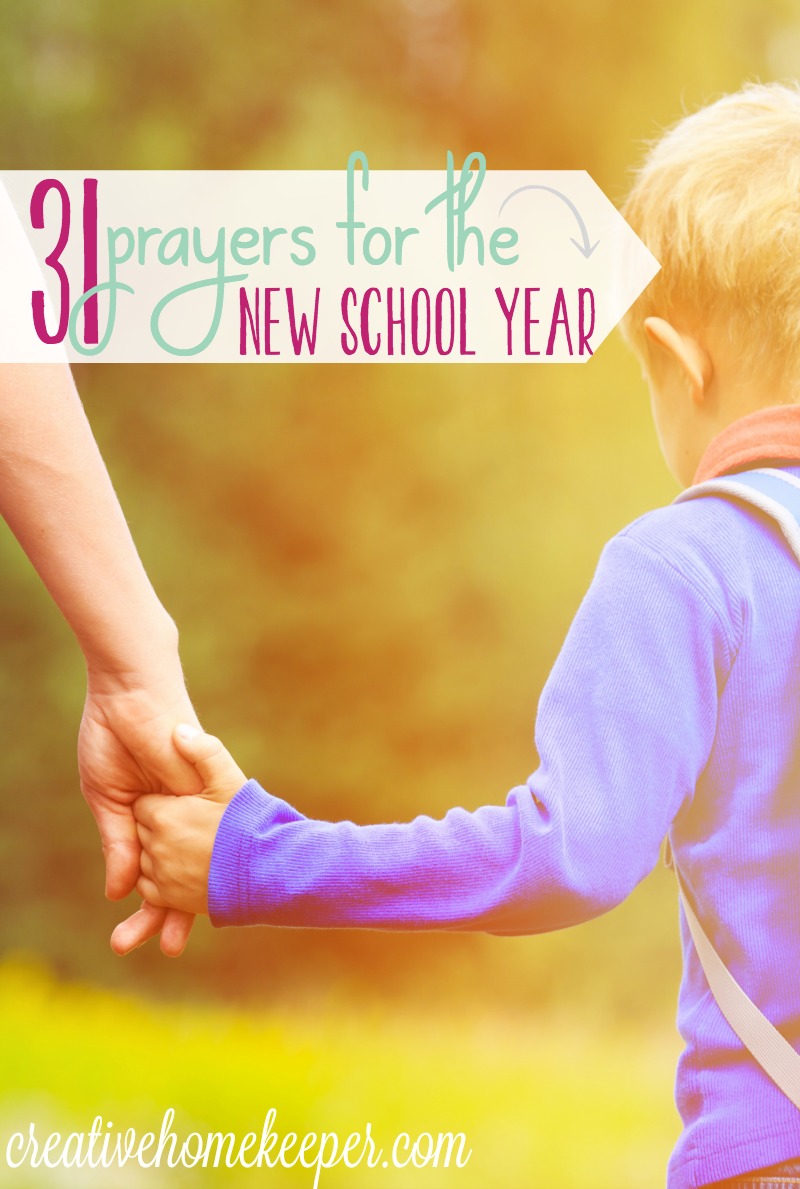 I also love these prayers for praying over your child's school year:
A Back to School Prayer for Our Kids from I Can Teach My Child, modeled off Luke 2:52.
How to Pray for Your Child As They Head Off to School from Chaos to Peace, I love how Jennifer prays that her boys will be like heroes of the faith found all throughout the Bible!
15 Bible Verses to Pray Over Your Kids This School Year from The Purposeful Mom, more Scripture to base your prayers on for your children.
Do you pray for your child's school year? What prayers do you pray? 
Pray with Purpose
Download your free Scripture-based Prayer Calendar to pray over the entire school year!
Join the community of over +6,500 women who are learning how to prioritize their home life while nurturing a thriving faith with a little bit of encouragement delivered weekly to your inbox -- plus get this FREE calendar!