A Prayer for the Messy Homemaker
Do you struggle with the heart issue of keeping a clean home? This prayer for the messy homemaker is for you! Pray and ask God for these four specific requests for your heart for the home.
By Contributing Writer, Kelsey Ferguson
The art of homemaking doesn't come naturally to me. Which merely is a kind way of saying I'm a tad bit of mess.
My lack of natural homemaking skills used to make me insecure and frustrated. Why couldn't I be like my mom or my friends who seemed to enjoy cleaning?
So when those "spring cleaning" pins start popping up and the 100-ways-to-deep-clean-your-house posts begin appearing, you can find me deep breathing into a paper bag.
So what's a messy, but determined homemaker to do?
Well, I've started asking God for four specific requests for my heart for the home. And while my home will never be magazine worthy, my heart for my home is changing.
This prayer is for those of you right there with me — trying to keep a home as a type-B, sometimes overwhelmed mess.
Let's pray it together and over our fellow messy sisters.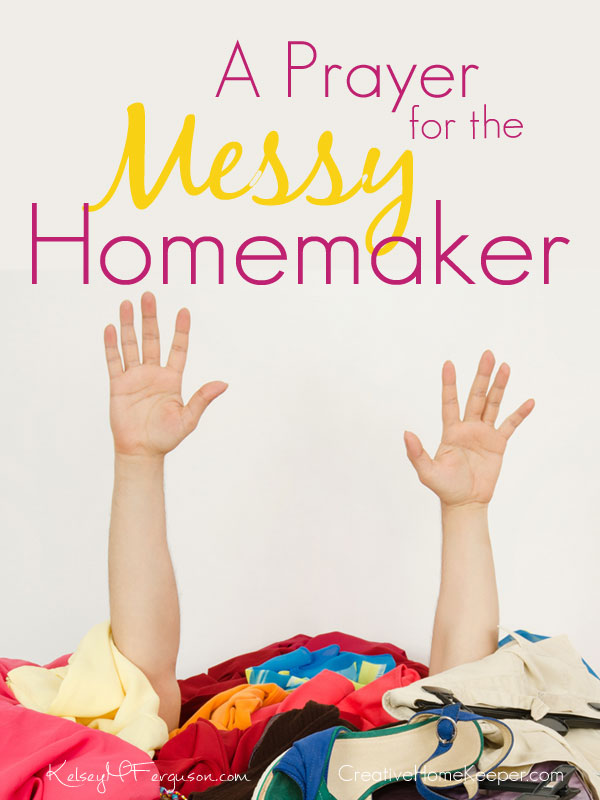 A Prayer for the Messy Homemaker
Heavenly Father,
You — the Creator of all— put the world in perfect order.
We come before you as imperfect, disordered women. We want to welcome others into well-put-together homes, but, instead, we're a mess. Our homes are a mess, and our hearts are even worse off.
We are longing for the peace that comes from a well-managed home and a well-tended soul.
So we ask of you. . .
Rid Us of Pride
Search our hearts, Lord.
We confess to worrying about what others would think of our homes and of us. We have let pride stop us from inviting another in. And, sometimes, our pride tells us that we are too good to do menial tasks.
Rid us of it all.
Change Our Hearts Towards Homemaking
O Lord, change our hearts.
Help us to not look at homemaking as something to dread, but, instead, as a gift.
Yes, a gift.
Let us not get so wrapped up in perfection that we miss the beauty of inviting others into our mess. Let us see small and cozy as just as beautiful as big and pristine.
Grow a Heart of Gratitude in Us
May we be grateful for what we have been given.
Remind us, daily, of the blessing of shelter, food, and clothing. Help us not lose focus on the why behind our endeavors — we make our homes to love others well.
And may we never be so consumed with organizing and cleaning our stuff that we forget the greatest blessing — eternal salvation through Jesus Christ.
Grace, Always More Grace
And when we stumble and mess up, when the pride slips in, when we feel like will never get ahead of the laundry or the dishes point us back to your endless grace.
We know you made each of us unique — with different callings — and ours is something other than natural homemakers. Help us to embrace our strengths and accept grace for our weaknesses.
Thank you for loving us, refining us, and pouring out grace upon grace.
In Jesus' name we pray, Amen!
What's Next?
If, like me, you are wanting to transform your home and your heart, our next steps are continual prayer and a plan.
No idea where to start with a plan? Check out Sarah Mae's book, Having a Martha Home the Mary Way: 31 Days to a Clean House and a Satisfied Soul. I first read it when it was a self-published ebook, but now it has been picked up by a traditional publisher — it's that good.
And, friend, don't doubt the power of prayer. A renewed heart towards our home and others is a much better goal than a squeaky clean house.