Savory Butternut Squash Soup
Fall brings many things that I love and one of those things is the return of soup season! In particularly one of my favorite fall soups is this creamy and delicious savory butternut squash soup. It's hands down one of my favorite fall foods!
I love a warm and hearty soup on a crisp and cool evening, from chicken noodle all the way to thick and meaty chili, soups are so filling and the perfect way to warm our bellies this fall. Plus I love that soups are a great way to pack in lots of seasonal vegetables as well as the healing benefits of some good ol' chicken stock.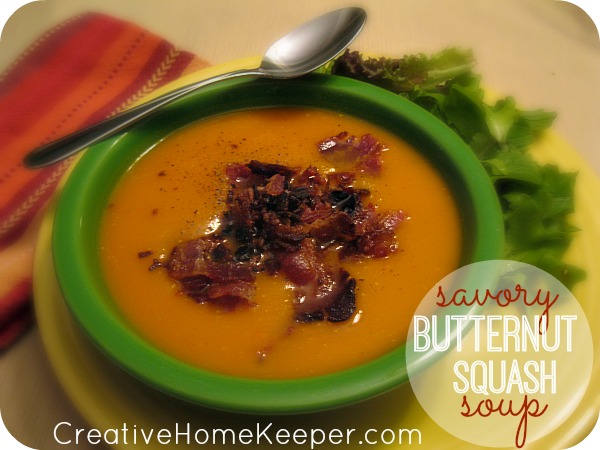 Butternut squash is one of my favorite fall vegetables. Rich and flavorful, it's great roasted or sauteed as a perfect side but my favorite way to enjoy it is in this creamy and savory soup. It's so good!
I love to make a big batch on the weekend so that I can eat some soup for lunch over the next few days, because in my opinion the longer the soup sits, the more flavorful it is.
My meat loving husband requests that when I make this soup to also add in some bacon to crumble on the top, which is fine with me because I LOVE bacon! I also usually whip up a simple green salad and some grilled cheese sandwiches to go along the side.
I will say that this soup does take a little bit of prep and cook time so make sure you allow yourself a lot more extra time than you think you might need the first time you make this soup, especially if you have never peeled, halved, seeded and diced a butternut squash before. Those puppies are hard to cut through!
I sometimes take the easy route and buy cubed butternut squash at Costco, yes it's a teensy bit more expensive but it does save so much time!
A few years ago for Christmas my husband blessed me with an Immersion Blender
after he watched me make this soup for Thanksgiving. He couldn't understand why I was pouring small batches into the stand blender to puree then place back in the pot. So he purchased one for me and it has made my soup making so much easier, not to mention the other things I use if for. If you make a lot of purees (like baby foods) and soups, an immersion blender is well worth the investment.
On a sad note, the day I made this soup last week my camera decided to switch to a weird mode without my knowledge and the photos ended up blurry and dark. Even with using my editing software, I wasn't really thrilled with the quality of photos which is why today I'm only sharing the recipe, not my usually step-by-step process. Sorry about that, I'm constantly learning more and more about better photography.
Along with making a big batch of this periodically, this is one soup that my family has come to expect on Thanksgiving. It's the perfect complimentary side to turkey, mashed potatoes, green beans and other yummy comfort foods. Plus this savory butternut squash soup is pretty healthy too. It's creamy without adding any cream!
Savory Butternut Squash Soup
Author:
Prep time:
Cook time:
Total time:
Ingredients
3 TBSP olive oil
1 large onion, thinly sliced
4 garlic cloves, smashed
1 tsp dried oregano
1 can diced tomatoes, drained
2-3 large carrots, peeled and chopped
2 pounds of butternut squash, peeled, halved, seeded and diced
4 cups chicken stock
salt and pepper to taste
Bacon
Instructions
Heat the olive oil in a large soup pot over medium heat.
Add the onion, carrots, garlic, oregano and season with salt and pepper. Cook, stirring occasionally until soft and fragrant.
Raise heat to medium-high and add the tomatoes and cook, stirring, until the tomatoes break up and onions are slightly brown.
Add the squash, season with a little more salt and pepper and cook, continue to stir occasion, until the squash is tender.
Add the stock, bring to a simmer and cook, covered until the vegetables are tender. The longer they simmer, the better.
Using an immersion blender, or working in batches you can also blend in a stand blender, puree the soup.
Place the bacon on a broiler pan and broil in the oven until crispy. Drain the grease, blot with a towel and let cook. Chop the back and place in a small bowl to garnish the soup.
Spoon soup into bowls and sprinkle bacon on top. Serve warm.
What is your favorite fall soup? 
This post is part of the 31 Days of Savoring Fall Series. Click here to see all the posts in the series.