Side dishes are equally, if not more, important than the main dish itself. They can enhance the flavor, bring subsidence, and make your meal more satisfying.
I really like to load my sides up with delicious and nutritious vegetables. When I focus more on my side dishes, I can also really make my meat go farther by having the mentality of meat-on-the-side. This also helps stretch the budget too!
Today I am going to share with you one of my new favorite side dishes, Spicy Sweet Potato Fries. I'll admit that despite all of their nutritional value, I have never been a fan of sweet potatoes. I typically enjoy more savory flavors during meal time and save more of the sweet flavors for fruits or for chocolate :).
So I was skeptical when I came across a recipe for sweet potato fries, and when I tried them I realized I actually enjoyed them despite their sweet flavor.
I thought about ways to add more of a kick to them to help balance out the sweetness, so after experimenting with a few different spices these are the delicious results.
These are delicious, savory, spicy, and sweet all in one. While I'll always be a fan of traditional french-fries, these are definitely making their way into the rotation.
Spicy Sweet Potato Fries
Recipe Type
:
vegetable side
Author:
Prep time:
Cook time:
Total time:
Ingredients
4 sweet potatoes
2 Tbsp. olive oil
1 Tbsp. steak seasoning
1 Tsp. Cajun spice rub (see notes)
salt and pepper
Instructions
Preheat the oven to 375 degrees.
With the skins still on, cut each sweet potato in half lengthwise, then cut each half into 6 wedges. Depending on how large the sweet potatoes are, you may have to cut them into smaller wedges.
In a large bowl combine the sweet potatoes, oil, and seasonings. Using your hands, toss to coat.
Spread the fries in a single layer onto a large baking sheet and place in the oven.
Cook for about 25-30 minutes. About halfway through, pull out and using a spatula, toss them around.
During the last two minutes of cook time, turn the oven off and the broiler on. Allow the fries to set under the broiler for a few minutes to get the fries crispy.
Pull out of the oven and serve warm.
Notes
Depending on how spicy you want your fries, you might want to use more or less than the recommended amount.
I use 4 medium sweet potatoes, but I have seen some enormous ones at the store before.
Depending on big they are and how many people you are feeding, you will need to determine how many sweet potatoes to buy.
One medium sweet potato usually yields about 12 fries.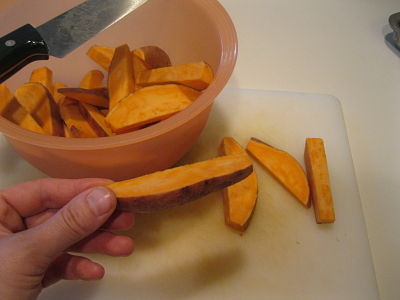 I like my fries a little on the skinny side, so I cut them into smaller wedges and allows them to cook a little more evenly too.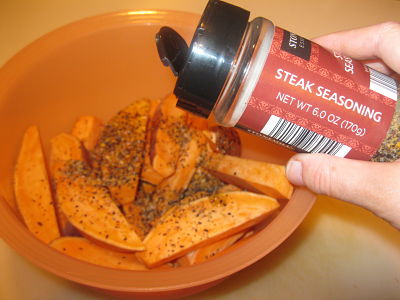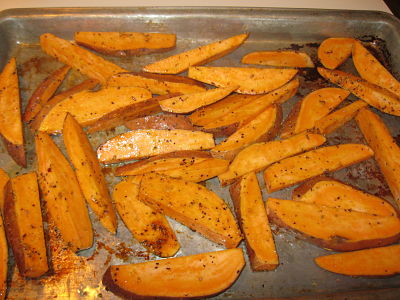 Once you place them under the broiler, be sure to watch them very carefully. I can't tell you how many things I have burnt under the broiler because I was a minute too late!
These are so great with BBQ beef, chicken, or your favorite burgers.
Now it's time to go enjoy some spicy sweet potato fries!