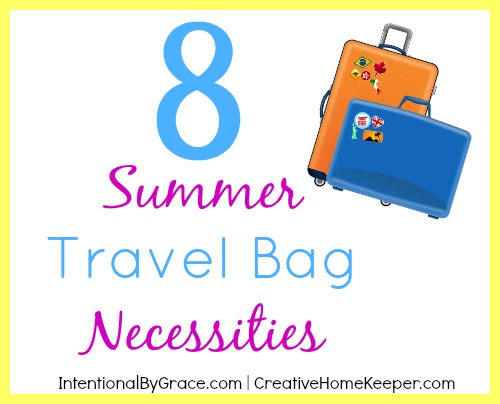 Happy Tuesday friends. I wanted to thank you all for your warm wishes and congratulations that you have sent me from my big announcement I made yesterday. My family is thrilled and I am so excited! I also wanted to share with you that today I'm over on Intentional By Grace where I am a monthly contributor, sharing some travel bag necessities.
Whether you and your family are hitting the road this summer or later this year, I think these are some great things to have packed in your bags. Here's a little sneak peak..
Summer time and family vacations just go together hand in hand.
Most of us have wonderful memories of family vacations when we were kids and can't wait to create similar memories with our own families.
Whether it be the all-American road trip or a vacation where you travel by plane, vacations can create once in a life time memories. But they can also create a little stress, especially for mom as she usually packs for the entire family.
If you are traveling with kids, especially young ones, it can seem overwhelming to pack for all their needs not to mention packing for everyone else too!
Today I wanted to share with you 8 summer travel bag necessities that I think are not only important to have, but also useful and practical too.
I hope it helps relieves some of the stress as you prepare to pack for your summer vacation this summer or any time of year.
To read the full post, be sure to head here.
Does creating a Christ-Centered home feel overwhelming?
It doesn't have to be!
Join our community and get the encouragement & guidance you need to find real joy & purpose in your homemaking today! To get started, you'll also get my FREE guide: 10 Easy Ways to Create a Christ-Centered Home!
Plus, when you join the Creative Home Keeper community you will join over 5,000 other women (just like YOU) who are becoming equipped to create a Christ-centered home and are transforming their hearts towards homemaking once and for all!
*By joining the Creative Home Keeper community, you agree to our Privacy Policy.