The Sanity Saving Tactic of Keeping a Bible Book Basket
I like a tidy, organized home. It keeps me sane to have order and when I'm sane, I'm a lot happier too which is good for everyone! 😉
With a husband and three little one's ages 6 and under, our home could quickly turn into a chaotic mess. From random burp cloths, diapers, flip-flops, books, toys, articles of clothing and other odds and ends, the clutter can quickly get out of control.
I do a pretty good job of staying on top of the daily home management, thanks to this time saver, and I'm teaching my kids to pick up after themselves but there are always random stray objects that need to find their proper home.
When my oldest son was just a baby and we started to accumulate lots of favorite board books to read aloud, I quickly discovered I would need a system in place to keep them organized and off of the floor. I didn't like the way they looked shoved in his toy box with the other toys and I really wanted them out so he could always have easy access to them.
So I discovered my favorite organizational strategy of book baskets.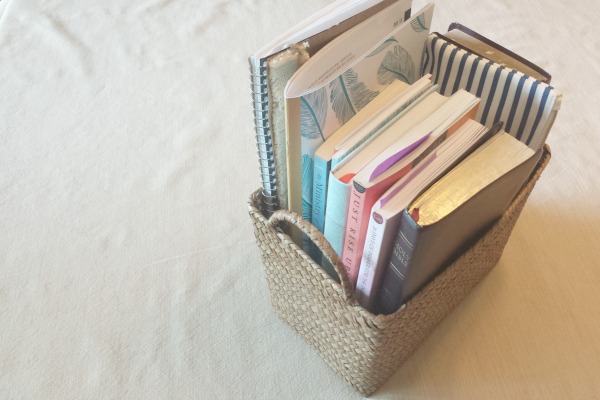 Book baskets are exactly what they sound like — baskets to store books in.
I keep a basket of books and magazines I am currently reading on an end table in the living room (the rest of my books are stored on a bookcase). So I knew it would be a great solution to help tame his quickly growing collection of books.
We now currently have several baskets placed around the house of children's books for the kids to have instant and easy access. There are a few in their bedroom, a few in the living room, and a few in the basement playroom. I also keep a shelf in the closet, out of view, with our main collection of books so I can rotate new books in as well.
This system beautifully keeps all of our favorite books handy, in view and organized as well as reducing the visual clutter of having books everywhere.
I buy my baskets cheap either at the thrift store or on sale at Michael's.
Keeping book baskets around the house is such a simple concept that I created one just for my morning "un-quiet" time.
Having a quality morning routine is important to me, especially if I want to start my day on the right foot. I've since had to reclaim my mornings as I have adjusted to three kids this year. They are still a work in progress but thanks to this course I have been working on creating a routine that works well for this season of life. I plan to share more about how that looks in the next few weeks.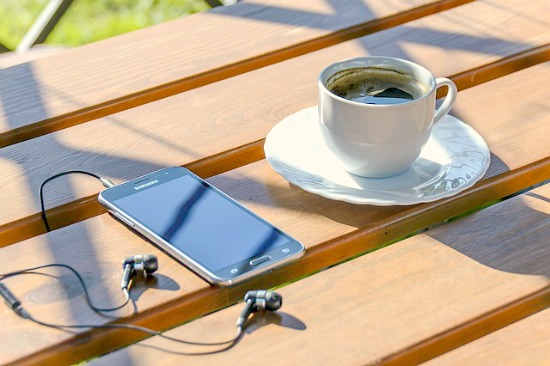 Since one of my kids is always up super early it seems (I've been told there will be a day when I'll have to drag them out of the bed) I never really get to have a set designated space to read my Bible or write in my prayer journal.
I dream of the day when I can claim a cozy, quiet spot in the house but for now, in this season of motherhood, my morning routine consists of having a devotional wherever my kids will let me.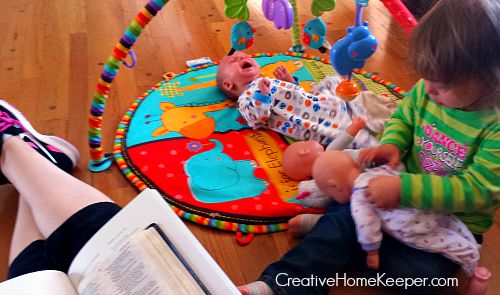 Some mornings it means I'm sitting on the sofa with little ones cuddled around me.
Other mornings, when I'm lucky to have some real quiet time, I'll spread out my Bible and devotional books on the dining room table. A few mornings I might read my Bible at my desk before I begin working.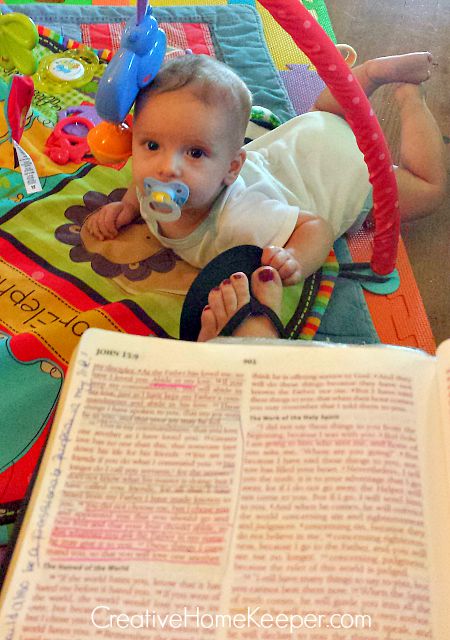 Since the spot changes most mornings I needed a system to keep all my Bibles, journals, devotionals and other materials organized and portable. I hated to sit down at my desk only to realize one of my devotionals was in a different location.
Thus I created a Bible Book Basket, the organizational system of using baskets was working so well for our books that I knew it was a no-brainer for my devotional materials.
4 Reasons why I love my Bible Book Basket and why I think you would love to keep one too:
1. It's Portable
Like I mentioned above, if I'm having my Bible reading time on the sofa, at the dining room table, my desk or even outside on the patio, I can easily carry my small basket that carries everything I need. My Bible Book Basket goes where I go.
2. It Keeps All My Supplies and Books Organized
No more wasting precious moments hunting for missing Bibles, journals, devotionals or pens. Everything is right where I need it to be. Once I finish my devotional time, all the books and supplies go back in the basket and are stored on a shelf in my office.
3. It Stores Neatly
Everything is neatly organized and fits nicely into a basket. The basket stores well on a shelf. Even when I leave the basket in the dining or living room, all the books are organized nicely inside of it so it doesn't look cluttered.
4. It Models an Important Lesson to My Kids
It's such a good teaching moment to model our kids the importance of carving out time for a daily devotional. It's also a great way to show our kids that we value and respect our Bible and other study materials enough to keep them stored safely and organized.
I also created a Bible Book Basket for my kids that is housed in our living room full of Bible board books and toddler Bibles, many of which we scored at the Dollar Store! When I tell my kids that Mommy is going to read from her Bible Book Basket, they promptly go and retrieve their own basket and read one of their books!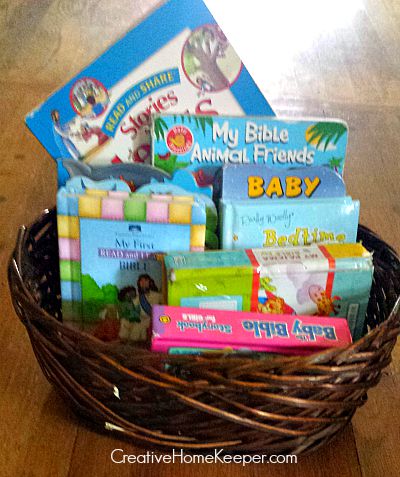 So what do I keep in my Bible Book Basket?
Last year I gave you the first glimpse into my basket but since time has passed, so are many of the devotionals I use. I wanted to give you a fresh updated look at what is currently in my Bible Book Basket.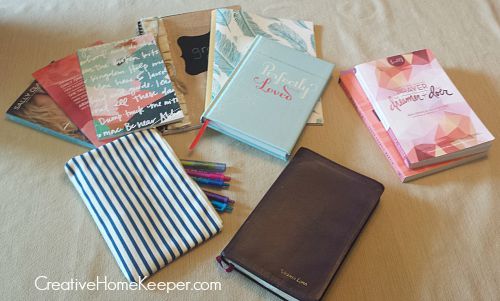 Also while I don't keep them in my basket, they are on a nearby shelf to have handy when I need more depth and inspiration for my prayers
What Your Heart Needs for the Hard Days
Several other journals and past She Reads Truth journals
Want even more quiet time resources? Check out this massive list of the best devotionals, Bible studies, and resources to grow your faith.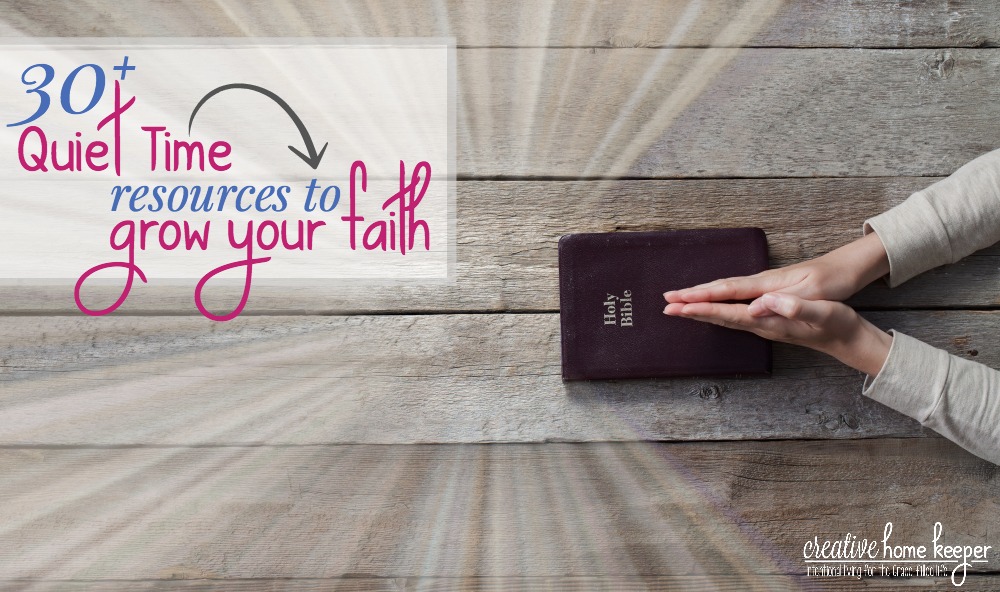 Such a simple organizational strategy is also a huge sanity saving tactic because it keeps all of my Bible study materials organized, stored neatly and easy to move from spot to spot.
This handy little basket has greatly impacted my daily time in the Word and since all my materials are in one place, there is no excuse not to be in my Bible every day!
Do you keep a Bible Book Basket handy? Or how do you organize and store your devotional materials for quick easy access?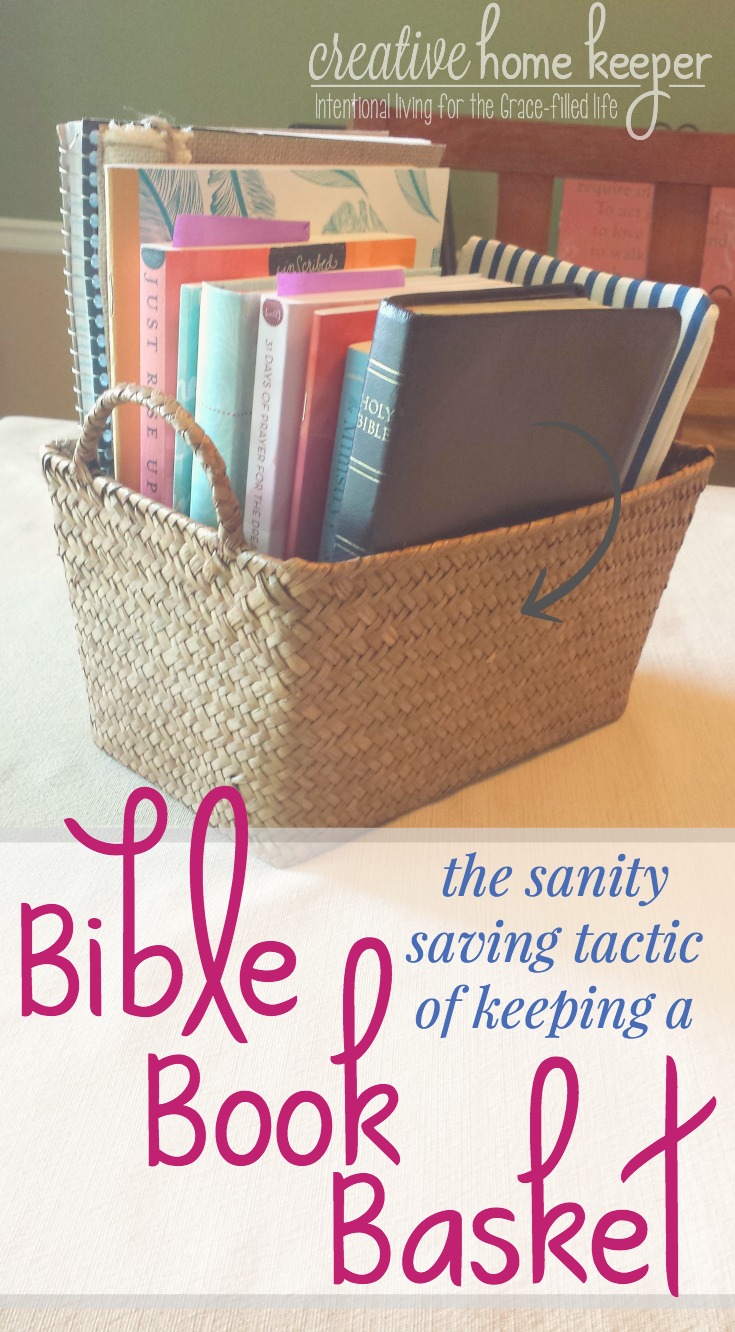 Updated from the archives, orginially posted 7/20/15