What a Creative Home Keeper is Not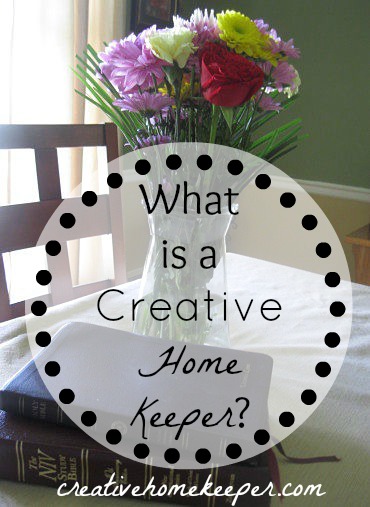 Today is the final day in the What is a Creative Home Keeper? series. Click here to read Part 1, Part 2, and Part 3.
We have spend the past several days discussing what a creative home keeper is, and what our roles as women are. Today to conclude this series, we are going to take a look at what a creative home keeper is NOT.
A Creative Home Keeper is NOT:
someone who demands perfection
one who appears to have herself all put together on the outside
someone who lets her family tend to themselves while she pursues her own interests
one who is crafty (OK so that one is a stretch, we all know that I'm not crafty, but there are many other fabulous women who are crafty and beautiful keepers of their homes!)
Let's break down each of these points to see what they mean.
Perfection
A creative home keeper doesn't have to be perfect, have the perfect home, the perfect family, the perfect life, etc. etc. This side of Heaven there is no such thing as perfect, so relax!
We are all going to make mistakes, and even fail at our endeavors. I can't tell you have many times I have made a new experimental recipe only to have to throw it all out because it was disgusting! (My very sweet husband usually assures me that it tastes just fine, but his face doesn't lie!)
It's not about having the perfect house or the perfect family. It's not about appearances, rather it is about the heart.
Which brings us to our next point…
Outward Appearances
How is your heart? How is your attitude? How is your relationship with the Lord? I can pretty well tell you that when I am not regularly meeting with God, my attitude stinks and my house is a mess mainly because I am so unfocused and unmotivated to do anything.
Imagine this scenario- It's Sunday morning and you're running late to church. It's taking way to long to get everyone dressed and out the door. You make some snide comments to your husband about how his "helping" you could improve. Your stewing on the inside all the way to church. Once you pull in the parking lot you take a look in the review mirror, re-apply your lip gloss, and emerge from the car. Still grumbling with your family, you flash your prettiest smile and morning salutations to everyone who you come in contact with that morning, except your family.
Does this sound all to familiar? Well it does to me. I can't tell you how many times I have let others get to see the best of me, while my family gets to see the worst of me.
Shouldn't our families get to see the pretty smile, hear the morning salutations, and get the best of us? They should, but all to often we save the best for others outside the home.
Selfish
Ouch! This one hurts a bit. How do we spend our time? Are we so caught up in other interests and pursuits that we don't have the time and energy for our families?
Now before I get a emails about this one, let me be clear. Yes, women need time for themselves. We need to take care of ourselves so we can best take care of our families. We should have interests, pursuits, and hobbies that engage, challenge, and refresh us. Many women work outside of the home, either by choice or necessity. That's OK too.
What I AM talking about is when we get so wrapped up in our own activities, that everything else takes a turn south.
For example, I love to read. I am capable of reading several books at once, and finishing books that I start in a week. I'm a fast reader, I make time for reading, I make reading a priority in my life. Do I approach my marriage the same way? Honestly, there have been many nights when I spend reading my good book then interacting with my husband. That's a problem, and it is something I am still striving to find balance with.
Tending to the needs of our husbands, children, and home should be our first priority.
Proverbs 12:4 says that an "virtuous woman is a crown to her husband" meaning she brings him honor and joy,
and Proverbs 24: 3-4 says "By wisdom a house is built, and through understanding it is established; through knowledge its rooms are filled with rare and beautiful treasures."
Don't you want to be a crown to your husband? Don't you want your home filled with treasures? (By treasures I'm not talking about materialistic things, rather I'm talking about the people, tone, and memories you create and encourage.)
You don't have to be perfect (or even crafty) to be a creative home keeper. All you need is to rely on God. He will reveal to you how to be keeper of your home.