It's been awhile since I've given a full recount of all the books I have been reading. This year I have already read a handful of good books and have a whole shelf of books just waiting to be read.
While I love to read, I've let business get in my way but I have been making it more of a priority to read every single day this year allowing me to finally read all of the books that are on my shelves. So to help keep me accountable, I wanted to get back to sharing a little bit about the books I have read recently, the books I am currently reading and the books that are in que to be read soon.
What I'm Currently Reading
What I Have Finished Recently
You can keep track of all the books I have finished this year on my Books Read in 2016 Pinterest board.
Building Your House :: I really enjoyed this book on organization from the inside out. You can read my full review here.
Hands Free Life :: I started listening to this book in December but after replaying so many sections, I knew I had to get my hands on a print version so I could highlight all the good quotes and parts I didn't want to forget. This book is so convicting yet so encouraging and inspiring. I have a lot of thoughts about it and am actually working on a post about how I am striving to put aside the distractions.
Hannah's Choice :: Amish fiction intrigues me for some reason. I think it has something to do with the simple lifestyle built on faith. Even though I do believe there is a lot of legalistic "rules" in the Amish faith, I still enjoy getting lost in a good story about their plain and steadfast faith and hardwork.
Hannah's Choice did take a while for me to get into it and there are a few storylines within the story that just seem a little off, almost as if the main plot didn't need those side stories. Hannah is a young woman with two prospects for a husband, one who shares her faith and one who has been a childhood friend but is not Amish. I felt like I was lead to be rooting for one of the suitors throughout the book only to have that relationship end abruptly leaving her to easily move on to the other man. It didn't feel resolved or realistic in the end but still it was an entertaining read.
Currently On My Nightstand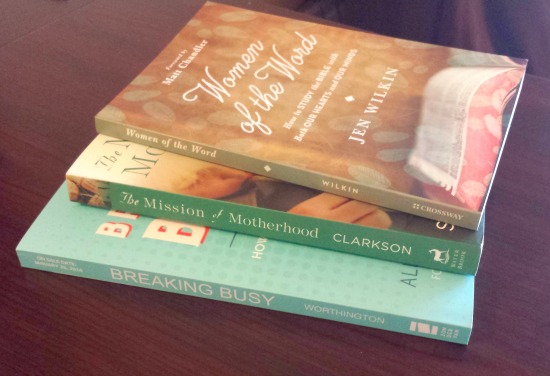 The Mission of Motherhood :: I read this book five years ago after my oldest was born and was so encouraged by Sally's wisdom and encouragement. Now here I am as a mother of three, weary and exhausted.
I've wanted to re-read this one for a while now so I knew it would be the perfect choice to be the first parenting book I read this year. I've just finished re-reading the first chapter and already have so much highlighted with notes filling the margin.
Just listen to this encouragement:
God designed motherhood to be a deeply meaningful role. We mothers have the opportunity to influence eternity by building spiritual legacy in the lives of our children. Through our teaching and influence, morality can be learned and modeled, love and kindness are taught and received, purpose and vision are ignited and passed on. (pg. 13)
Breaking Busy :: It's been taking me a while to read this one, not because I can't get into it but because of all the great truths and nuggets I'm soaking up.
Crazy busy is life without peace. It's marked by decisions made for the approval of the world, not the approval of God. 
I have been trying to keep up a pace that has left me worn out, frazzled, overwhelmed, grumpy and lacking joy.
After careful examination, I've come to realize that it's my business and trying to live at over-capacity that is causing me to feel off balance. In fact the most convicting truth I have read is:
Out-of-control emotions often reflect the out-of-control demands we put on ourselves.
Ouch! I am so guilty of this. Instead of blaming my emotions and big feelings on the root cause of my business, I've been unjustly blaming everything else!
Women of the Word :: On of my favorite reads of last year, I'm re-reading this one in preparation for the upcoming book club that I am collaborating with Leigh Ann from Intentional By Grace with.
I'm so excited about not only digging back into this one but also joining with Leigh Ann to help women get into the Word. Stay tuned for more details soon! 
What I'm Planning on Reading Soon
The Gift of Friendship :: I recently received this one in the mail and am excited to dive into this collection of short essays from popular authors and writers about friendships. It's a beautiful book and I can't wait for the afternoon where I can curl up to devour it along with my favorite cup of tea.
The Lake House :: I am so embarrassed to say that I splurged and purchased this one back in October (when it was released) for my birthday because I didn't think I could wait for my library hold to come up. Yet here we are several months later with the book still unread.
I LOVE Kate Morton's books, I've read them all. Her storytelling is so captivating and haunting, I get so drawn into her mysterious stories. I can't wait to read this one, although I'm partially hesitant since once I read this one, I won't have any more Kate Morton's books to read!
 So at about you, what have you been reading or are planning to read this month?

Linking up on Quick Lit with Modern Mrs. Darcy, Cozy Reading Spot, and Literacy Musing Mondays.
Plant God's Word Deep in Your Heart!
Download your free Scripture Graces Quick Start Guide to Writing Through the Bible today!

Join the community of over 8,000 women who are learning how to prioritize their home life while nurturing a thriving faith with a little bit of encouragement delivered weekly to your inbox -- plus get this FREE workbook!