This week Jack turns 8 months old.
My baby, my LAST baby, is growing too quickly for my liking.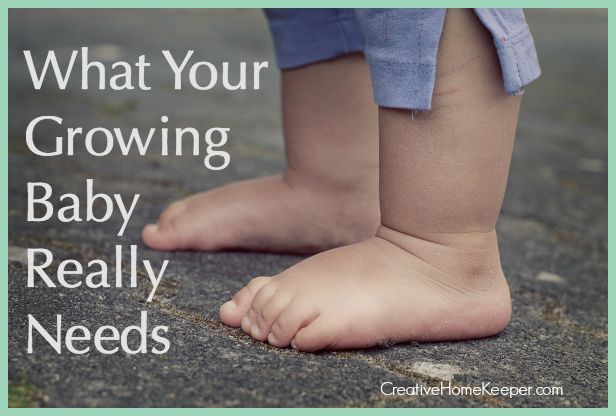 I know it's a good thing, part of life, that is he is growing and developing. He's reaching milestones he should be reaching, he's healthy, happy and content and he is such a blessing.
Currently he is on the move by scooting all over the floor, pulling himself up, attempting to climb just about anything and doing whatever he can to keep up with his big brother and sister.
The realization that I now have 3 mobile children just hit me… all three moving, and usually in different directions!
I've been packing up all the baby clothes and equipment as he outgrows them to drop off at the consignment sale and thrift store. As I've been doing that two things have struck me:
Packing up baby things is bittersweet. It is such a great feeling to get ALL. THE. STUFF. out of the house but on the other end, with each newborn outfit or swaddle blanket I fold, my mind drifts back to those precious newborn days. The cuddles and naps on my chest, the soft coos and the famous baby smell that is so intoxicating. Even though I'm thankful for more sleep, I really do love the baby phase.
There is too much stuff. People were so generous with all of our babies by providing sweet gifts of clothing, toys, gear and an assortment of blankets. I used what I could and what we needed but as I was packing everything up it became apparent just how many items we had, some only had been used just a few times.
Baby clothing and gear is the one area where it's so easy to accumulate so much stuff due in part by gifts and how cute it all is.
Seriously, what's cuter than a miniature set of corduroys and sneakers on an itty bitty baby?
While it's all cute and easy to accumulate, it got me to thinking about what my growing baby REALLY needs.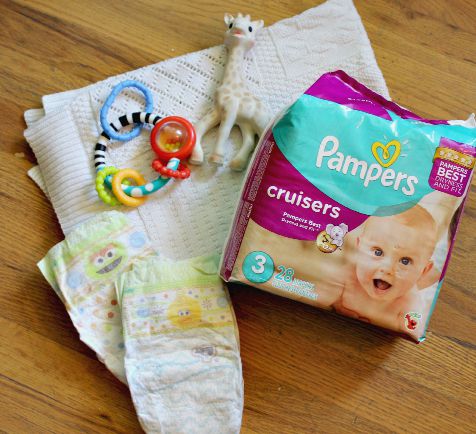 1. Clothing
Yes, your baby does need clothing, but probably not as much as you think. Body suits, sleeper pajamas, pants, a few fun and cute outfits are the main necessities, and of course due to the ever growing baby, you need several different sizes.
Thanks in large part to gifts and hand-my-downs, I hardly had to purchase any clothing myself with the exception of a few sentimental outfits. Now that Jack is moving, I tend to dress him in one pieces as much as possible.
2. Food
Breastmilk and/or formula are the only needs for the first 6 months or so for nourishment. Once they start becoming more mobile, it's time to start introducing solids.
Jack has been the hardest baby of all my others to introduce solids to. He was not a fan of purees. It took a little while, but is finally an eating champ… most of the time. And if we are being completely honest, nursing is still his favorite, and mine too!
3. Diapers
Babies needs diapers, lots and lots of them too!
Before becoming a mother I rarely thought about them. Now I have a 4.5  and 3 year old who wears training pants at night, along with the 3 year old wearing them during the day as we slooooowly work towards potty training (I dream of a day when all three can potty on their own in the toilet). Then there is Jack is needs a diaper that is not only super absorbent but also is flexible to move with him.
I've been a loyal Pampers customer since baby #1. They where the diapers given to us in the hospital and the only brand that didn't cause my son to break out in rashes or leak. As all three of my children have moved throughout the baby stage, they have worn one of the many different and reliable brands of Pampers.
Currently Jack is in Pampers Cruisers during the day. The new Cruisers have been redesigned with extra absorbent channels help distribute wetness evenly. Plus since they stay drier, they don't sag like ordinary diapers (based on size 4 vs. leading value brand). In my personal opinion, Pampers are the best fit and protection.
4. Entertainment
Babies need to be entertained but the good news is that most babies can learn to be self entertained, even better if there are some older siblings to help too.
During the first few months, most of the baby's entertainment comes from being held, this is when I would use the baby wrap, bouncy seat or swing when I couldn't hold him all day. As Jack has grown, he loves to play on his baby mat with a few rattles or teething toys.
Now that he is on the move, I place a few of his toys around the room so he can crawl to them. This also means I have to be vigilant about baby proofing to make sure he stays safe.
5. Love, attention, cuddles and (lots and lots of) snuggles and kisses.
Want to know what your baby needs the most after his basic needs have been met? Lots of love and attention. Cuddles, snuggles, kisses, and time spent together will help your baby grow, flourish and develop a strong sense of attachment. All children need these things regardless of their ages. As children grow, it's important to incorporate words of affirmation and affection too.
Spending quality time together is such a gift and a blessing to both baby and parent. Packing up the baby clothing reminded me just how quickly they are growing and try not to take any of these precious moments for granted.
What do you think growing babies really need?
One of the best ways I save on diapers is purchasing them during a promo sale at Target. Right now, August 30 – September 5, when you buy 2 Pampers Giant Packs, you also get a $10 Target Gift Card. (Giant Packs include both Pampers Cruisers and Pampers Swaddlers diapers and both offers will be available in store and online).
I was selected for this opportunity as a member of Clever Girls and the content and opinions expressed here are all my own.