Confession: I like to snoop through other people's bookshelves. I like to see what they are reading, and if I am being perfectly honest I may or may not judge you a little bit. But apparently I am not the only one as suggested by this post from The Modern Mrs. Darcy. Love it.
Today I'm joining in on the What's On Your Bookshelf link up over on Modern Mrs. Darcy. So if you have ever wanted to know what my bookshelves look like, then this post is for you. And if you didn't, then hopefully you find a good book recommendation to make it worth your while! 😉 This post contains affiliate links. You can read my disclosure policy here.
Most of my books are stored on these two bookshelves in our office. The shelves used to be way more stuffed than that, but this past January I loaded up several boxes of books and sold them. It was a little hard to part with some, but it allowed me to get rid of the mess and focus on the books that I love, cherish, and have probably read several times.
This is my main bookcase where I store all of my books and photo albums. Let's zoom in to each shelf shall we, and you can see some of my top books.
I have a mix of classics, children's literature, and spiritual growth books. On my top shelf some worthy shout-outs I have include the entire collection of The Little House on the Prairie
(I LOVE these and can't wait to read them with the kids), The Chronicles of Narnia
, A Lineage of Grace
Series, Anne of Green Gables
and The Complete Works of Jane Austin
.
Somewhere along the way I was given a set of velvet covered collector books of the classics The Secret Garden
, Alice in Wonderland
, Heidi
, and A Little Princess
. Another prized possession is the Grimm's Complete Fairy Tales
book that was my grandfather's.
This is my main shelf that houses all of the books that I am planning to read, or have read that I am hanging on too. Some of my favorites are Faithful Women and Their Extraordinary God
by Noel Piper, Shaping of a Christian Family
by Elisabeth Elliot, and A Place of Quiet Rest
by Nancy Leigh DeMoss.
In case you haven't already figured it out from the pictures, I really like Francine River's book particularly the Mark of the Lion
trilogy. And don't mind that adorable picture of the little Lady, she likes to keep an eye on good literature too!
What good library would be complete without a big fat heavy dictionary? Plus a little collection of the works from Emily Dickinson, William Shakespeare, Edgar Allan Poe, and Robert Frost.
This collection of books houses several books that came from my beloved grandpa's book collection, the man who taught me that the most important thing you can do for yourself is learn to read. Love him and miss. He introdoced me to Frank McCourt and his favorite president, Harry Truman a hometown icon. As a former teacher Jonathan Kozol's Letters to a Young Teacher
was probably one of the most impactful books that I read, and How to Get Your Child to Love Reading
is jam packed with so many great ideas, tips, and reading lists. I used it a ton as a teacher and have several pages bookmarked ready to use with my own kids.
I lovingly refer to this bookshelf as my home keeping shelf. Cookbooks, cleaning, and Martha Stewart, I've got my bases covered for all my homemaking needs.
I just can't seem to part with my Bradley Method Student Workbook, it's fun to go back and read mine and my husband's notes from my first pregnancy. Oh and in case you couldn't tell, I love Fiesta ware!
The last stop on this tour is is this shelf which houses my husband's small, little book collection. Somehow I managed to marry one who just doesn't love books as much as I do, but I am working on him. He has been joining me with reading in bed recently, so there is still hope!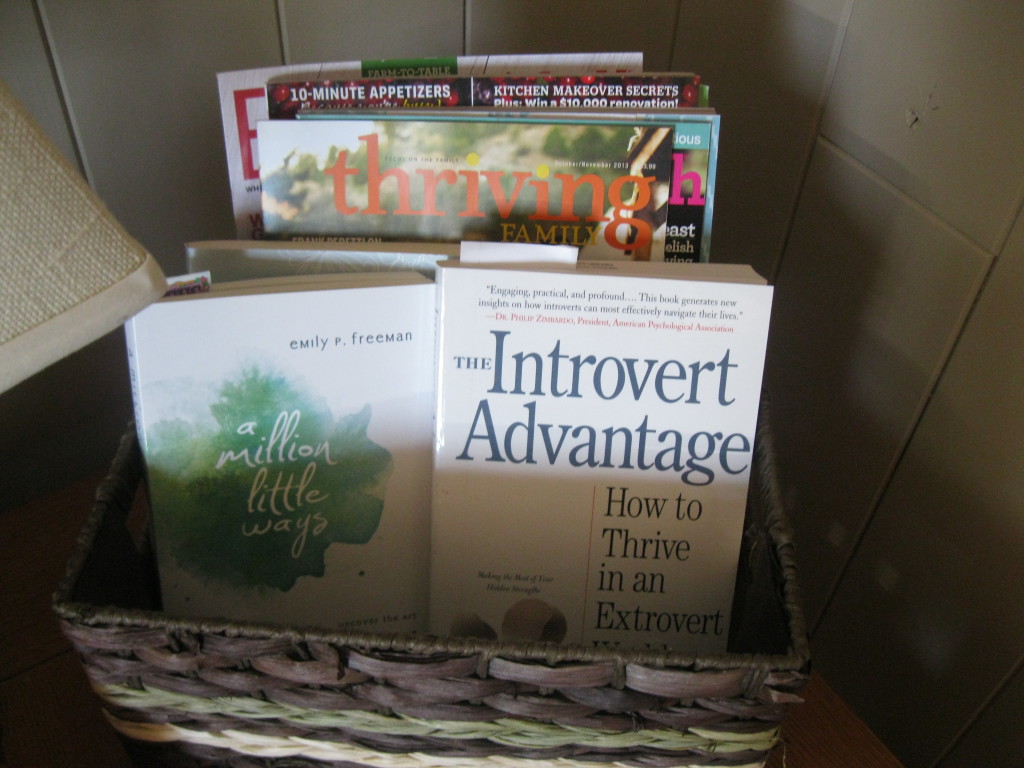 While not a part of my bookshelf, I keep a book basket in the living room with the books that I am currently reading. Loving Million Little Ways
and The Introvert Advantage
.
My kids also have a ton of books too. I keep several book baskets around the house so they always have a good book around. Here is a look at our Thanksgiving bool basket. My son's favorites are 'Twas the Night Before Thanksgiving

and A Plump And Perky Turkey
.
So there you have it, a look at my bookshelves. Hope you enjoyed this little tour. So what's on your bookshelf?
Plant God's Word Deep in Your Heart!
Download your free Scripture Graces Quick Start Guide to Writing Through the Bible today!

Join the community of over 8,000 women who are learning how to prioritize their home life while nurturing a thriving faith with a little bit of encouragement delivered weekly to your inbox -- plus get this FREE workbook!