Ultimate Harvest Chili with Cheesy Quesadillas
Remember to enter to win a signed copy of Courtney Joseph's book Women Living Well. Give away ends Wednesday, October 2nd at 11:59 PM CST.
Fall is officially here and I couldn't be more thrilled.
I.Love.Fall.
It is by far my absolute favorite season. I love that the weather starts to get cooler, but not too cold. I love the smell of fall, the air just smells differently. I love the colors of fall. Seriously the list could go on and one, but one of the best things about fall is that it is soup and chili season again!
I have long been a fan of foods that I get to eat from a big bowl or mug and that make me feel warm and cozy. Chili is especially comforting on these cooler fall days. I also love how no two people make chili the same way. There are literally thousands of chili recipes out there.
Well I am about to add one more, my family's favorite tried and true Ultimate Harvest Chili with Cheesy Quesadillas. It is so good!
Ultimate Harvest Chili
Author:
Prep time:
Cook time:
Total time:
Ingredients
1 lb ground turkey (you could also use ground beef, or no meat if you prefer
4- 8 oz or 1- 29 oz can of unsalted tomato sauce
2- 14.5 or 1- 29 oz can of diced tomatoes
1 large onion
2-3 bell peppers (I like to use red and green)
3 Tbsp taco or chili seasoning
2- 14.5 oz cans of red kidney beans (or 4 cups of cooked beans, you can also use a mix of your favorite beans)
1 cup pumpkin puree
1/4 tsp cayenne pepper (more if you like your chili spicier)
2 tsp oregano
1 Tbsp chili powder (more if you want it spicy)
3 Tbsp cumin
salt and pepper to taste
Favorite chili toppings- shredded cheddar cheese, green onions, corn chips, sour cream
Instructions
Dice up your peppers and onion.
Heat a large skillet over high heat with a little oil. Saute the meat, onion, and peppers until the meat is no longer cooked. Transfer to a large stock pot.
Pour the remaining ingredients over the meat mixture and bring to a boil. Lower the heat to medium-low, cover and let simmer for at least 1 hour. The longer you simmer, the better.
To cook in the slow cooker, brown meat and vegetables as above. Place all ingredients in a slow cooker and cook on low for 6 to 8 hours.
This chili is super easy to make and I make sure to stock up on tomato sauce and diced tomatoes when they are on sale, especially during soup season. I also usually cook my own beans in a slow cooker and then freeze them in serving size portions, I just haven't had a chance to cook up a large batch just yet. And my grocery store had a great deal on canned beans last week, $0.38 a can! That's a stock up price for me! Just drain and rinse the canned beans  really well before you place them in the stock pot. I should also add that since I have two little ones, I go really light on the cayenne pepper and chili powder. It's still delicious, just not as spicy but feel free to make this as spicy as your family enjoys.

What to know what makes this chili extra special, and feel even more like fall? Pureed pumpkin! I always keep some in my pantry or refrigerator come fall, hello pumpkin bread! Plus there are some amazing health benefits for eating pumpkin.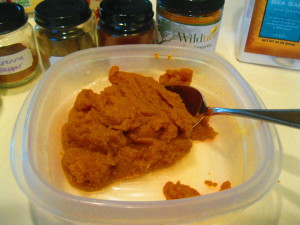 To make the chili, just brown the ground turkey with the peppers (I usually use a combination of colors, but the picking were slim at the grocery store this week), and the onion over medium-high heat. Then place the meat mixture along with the remaining ingredients into a large stock pot and bring to a boil. Turn the heat down and let simmer for at least an hour, the longer the better. You can also easily adapt this for a slow cooker, just brown the meat as you would then place all the ingredients into a slow cooker and cook on low for 6-8 hours.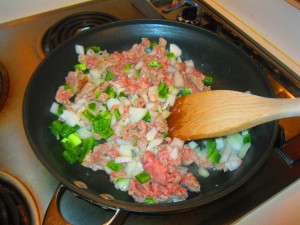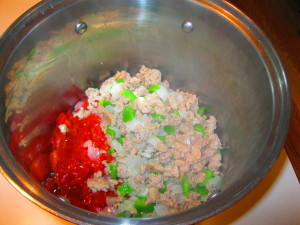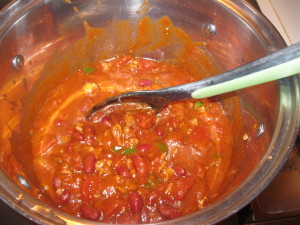 **A time saving tip– I sometimes with cook up 3-4 pounds of the meat mixture and then place in large gallon size freezer bags. That way I have some chili starter kits in the freezer ready to go on busy mornings. Just place the frozen meat mixture in the slow cooker with all the remaining ingredients and let it cook all day for a wonderfully delicious meal. Because who has time to brown meat after breakfast?
I know many people also have an opinion on what to serve with chili. Ever since I was a child, I have always eaten my chili with some cheese quesadillas. They are perfect for dipping into the chili, as well as peeling back the cheesy fold and placing the chili inside with the melted cheese (my personal favorite). 🙂
Place any favorite variety of shredded cheese on half a flour tortilla and then fold over. I usually buy a pack of 10 tortillas, and we ( a family of four- two adults, 1 toddler, and 1 pre-toddler) eat most of them, and they're not to bad re-heated with the left over chili the next day.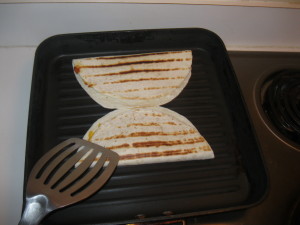 Heat each side on a grill pan over medium heat until the cheese is melted and there are grill marks. Then I find it easier to cut them in half with a pizza slicer and place on a plate covered with foil to keep them warm until I cook all the quesadillas. On my grill pan I can only cook about 2 at a time.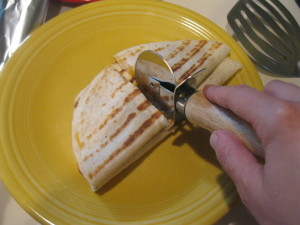 Now it's time to enjoy the chili and stay warm on a cool, crisp fall night. Plus this chili freezes really well too. I always try and have a single serving ready to go in the freezer for a quick and easy lunch. As a fun random fact, growing up it became a tradition for my mom to cook a big pot of chili on Halloween before my brother and I went trick-or-treating. I have carried that tradition on by always planning on cooking chili on October 31, it's just ingrained in me I guess.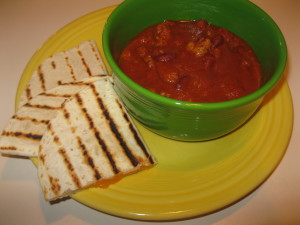 Enjoy!