Welcome to Creative Home Keeper
Welcome! I am so excited that you are here. This blog is the result of a dream made possible through prayer and a little (OK a lot of) hard work.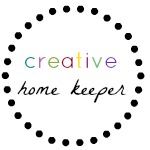 My name is Victoria, and I am a wife and a mother to two little ones. You can read more about me here.
Writing has been a passion of mine since I was a child. I loved to write stories and journal. However once college began and life started happening, my love for writing quickly took a back set as I studied to become a teacher. Less than a year after I graduated, I was not only in the first year of teaching 4th grade, I was also engaged to the man who would become my husband. Fast forward 6 years later, I'm no longer teaching but my days are filled with running my home, loving my husband, and chasing after my little ones.
To say that my life is full and busy would be an understatement! But I love my life and I wouldn't change anything, well except for finally making time to rediscover my passion for writing.
Creative Home Keeper is a platform for me to share my thoughts, dreams, inspirations, and ideas that I have for making my home more of a peaceful place. I desire to fully embrace the role that God has designed for me as wife, mother, and keeper of the home.
Creative Home Keepers Mission Statement:
Creative Home Keeper aspires to provide Christ-centered inspiring tips, and encouragement for simple and intentional living at home and in life.
You can read my personal mission statement here and my statement of belief here. 
I do not have it all together, in fact most days I am trying to get through the day. These writings are mainly a conviction to myself, what I am striving to do better.
I do not want to mainly just survive as a wife, mother, and keeper of the home,
I want to thrive!
I hope that I may provide a little bit of encouragement to you, and maybe even an idea or two as well!