Welcome back! Today we are going to simplify your beauty routine. To read all the posts in this series, click here.
When you wake up in the morning, what are the first things you do? I mean after those first (few?) cups of coffee of course.
Usually we go through a daily morning routine of several tasks that help up to better prepare for our day. One of the steps we take is to get dressed. For some that involves a shower, others just a quick glance in the mirror, whatever the routine there usually involves some sort of personal primping.
Our personal beauty routines are as different as our personalities. Everyone has a different way of going through the process of dressing ourselves. Some take quiet a while, where as others only take a few minutes to get dressed for the day.
On mornings where I actually get the time to spend primping myself, I do take a bit of time. However since kids have come into the mix, and I rarely ever get to take a long shower anymore, I have learned how to quickly adapt my beauty routine into a few simple steps.
Here are a few things that I do that have really helped me to simply my time in the bathroom each morning: (Note a there are a few affiliate links below, you can read my disclosure policy here)
I don't shampoo my hair every day. I have curly hair so it does require some a lot of extra effort. I tried the no-poo hair routine for a while, but just didn't like the way my hair looked or felt. I also follow some of the curly girl hair care routine (this is a great explanation of it). I probably shampoo my hair about twice a week, and the other days I either just use conditioner or don't even get my hair wet (those are days when I wear my hair up).
I only wash my face at night using the oil cleaning method. In the morning, I just wet my face in the shower, and put on my moisturizer afterwards.
I lather up on body oil as soon as soon as I step out of the shower. A little keeps my skin soft and moisturized all day long.
I use multi-purpose products as much as possible. I don't buy shaving cream, rather I lather myself up with soap and then shave. I use lanolin (yep, the nipple cream!) for chapped lipped, cracked skin, hangnails, and of course for those sore nipples thanks to nursing. (T.M.I? :))
I air dry my hair most days. Unless it's a morning where I have to get out of the door in a hurry, then I just let my hair air dry, even in the winter. As part of the curly hair care routine, I use a cotton cloth to really scrunch my hair and get as much water out of it as possible. I also clip my hair at the roots while drying too.
I wear minimal makeup. Just enough to help me look fresh and feel pretty, but not enough to actually look like I'm wearing it. The exception are of course date nights, and other nicer functions, but even then I don't wear a whole lot. My usual day to day routine is a moisturizer with a little powder (I love Everyday Minerals), soft brownish/purple eye shadow, mascara on my upper lashes, and a tinted lip gloss. That's it. If I'm going out, I might add blush to my cheeks and little more eye makeup.
There are tons and tons of tips out there on the web of different ideas and strategies on how to minimize your beauty routine, and what products are the best to use for multiple purposes. Here are a few two of my favorites:
So you might be wondering what all of this has to do with creating a wardrobe you actually love. I don't view getting dressed and my beauty routine as two separate things, I view them as apart of each other.
When I get dressed in the morning, I also am taking a shower, doing my hair, taking care of my skin, and putting on a little bit of make up. I believe all of this goes together to help me feel and look great every day.
Think about it, the days where you don't take a shower, or don't do much in terms of your personal beauty routine, do you feel great? Do you feel put together? Do you usually get a lot done on those days?
The answer for me to those questions are no. Now there is a time and a place for having those "lounge" days. Snow, sick, weekends, and personal days are all great days to stay in your PJs or yoga pants with your hair in a messy bun, but those should be the exception.
I should also add a side note here, I'm not saying that you have to take a shower, or put on make up to look and feel great. What I am saying is that when we usually put some effort into our personal care, we usually feel better about ourselves, and I think that directly correlates with having a wardrobe we actually love.
Today's assignment:
Think through your daily beauty routine. Are there areas where you could simplify, or eliminate all together? Is there something you need to add?
Go through your bathroom drawers and cabinets where you keep your supplies. Pull everything out, wipe out the drawers or shelves, and discard empty bottles and containers. Make note of any products that you are running low on.
Sort through your make up and throw away any products that you haven't worn in a long time. Also take the time to clean your make up brushes.
Organize all of your beauty care products in a way that makes sense to you and where you have easy access to them when you need them.

A Peak Into My Progress:
I actually do a pretty good job of sorting through my products on a fairly regular basis, but what I need to do better at is to clean my make up brushes. I don't even remember when the last time was that I did that.
I keep a wire basket under the sink where I keep my lotion, contact solution, and hair gels. My facial creams, toothpaste and brush, as well as odds and ends is in one drawer, and my make up and hair accessories are in another. I'll admit that it is hard to keep my products organized currently because anytime I am in the bathroom I usually have two little adorable visitors hanging around who love to pull things out of the drawers. Getting ready in the morning with these two takes twice as long! (Any other moms agree with that sentiment?)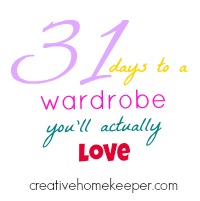 Tomorrow we are going to be spending some time talking about how to organize our closets now that they are all cleaned out. I'll see you then!
Does creating a Christ-Centered home feel overwhelming?
It doesn't have to be!
Join our community and get the encouragement & guidance you need to find real joy & purpose in your homemaking today! To get started, you'll also get my FREE guide: 10 Easy Ways to Create a Christ-Centered Home!
Plus, when you join the Creative Home Keeper community you will join over 5,000 other women (just like YOU) who are becoming equipped to create a Christ-centered home and are transforming their hearts towards homemaking once and for all!
*By joining the Creative Home Keeper community, you agree to our Privacy Policy.