DIY Leave-In Conditioner Spray
I have had curly hair for my entire life. Prior to motherhood, it was actually much curlier but thanks to the hormonal changes of pregnancies, the curl has actually changed. They aren't as tight anymore and some days my hair looks more wavy then curly. 
If you are a fellow curly hair girl than I I am sure you have your own battle stories of trying to tame, de-frizz, style and come to love and embrace your curls.
Fellow curly girls unit!
When I was younger I wanted nothing more than to have straight and shiny hair and I spent a lot of time damaging blow drying my hair out. As I grew older and my time was limited to spend on my hair, I have come to a place of acceptance that I will always have curly hair and some days it will cooperate and look great… while other days it simply will not.
A few years ago I checked out Curly Girl: The Handbook and it actually changed the way I view and take care of my hair.
I stopped shampooing my hair everyday, even though I had a pretty oily scalp, and instead started to use conditioner only. I do shampoo my hair about once a week with a gentle, natural shampoo
but on a daily basis when I actually get my hair wet I usually only lather in conditioner to clean my scalp and then finger comb in some conditioner to let sit on my hair while I shave and wash my body.
Guess what? I don't have a oily scalp anymore! I can go up to a week without shampooing my hair without it appearing oily. My scalp is healthy and my curls are less frizzy and more defined not to mention healthier because they aren't being stripped of natural oils each day.
Since making the switch I usually only have to buy one bottle of shampoo about every 6 months while I do go through a bottle conditioner every month.
Not only do I use conditioner in the shower to wash my hair with but I also like to use a leave-in conditioner spray to spray in my wet hair to help finger comb through to remove all the tangles and to help style it for the day. Most conditioner sprays are usually more expensive than the actual conditioner itself so it's not really a frugal option until I discovered that I could make if for myself for pennies!
Making your own conditioner spray is not only frugal but it's also super easy too and it only requires two ingredients, well actually three if you count water!
DIY Leave-In Conditioner Spray
2-3 TBSP conditioner
clean empty spray bottle (I actually re-use an old leave-in spray bottle )
warm water
If you are re-using a bottle that contained a styling product, make sure you clean the bottle really well to remove any residue.
Pour the conditioner down in the bottom of the bottle and fill the rest with warm water. Put the lid back on and shake well.
Spray on wet or damp hair, concentrating on the ends, and either use a wide-tooth comb or your fingers to comb through your hair. Style and dry as you wish.
That's it! Easy peasy!

This lasts forever and only costs a few pennies to make. The only thing you have to do is to shake the bottle well before using to re-incorporate the conditioner and water back together.
Since the ends of my hair usually get more dried and frayed I usually focus on spraying the bottom half of my hair. I also only use a wide tooth comb
to part my hair, I stopped using it to brush through my wet hair and now only use my fingers to do that. It's much more gentler and helps break up tangles without breaking your hair.
I also us this to spray on my daughter's hair since it's starting curl up at the ends and because she is also getting many tangles too. I spray a little on her wet hair after she gets out of the bath and use a smaller comb to easily brush through her hair to remove tangles. It works so well she doesn't fuss or complain that I'm hurting her anymore.
You can use any brand of conditioner that you have on hand or buy. I personally use Suave Naturals Conditioner
(not because it's necessarily natural… it isn't) but because it's so cheap (especially stacked with a coupon and sale) and it's a conditioner that I can get at any store anywhere.
Convenience and price are a factor for me. I spend my money on more expensive natural beauty products that get directly applied to my skin like facial care, lotions and make-up.
I haven't bought a leave-in conditioner spray from the store in a few year because this DIY version works so well! Making some of your own beauty and hair products is easy and can save you a lot of money over time.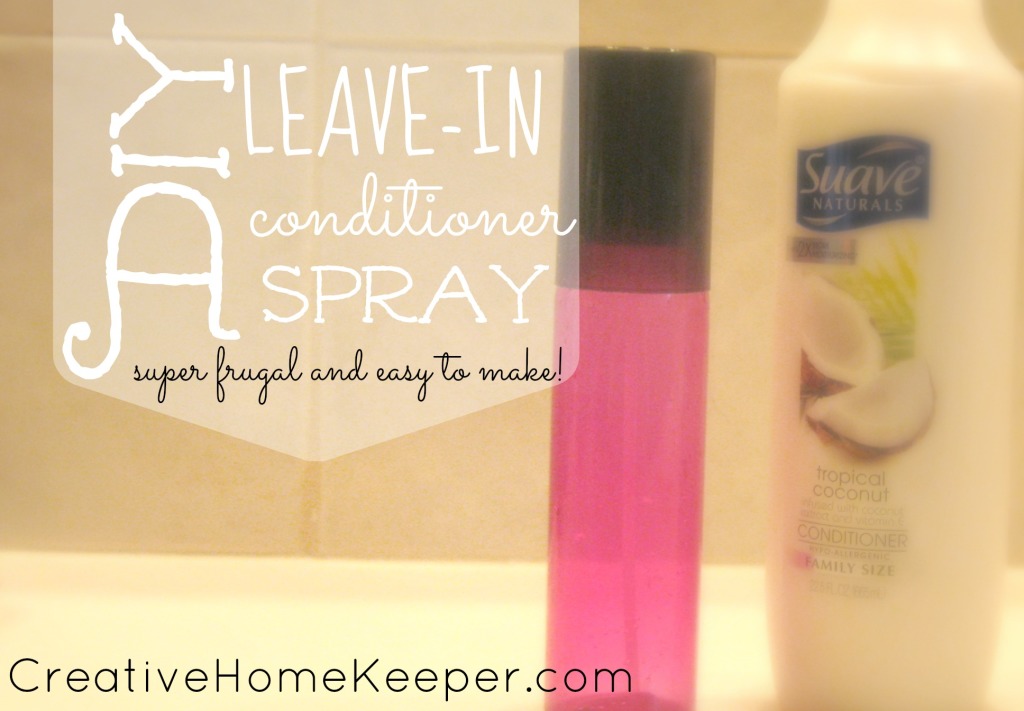 What are some your favorite homemade beauty products that you like to make and use to save money and/or that are a safer/more natural alternatives to conventional products?