As we head into fall and the days become super busy, it's always a good thing to have the freezer loaded with some pre-made meals, or meal starters, to make dinner time prep quick and easy. When I became a mom, my freezer became my best friend!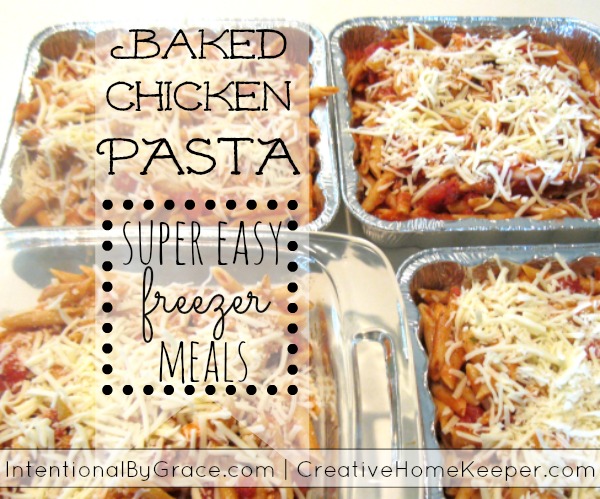 I'm a big fan of cooking once and eating several meals, which means that I like to double the recipe and freeze into separate portions that I can place in the freezer to use anytime during the next few months. Having meals ready to go in the freezer is not only a time-saver but it's also good for those nights when your original meal plan just doesn't work anymore or when you need to take a meal to a new mama or a family in need.
Usually during the summer we eat a lot meals heavy on fresh farmer's market veggies, but once fall hits and the weather starts to get cooler, I like to pull out the hearty- comfort food meals which also make perfect meals for the freezer!
Today I wanted to share with you one of the easiest freezer meals that I make to stock the freezer with – Baked Chicken Pasta. It's super quick to whip together, freezes beautifully and is a crowd pleaser, plus it's a pretty frugal meal too!
I'm sharing the recipe, plus complete step-by-step directions over on Intentional By Grace. Be sure to head on over to check out the recipe. And if you like what you see, I'd love for you Pin and share! 🙂
Does creating a Christ-Centered home feel overwhelming?
It doesn't have to be!
Join our community and get the encouragement & guidance you need to find real joy & purpose in your homemaking today! To get started, you'll also get my FREE guide: 10 Easy Ways to Create a Christ-Centered Home!
Plus, when you join the Creative Home Keeper community you will join over 5,000 other women (just like YOU) who are becoming equipped to create a Christ-centered home and are transforming their hearts towards homemaking once and for all!
*By joining the Creative Home Keeper community, you agree to our Privacy Policy.