On Nursing for the Very Last Time
Motherhood is full of changing seasons. Realizing you are nursing for the very last time is both bittersweet and a reminder of the ever moving seasons of a mother's heart.
It hit me like a ton of bricks, the reminder was both unwelcomed and a sign of growth.
It has been over a week since I last nursed Jack.
He is growing up so fast right before our eyes, which is what he is supposed to do but at the same time, I long to keep him in this baby stage,
He is a our third and final baby so with each milestone he reaches, I know it will be the last time we, as a family, will get to experience those firsts.
He is now 16 months but he eats like a 16-year-old boy… except for meat, oh and vegetables too! 😉 He is the cuddliest baby of them all and he definitely loves his mama.
He is all boy, all the time. Constantly on the move, getting into anything and everything, including things he shouldn't.
He has given me little panic attacks more than the others with his adventurous spirit all the while telling me, "No one puts baby in a corner!"
He has makes my heart explode and split into a million little pieces.
I was cherishing these nursing days because I knew they would be our last but I wasn't ready for the day where he just refused, same thing the next day and the day after that, until finally we have hit the day on the calendar where I can't remember the last time he nursed.
Was it last Monday or Tuesday? 
I'm not sure but all I do know is that it is over and I will never nurse another baby again. 
There is a bit of grieving that is going on here.
Motherhood is equal parts pure bliss and excruciating pain.
These little ones need us, rely on us, cry out for us, until one day they don't.
I became a mother almost 6 years ago when I saw the first pink sign. I had a very easy pregnancy, except for the nausea those first weeks, but felt great after that. I watched in amazement as my belly grew, along with my ankles and other areas which remain nameless! 😉
Unlike first time deliveries, Silas was born quick and easy with a natural, unmedicated delivery. And just like that, I had a baby.
While I have been a Christian for most of my life, it was the the first time I held my son that I knew without a shadow of a doubt that God was real and He is good.
This little miracle didn't just come to be, he was formed in my womb.
For you formed my inward parts; you knitted me together in my mother's womb. I praise you, for I am fearfully and wonderfully made. Wonderful are your works; my soul knows it very well. My frame was not hidden from you when I was being made in secret, intricately woven in the depths of the earth. Your eyes saw my unformed substance; in your book were written, every one of them, the days that were formed for me, when as yet there was none of them. ~ Psalm 139: 13-16
Mesmerized with this blessing, I became aware just how hard nursing was. It didn't come natural to either one of us and I almost gave up, but we finally hit our stride and everything clicked.
I was still nursing him when I became pregnant with Amelia. Since I was more more nauseous this time around, I intentionally weaned him around 13 months and then before I knew it, I had two little ones only 18 months apart.
Amelia took to nursing like a champ. We had a much easier beginning together. I was more relaxed and I enjoyed the experience more. We nursed longer this time around, hitting the 15 month mark when she finally weaned herself.
I was sad but had hope another baby would nurse from me again. 
Then six months later, while I still grieving the loss of my father, the stick turned pink once again. I would become a mother for the third time.
My third pregnancy was my hardest (and my longest). The nausea was never ending, I was tired being both pregnant and chasing after two little ones.
Everything in my body hurt, I gained a lot of weight and unlike the other two who joined us at 37 weeks to the date, he stayed in there for almost the full 40 weeks.
His delivery was also the fastest and easiest, born just 30 minutes after arriving at the hospital, but we stayed in the NICU for seven long days while his blood sugars regulated.
At 7 pounds, he was the giant of the NICU!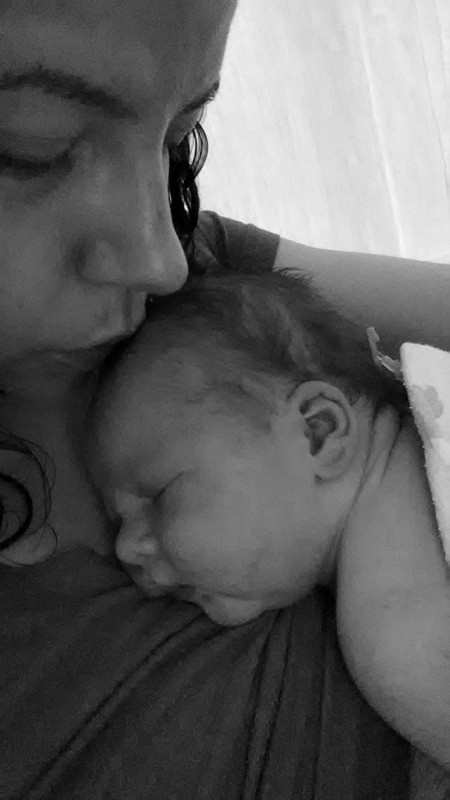 Despite those challenging early days in the hospital, he nursed frequently and diligently. I knew this time around would be my last so I did my best to cherish those sleepless nights and long days.
I was tired (still am) but my heart was so full of joy.
Here I am now with a 5, 3, and 1 year old (16 months to be exact). They have grown up so quickly right before my eyes. My oldest starts Kindergarten in a few months (somebody please hold me!) and my youngest has weaned himself from me.
I've nursed 3 babies past the one year mark, with two weaning themselves. This last one hurts the most though.
He is still very much a Mommy's boy, always wanting me to hold and cuddle him but he is making his way out into the word.
Motherhood has changed me in some very profound ways. I am more grounded, more assured and more aware of God's presence than I have ever been before. My heart is literally overflowing with emotions. Sometimes I look at my kids and I just can't even take it so I burst out into tears.
Motherhood isn't always easy though, matched with the same frequency of joyful tears are also tears of frustration and being completly overwhelmed. Why do they always need me? If someone says Mama one more time…
But here I am sitting down looking at the calendar and trying to remember the exact date last week when Jack weaned himself.
Why can't I remember?
My memory fails me again, thanks to motherhood.
These children have changed me.
Even when I am so overwhelmed with motherhood, I'm not. 
Even though it is exciting to see my oldest two become more and more independent and helpful around the house, it's another reminder of the changing seasons of motherhood.
I'm sad I'm not nursing anymore, not because I loved every minute about it (I didn't) but because I knew I was still safe in the baby season.
But now I'm not. That door is slowly closing and we are venturing into the next stage.
I hear Jack stirring from his nap, so I put my calendar down and ask God to please help me remember the exact day he stopped nursing. I walk to his room and open the door.
There is Jack smiling at me from inside his crib, jumping up and down with pure joy and holding his arms up for me to pick him up. I gently remove him from the crib and we steal a few moments of cuddle time before joining the other two for what I know will be the crazy "witching hours" while we wait for daddy to come home.
He then does my new favorite thing… place his head on my chest, resting underneath my chin, and pats his hand on my chest, as if to tell me heart, "It's OK Mama, I'm still your baby boy."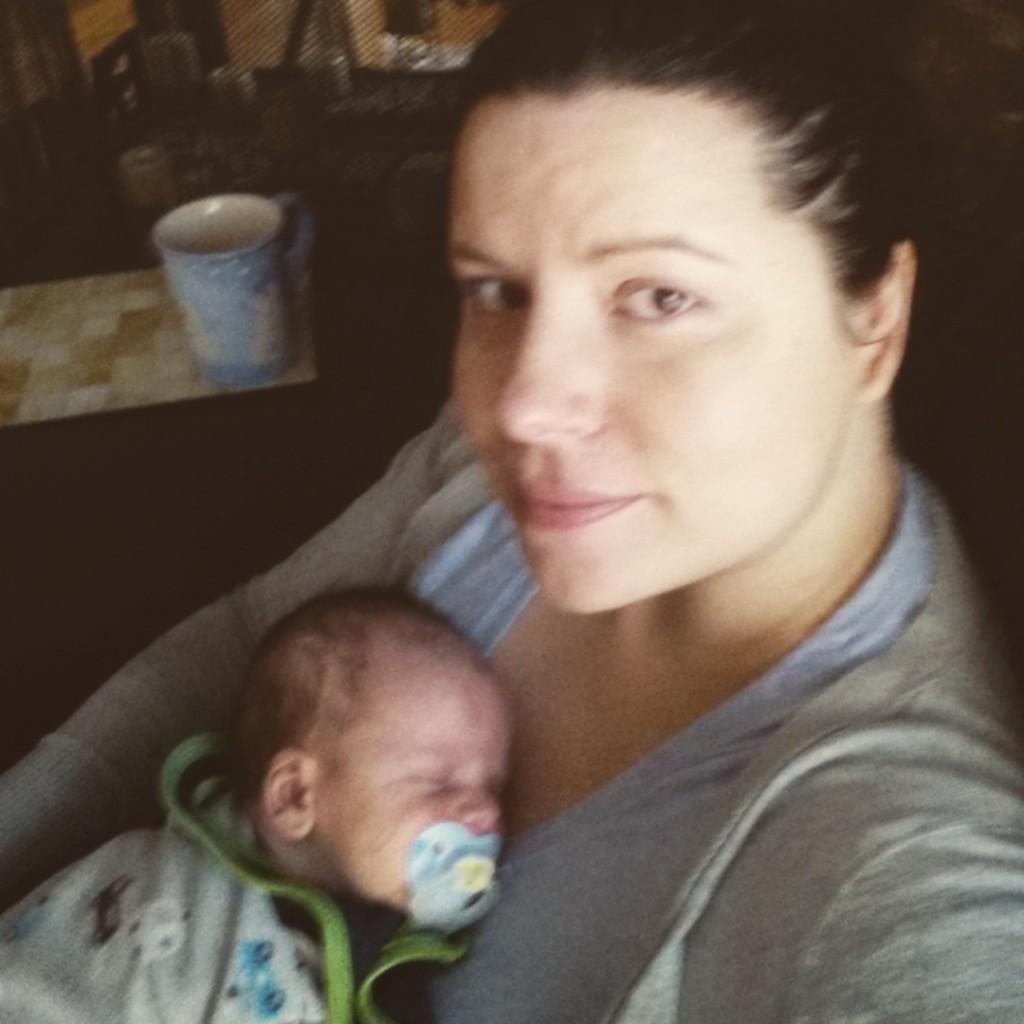 And then my heart comes undone again, as a new season of motherhood begins to unfold.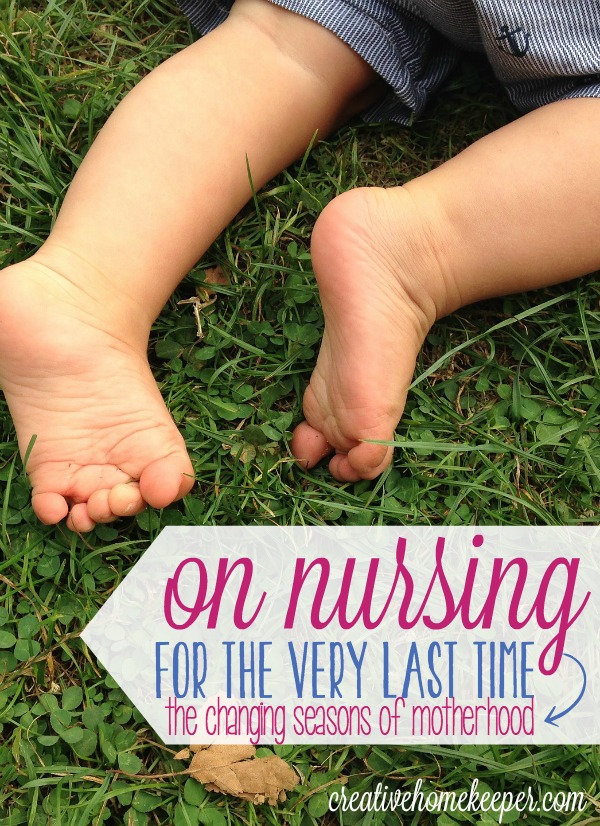 I wrote this as a reflection of my own journey of motherhood and nursing my babies. This in no way diminishes your own story of how you feed your babies. Bottle feed or breastfeed, we are all mothers doing the very best for our children.