Turkey and Spinach Enchiladas
Enchiladas are a big part of my family. Every Christmas growing up my mom would spend a whole day rolling traditional chorizo and potato enchiladas for Christmas dinner. They are delicious, but they were time consuming! Not to mention that chorizo is not my favorite type of sausage and people would give us strange looks when we told them potatoes where in their enchiladas!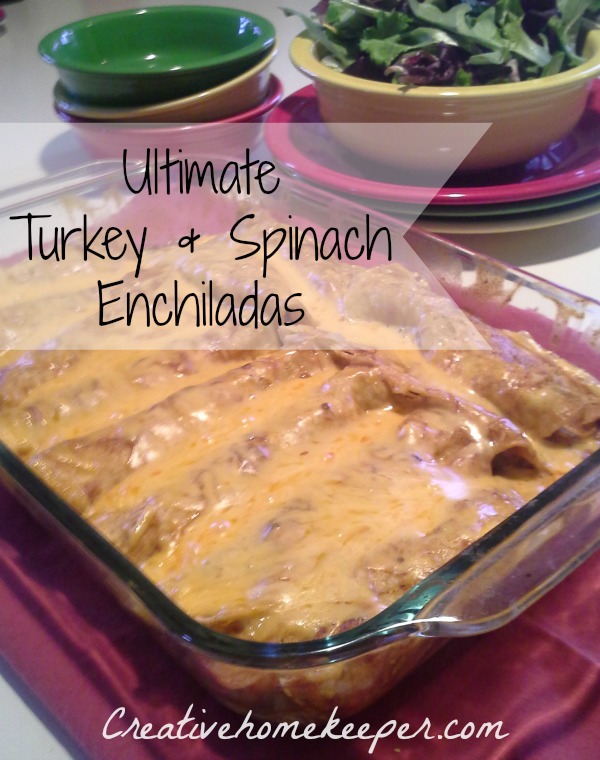 I love enchiladas and my Christmas memories, but I was looking for a more versatile and healthier version. These turkey and spinach enchiladas fit the bill. Lean ground turkey is a much more healthy ground meat then chorizo, but I'm not going to try and convince you that these are "skinny" enchiladas. After all what makes them ultimate is the creamy sour cream and cheese! 🙂
Today I'm sharing our family's favorite enchilada recipe. I hope you enjoy them as much as our family does!
Turkey and Spinach Enchiladas
Author:
Prep time:
Cook time:
Total time:
Ingredients
1 pound ground turkey
1 onion, diced
4 cups chopped spinach leaves
1 4.5 oz can of chopped green chiles
1/2 tsp cumin
1/2 tsp garlic powder
1/4 tsp pepper
1/4 tsp salt
1/2 cup sour cream
2 cups of shredded Colby Jack cheese
1 10 oz can of mild enchilada sauce
1 package of corn tortillas
Instructions
In a large plastic bowl with a lid, layer the corn tortillas on top of one another with a large spoonful of enchilada sauce in between each. Pour the remaining enchilada sauce in the bowl and place the lid on tightly. Shake to coat each tortilla and set the bowl aside.
Heat the oven to 350 degrees. Spray a large glass baking dish with cooking spray.
Heat a large skillet over medium-high heat and cook the turkey and the oven until the turkey is no longer pink.
Stir in spinach, green chiles, cumin, garlic powder, pepper and salt. Stir frequently until the spinach is cooked.
Remove skillet from heat and stir in sour cream and 1/2 cup of the cheese.
To assemble the enchiladas place a spoonful of the turkey, spinach and cheese mixture on the corn tortilla and roll up. Place in the baking dish seal side down. Pour the remaining enchilada sauce over the enchiladas and sprinkle with the remaining cheese.
Spray a sheet of foil with cooking spray and cover the baking dish. Bake the dish of enchiladas for 40 minutes until heated through and the cheese is melted and bubbly.
Notes
These enchiladas freeze well too. To freeze, place uncooked enchiladas in a foil baking pan and wrap securely in foil. To prevent freezer burn, I also like to place the foil pan into a large gallon sized zip-lock bag.
Enjoy!