20 Money Saving Grocery Shopping Tips
Last week I shared with you some of my best meal planning tips, so today to go along with that I have 20 money saving grocery shopping tips that will not only save you money but also time as well.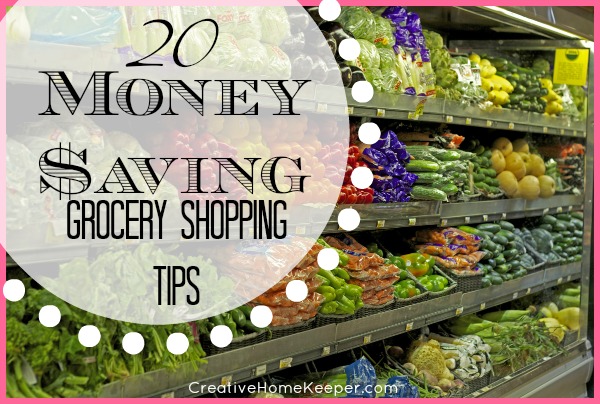 Meal planning and grocery shopping just go hand in hand when it comes to planning and cooking delicious, healthy budget friendly meals that your whole family will enjoy. With a little planning you can save money on groceries!
1. Make a master shopping list after you meal plan
You already have the cookbooks open so why not go ahead and write down your shopping list of ingredients too? It will save so much time later on plus having a master shopping list will help you make your store to store grocery list too.
2. Organize your grocery list by store aisles
Thinking about the layout of your grocery store, create a grocery list that is similar so that way when you walk into the store, you know exactly where to go. For example I place all of my produce items first on my list, followed by canned and packaged goods. Then I write out my meat, dairy and refrigerated items. This list matches the different areas in my store so I'm not wasting time by back tracking.
3.  Price match
Thanks in large part to Wal-Mart, most stores now price match (check with your store's customer service for details and restrictions). Instead of going store to store to score the best deals, simply bring the current store circulars with you to check out and as long as you have the same product (brand and size), they will match the price. Easy peasy!
4. Create a price book
It's good to know the prices of the items you buy often. When you know your prices, you know when you are getting a food deal and when to use coupons. It takes a little bit of work up front and sometimes you might have to visit a few stores to make sure you are shopping at the best place, but once you have a price book in place it's so much easier to save money.
5. Know your grocery stores
Knowing what grocery stores you have to shop at is one thing but knowing which stores save you the most time and money is another thing. There are several grocery stores in my area that offer good deals but I choose to shop at one particular store because it's convenient, is clean, carries a large variety of organic and conventional food, and offers great sales and discounts. It's also next door to Aldi's, which is another discount grocery store that I adore. Both are withing five minutes of my house and both save me money.
6. Don't shop hungry
When you're hungry you are more inclined to impulse shop which means your spending more money. Eat a snack before you go but try not to go shopping right before.
7. Try to shop the same time and day each week
Creating a routine and schedule for shopping will save you time. For example I go shopping every Thursday afternoon. Because I have a set time I know when I need to meal plan and get my shopping list together.
8. Thursdays through Saturdays are the best days to shop according to sales
When you know when the major sales are taking place you are able to save the most money. Typically Thursday through Sunday are the best days for sales, but it should be noted that if you want to avoid the weekend rush, try to shop early.
9. Use the store's weekly ad
Whether it comes in the mail or you download it online, the weekly add is great tool to use. Not only do they highlight the sales for the week but often times they include exclusive in-store coupons and other deals.
10. Use the store's mobile app and loyalty card to your advantage
If your store has an app and/or loyality card that you are not using, you are missing out! Loyality cards let you load coupons (so you don't have to carry paper) and helps you earn rewards. For example my store's loyality card earns me money off gas at a nearby gas station. It might not seem worth it to only save a few cents here or there but those few cents add up!! If you shop at Target then you should most defiently be using the Cartwheel app, which can also be stacked with Target coupons AND manufactorers coupons too! Check to see if your store has an app or a loyality card and sign up today!
11. Use coupons if they work for you
Coupons historically are for foods that are not the most healthy but there are some good ones out there for healthy, organic food if you look. Currently most of my coupon usage is for home goods and personal toiletries. There are lots of coupon how-to's out there but for me personally, I only clip a coupon if it is for something that I normally use. If it doesn't expire for a while then I try to wait and stack it with a sale for even more savings.
12. Create a stockpile
Using sales and coupons can help you create a stockpile of pantry and freezer staples so that you always have them on hand when you need them. I tend to stock pile items that store well like pasta, beans, canned goods, paper products and rice.
13. You don't necessarily need to buy the full promotion to get the deal
Many times stores will out on specials like 10 for $10 or Buy One Get One Free. The secret is you don't necessarily need to buy all the items to get the full discount, just be sure to check the terms of the sale. For example, many times my store will have boxes of pasta 10 for $10 but that really just means they are on sale for $1. Or if an item is BYGO free that usually means if you just buy one of the items, it should ring up for 50% off. Again, read the terms of the sale.
14. Shop alone if at all possible
Oh how I love my husband and children but sometimes they can add things to the cart you weren't planning on. My husband is the worst culprit of this! If you can swing it, shop alone.
15. Know your budget, shop with a calculator
Going into the store without fully knowing what your grocery budget is a big mistake. Knowing what your budget is but not sticking to it is an even bigger mistake! Sit down and plan your meals with your budget in mind. Then go to the grocery store knowing just how much you have to spend. It's good practice to shop with a calculator to help keep you on track.
16. Compare size vs. price
Sometimes something can seem like a good deal but once you compare the size with the price, it turns out to not be such a great deal after all. This takes a little work to get familiar with (this is why having a price book is super helpful!) but once you get the hang of it you'll be less likely to fall for sales that seem too good to be true.
17. Check the dates
Here's a dirty little secret, sometimes stores put items on sale when they are close to their expiration date. They want to move the item so they aren't out the money, so always check the date. Most of the time you will be fine but if you were hoping to stockpile with the sale item, it would be a waste of money to create a stash of items that are near expiration.
18. Bring your own bags
Some stores will give you a discount when you bring your own canvas bags. I know that at Target you can save $0.05 per bag! It might not seem like much but that can add up over time, plus you are doing something good for the environment by not creating more waste.
19. Check your receipt
Getting charged for an extra item or a sale not ringing up correctly happens more than you think. Sometimes you get home, see the mistake but the work to go back to the store is too much. That's why it's good practice to just take a few seconds and scan your receipt before you leave. If you notice a mistake it's easy to go to customer service when you are right there.
20. Shop seasonal and/or local produce
The best savings are when you are buying produce that is in season. Not only is it cheaper but it also tastes so much better too! Also don't forget to check out your farmer's market to. You are getting food that is at it's peak, is fresh and most likely isn't the product of a factory farm.
What are some of your best grocery shopping saving tips?