20 of the BEST Meal Planning Tips
New to meal planning or want to get back into a better routine, today I have 20 of the best meal planning tips to help you become a pro in your kitchen.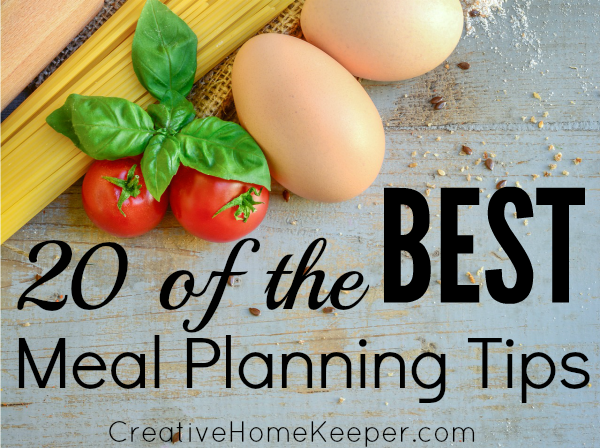 1. Use a seasonal template
Create a two-week rotation based on the seasons, like this one. I like to assign themes so that I can rotate in our family favorite seasonal meals.
2. Create a list of family favorites
Having a list of 10-20 meals that you know your family loves is such a time saver! You can easily pull a favorite meal, or two, and plug it into your week's meal plan for easy planning. Plus you know you won't be getting any complaints!
3. Leave one or two nights blank each week
It never fails… someone gets sick, an unexpected event occurs, you have a fridge full of leftovers… by allowing a little room for flexibility you won't waste food. And if you do need to plan a meal on a night you weren't planning, it also allows you to be creative, or take an impromptu date night! 😉
4. Simplify meal planning during busy seasons
There are some weeks or months where the calendar is crazy or maybe your family is going through a move or traumatic event that is causing upheaval. Keeping meals simple during this time will not only save you time but it will also save your sanity too!
5. Shop your freezer or pantry before meal planning
Before you sit down to make a plan it's good to know what you already have and what needs to be used up soon. Take note of potential ingredients or ready-made freezer meals that are nearing their expiration date. Do the same with your pantry staples. Do you have opened boxes of pasta? Half bags of rice? Plan your meals around those items before purchasing anything new.
6. Use your calendar/know your schedule
I do not meal plan without first referencing my planner for events or activities we have going on that week. There is no point in spending the time planning for meals on nights you already have plans. It's also important to keep the meal simple or use the crock pot on busy days. A quick glance of the calendar will help you plan.
7. Create a recipe binder to store your go-to favorite recipes
Have a lot of print outs or magazine clipping recipes? Create a binder or index to organize those so you know what you have and can easily find your favorite. You can also toss out recipes that were duds or you know you will probably never make.
8. Know your budget
If you are living on a rice and beans budget then it's probably not going to be a good idea to plan a steak dinner every week. Knowing how much you have to spend on food each week will help you plan meals that won't break the bank.
9. Understand your culinary expertise 
I'm all for experimenting in the kitchen, how else would we ever learn to cook otherwise? But knowing your limits and skills when adding new recipes into the rotation will save you on busy nights. Don't plan for elaborate recipes when you will be tired, frazzled and worn down at the end of the day. Save those for weekends when you have more time. I always plan my new recipes to be prepared on Saturday nights when I have more time and energy.
10. Don't forget the other meals
Will you menu plan for breakfast, lunch, and snacks? I personally don't plan for those at this stage since we pretty much eat the same foods but some like having a detailed plan for all meals during the day. It's also good to have a basic plan so that you can create your grocery list around those meals.
11. Set aside time each week or month to freezer cook to stock your freezer
There is nothing better than having a well-stocked freezer, especially on nights when things don't go according to plan. Freezer cooking doesn't have to be elaborate or time-consuming, you can start small. Sometimes it's just as simple as doubling what you are already cooking so you can eat one dish and freeze the other.
12. Ask for your family's input
Remember that family favorite list from tip #2? You didn't just come up with that list on your own. Ask each family member to list out one or two favorite meals and rotate them in so that way everyone gets a chance to each their favorite meal regularly.
13. Use other's meal plans for inspiration and to save time
When I have no inspiration I always do a quick Pinterest search of meal plans. Sometimes just looking at someone else's plan will give you instant ideas or new recipes to try.
14. Save old meal plans
Just like scrolling through Pinterest can give you inspiration, so can your own past menus. Hang on to some, especially if you plan a month at a time. I kept an old 2014 calendar that I used to meal plan last year, in my recipe binder. If I'm stuck I can flip it open to last year's month and see what we were eating for some quick ideas.
15. Cook once eat twice
Make plans to double, or even triple, a recipe when you are cooking so you can eat one and freeze the other. This is especially helpful for meals that have a lot of steps like fajitas, enchiladas or pasta bakes.
16. Have a backup plan for when things don't go according to plan
There will always be a night every once in a while where things don't quite work out the way you thought. Perhaps the meal burned or overcooked, sometimes it doesn't cook fast enough or then there was that time the dog jumped up and helped himself.
Once I created a dud of a recipe that we just had to toss it before eating it. Keep a few staples on hand that you can whip up a fast meal in no time. I always try to have a box of pasta and jar of sauce in the pantry for this very reason!
17. Use meal planning eBooks
There are so many great meal planning resources out there in the form of eBooks. What makes it so great is that someone has already done the work, researched the different methods and laid it out in an easy to follow the plan.
18. Use a meal planning website
I haven't used an online service for meal planning but I know some people who swear by it. Basically, you create a calendar online, add in meals that can be moved around and stored, create shopping lists and even have access to a database of recipes. These can really save your time and money.
19.  Try Backwards Meal Planning
Some people are really gifted at this method and create amazing meals. Basically, you shop first, scoring all the great deals that are on sale at your store that week then you come home a create a meal plan around those ingredients.
20. Use ListPlanIt
Create freezer and pantry inventories, grocery lists, family favorites meals lists, meal planning templates and basically any lists and organizers you can think of to make your planning and time in the kitchen as useful as possible.
What are your best meal planning tips?