4 Things to Include When Setting Up Your New Planner
One of my favorite days of the year is the day that I set up my new planner for the new year.
Yes, I'm a nerd but I'm also a HUGE planner addict. I love sitting down and flipping through the blank planner pages that I had carefully thought through before purchasing.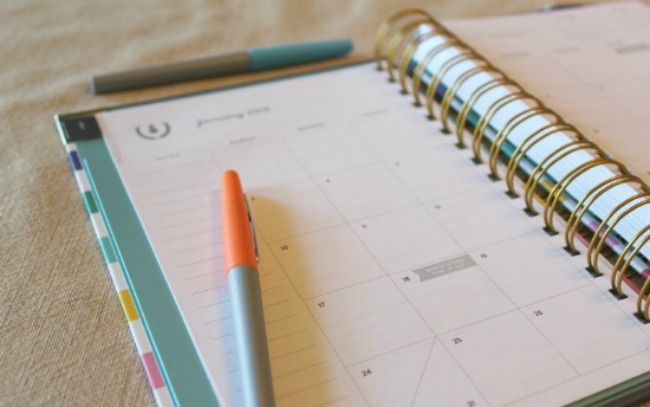 I love how all the blank pages represent a fresh new start, a new year and new possibilities of things to come.
I also spend some time choosing the right calendar to use.
There are so many fun and useful planners out there, from free (that you print yourself) to expensive, everyone can find the right planner system to fit their personal needs.
Once you choose and select your planner, though, you need to spend some time setting up your planner for the New Year.
After all, unless you make the planner work for you, it won't do you any good at staying organized and on top of things.
Every December, I set aside some time to sit down with my current planner, along with my new planner and with some fun tools (see below), to get ready for the new year.
A little intentional planning can really help set you up for success going into a new year.
Sure, things will always come up that were unplanned but the dates, events and other important information you place in your planner now will help reduce your stress when the unexpected does come up.
So are you ready to set up your new planner? I am! Let's get started…
4 Things to Include When Setting Up Your New Planner
Supplies Needed
Some of these things are optional, like the fun pens and stickers (although I personally think they make the whole process much more fun!) But the two non-negotiables are obviously your current calendar and the new one, plus at least one pen.
Current Planner
Fun, colorful pens (these are my favorites
)
Colorful stickers
or Washi tape
Ribbon (this is a super easy tutorial) or another bookmark
So now that you have all your fun supplies gathered, let's get down to business and start adding the useful information that will be helpful all year!
---
To Color Code or Not… That Is the Question
Some people like to color code the information they write in their planners to match a certain theme, for example, all the kid's events in one color, your events in another, home-keeping tasks in another.
I don't personally do that because I never know if I'll have the correct color pen on hand when I need to write something down and if I wait then I will ultimately forget. So I just use whatever colors I have.
If color-coding is your thing, then go for it. If you think it will stress you out too much, then don't worry about it. Remember you want to use the system that will work for you! 
If you do love to color code, these are great color coordinating stickers.
---
Step 1: Add All the Important Dates
To start, write the dates of all the previous year's doctor, dentist, eye exams or other health/important appointments down that you will need to schedule in the new year.
Sometimes when you have a yearly or bi-yearly doctor appointment they tell you to just call and schedule since they don't schedule that far out.
But if you are like me then you can easily forget when you last had an eye exam or physical.
To make it easier on myself I always write a small note of when my last appointment was and when I should schedule my next appointment at least a month in advance.

For example, I had my last eye exam this past September which means I will need to schedule another one for late September or early October of the next year. To help me remember, I write a small note in August so I have plenty of time to schedule and get a time that best works for me.
Don't just do this for yourself either. If you manage your kid's or spouse's appointments, write those date reminders down as well.
Next, write down any appointments you already have scheduled. If you already have appointments scheduled then obviously you want to transfer those to your new calendar.
Don't forget the school calendar!
If your child is enrolled in daycare, preschool, elementary, or high school you probably have some sort of calendar the school sends home periodically with important dates.
I always scan the list and write down the dates the specifically apply to us, including holidays, no-school days, tuition due dates, enrollment dates and the last day of school.
Finally add in birthdays, anniversaries, weddings or other special days. This is when I refer to the perpetual calendar that I keep in my home management binder.
One of my personal goals is to get into a habit of sending cards on special days to family and friends. If I have those dates included in my calendar, then I can easily scan the calendar at the beginning of the month and know who I need to send a card too.
This is also where you can add fun, pretty and colorful stickers or Washi tape to serve as visual reminders of special dates.
If your calendar is filled primarily with writing then it can be easy to overlook a birthday or anniversary, but if you have a bright sticker or color jumping out at you, it's harder to ignore.
Step Two: Seasonal Planning
Add notes to plan for seasonal activities, events, and projects. It always seems like the holidays sneak up on us but the truth is they are pretty much the same time each year (except for Easter, that day just can't seem to decide if it needs to be March or April causing all sorts of havoc!)
In November, with the help of my Your Intentional Holiday Planning Toolkit,  I include notes about gathering my Advent books and resources for our Advent calendar so I'm not scrambling the weekend before December 1st to gather and wrap everything I need.
Using your calendar to remind yourself to plan for special days and seasonal activities can help you be intentional with the time you spend with your family creating memories and traditions. 
I also like to schedule in monthly field trip activities with my kids.
There are certain activities that happen in our city every year around the same date so I can write little notes a few weeks in advance to help me remember to research the exact date and time the event will take place.
Or perhaps I purchased a Groupon to the children's museum, I always write down the date it expires at the beginning of the month so that I make sure we use it and don't let it go to waste.
Don't forget your spouse too!
Try really hard to schedule in some date nights once or twice a month if your budget allows. Sometimes it hard to nail down specific dates but if you include a note at the beginning of the month then it will be a good reminder to plan a date once the time rolls around.
Step Three: Home Keeping Tasks
I like to include in my planner some home-keeping tasks that need to be completed throughout the year. While I do have a monthly and annual cleaning checklist, sometimes if certain chores are not glaring right in front of me, they don't get done.
Think through any chores you hire someone else to come in once or twice a year to complete such as an exterminator, electrician, carpenter or another service to help keep the interior and/or exterior of your home in working order.
For example in May, and again in September, we always schedule the HVAC tune-up before we switch to the air conditioner for the summer or the heater for the winter.
Schedule in de-cluttering or home improvement projects or goals too.
Most people like to spend January and February doing a major purging of their home but if you just write down "PURGE HOUSE" on your calendar that will probably overwhelm you before you even begin.
Instead, you could write down one de-cluttering task a week, like "CLEAN HALL CLOSET" one week or "SORT THROUGH ALL UPPER KITCHEN CABINETS" another week.
When you break it up into weekly tasks, you are much more likely to actually complete those projects.
If you and your spouse are planning any home improvement projects this next year, it's also a good idea to write down some goals and tasks that need to be completed before the actual project begins.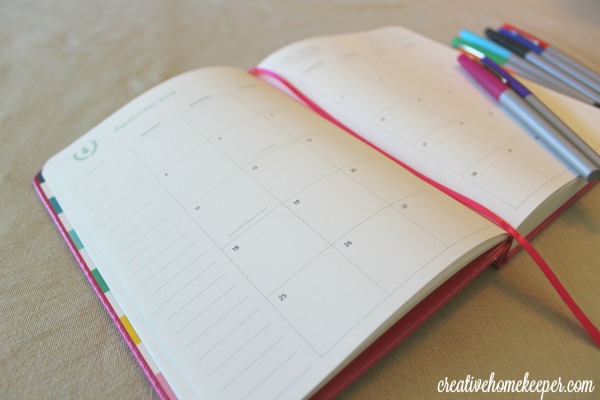 For example, two summers ago we had the outside of our house painted. We spent February and March researching and interviewing potential companies and getting bids. Once we chose the company and scheduled for a June paint job, we spent April and May testing paint samples and choosing the colors we wanted.
Most home improvement projects require some planning and you don't want to wait until the last minute to try and schedule the job to be completed as well as making design choices.
That's why I like to use the calendar to plan out in advance the steps that need to be taken to complete the job and get the best product for our investment.
Step Four: Personal Goals
The last thing I like to write down in my calendar are dates for when I would like to accomplish personal goals.
If you already have your yearly goals planned out, write some completion dates down.
Why go through all the work of thinking through and writing down goals if you don't actually hold yourself accountable to complete them?
There is grace, just because you write down a date you would like for it to be completed, doesn't mean that you have to break your neck and burn yourself out to complete it.
With that being said, do try to hold yourself accountable to try and complete them. Don't just move them around because you procrastinated.
Write down mini-tasks to help remind you what you are working towards and when you want to have it completed by.
Taking some time to sit down and including some of these things in your new planner for the upcoming year can really help set yourself up for success.
Being intentional with how you live also includes being intention with your personal planning too.
---
The beginning of the year welcomes a fresh start & these can't miss tips to include when setting up your new planner for the year are a must! Taking time to do some intentional planning now will pay off all year long!
What are some dates or events that you're like to include when setting up your new planner? 
PIN THIS!
Want more resources to aid your intentional planning?
Goal Setting
Want to set goals that actually matter and create a realistic action plan to help you actually accomplish them? Powersheets is the resource you need! A complete, grace-filled goal planning system that works!
The Simplified Planner
The Emily Ley Simplified Planner is my personal favorite because it's simple, versatile and helps me plan out my days with intention and purpose.
The CHK Seasonal Meal Planner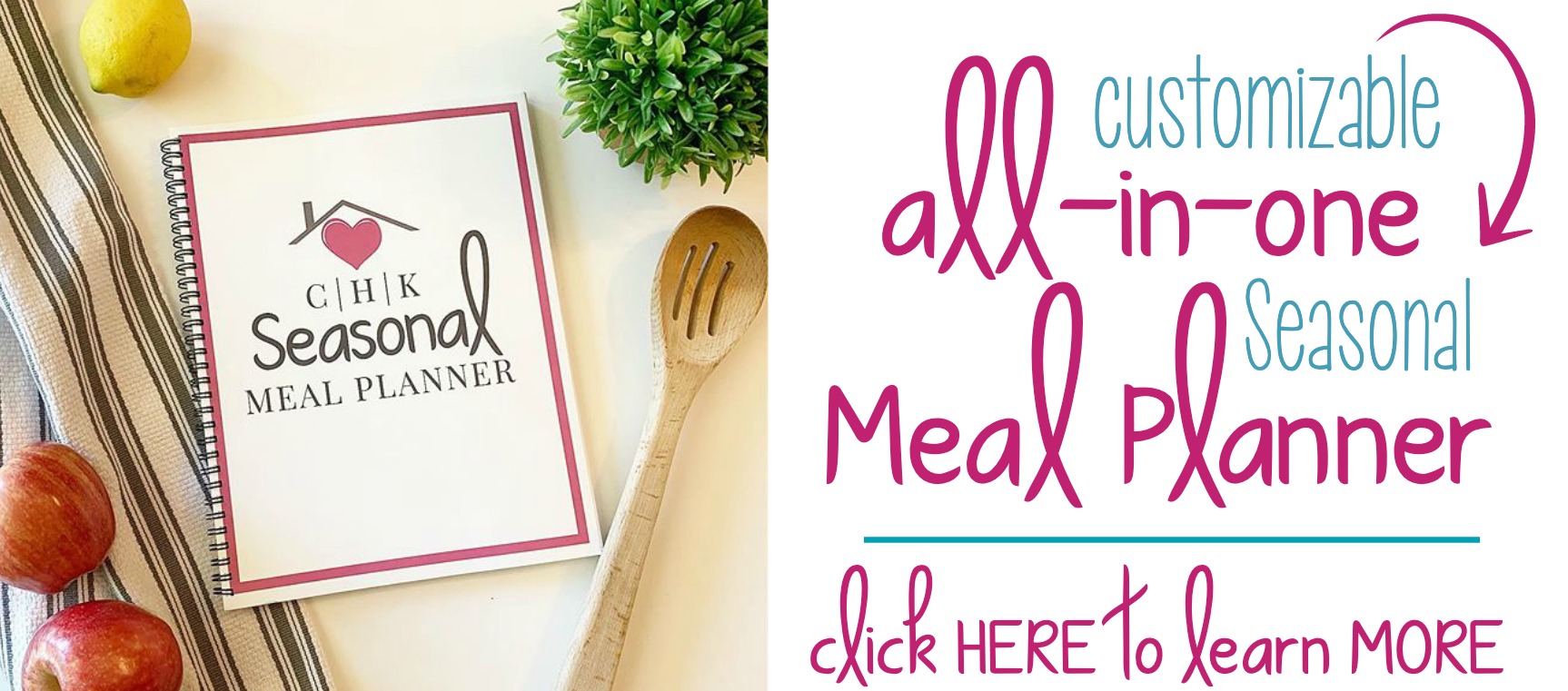 Ready to be more intentional and organized when it comes to meal planning? The CHK Seasonal Meal Planner is an all-in-one customizable seasonal meal planner to help plan meals while focusing on your family's traditions!