Need help keeping up with the monthly chores? This monthly cleaning checklist will help you stay organized and on top of all those cleaning tasks that don't need to be done weekly but do need to be done on a regular basis.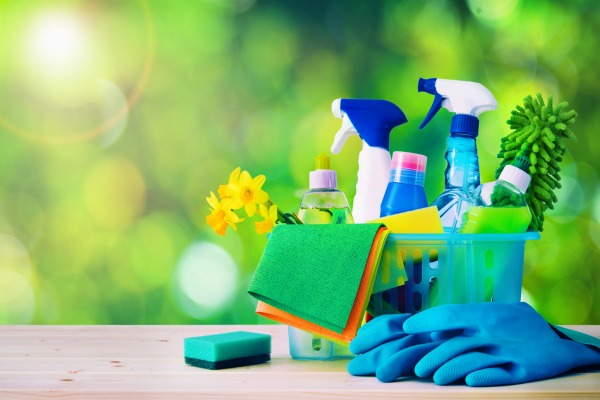 We've been reviewing our routines and I've been sharing with you the system that has currently been working for me. To review my routines you can head here.
Today we are going to discuss those dreaded monthly chores.
The big ones.
The chores that don't need to get done every week but do need some attention.
Depending on the size of your home or how much traffic an area gets, some of these chores might not need to be done every month but maybe every other month.
To be perfectly honest (and to let you know that I, in fact, do not have it together) 😜 when I was reviewing my list on monthly chores I was ashamed to discover that some OK a lot of them hadn't been done in a looong time, hence the amount of dust gathering on my ceiling fan blades. 🙂
I find that once I review my routine and put something in place that seems manageable, I'm really good at completing the daily tasks, moderately good at completing the weekly tasks but fail when it comes to those monthly chores.
I think a lot of it has to do with not really keeping an organized list of the chores that should be done on a monthly basis.
So that's where we are going to start… we are going to create a list.
To start you will need your weekly cleaning checklist and a notepad.
Walk through each room of your home and note any additional chores that need to be done that weren't on your weekly list.
Some of these could also be chores that only need to be done once or twice a year, that's OK, write those down too because we are going to talk about those chores here.
Monthly Cleaning Checklist
After I walked through my home, this is the list that I came up with.
Some of these chores will apply to you as well and some will be irrelevant. Use this as a starting point for you as you create your monthly cleaning checklist
Dust all blinds
Vacuum under furniture & sofa cushions– couches, beds, dressers or other furniture that is too heavy to move
Dust baseboards – honestly I stink at this because once you start you realize just how many baseboards you have and suddenly your house seems huge! I try to focus on one room's baseboards a month that way at least all the room's baseboards get dusted and wiped down at least twice a year.
Dust ceiling fans and light fixtures– while you have the dust extender out also get those cobwebs that gather in the corners or hang from the popcorn ceiling (why oh why where popcorn ceilings ever an appropriate building standard?)
Wipe down the outside of all kitchen/bathroom cabinets
Wash out trashcans– I usually just spray some disinfectant cleaner in them and wipe them down unless something leaked and there is a nasty mess. This also includes the bigger trashcans in our garage that we put out weekly for neighborhood trash day.
Clean hampers– A lot of dust, dirt, crumbs and other yucky things accumulate in those hampers over time.
Update freezer and pantry inventories- This is also a good time to clean out any foods that are freezer burnt.
Meal plan for the month- You can read all about my meal planning routine here.
Vacuum basement– Our basement is half-finished and it is where the kid's playroom is located.
Organize all closets (master bedroom, hall, linen, etc.) Need some inspiration to tackle your own wardrobe? Check out this post.
Clean inside of washing machine and dryer– I usually run a mixture of vinegar and baking soda through the washing machine to remove any unpleasant smells and I use a rag to gather up all the lent and hair that collects in the grooves.
Organize playroom & art supplies– The kid's play area always gets out of control, even with the kids picking up after they play. Every month we set aside about 30 minutes to purge and organize.
Clean dishwasher– We clean out the drain and the area where food particles collect. We also run a vinegar rinse.
Remember those are the chores that I came up when walking through my home. Your monthly tasks might look different from mine but perhaps there are several that overlap.

Along with the monthly cleaning checklist that I created to go along with my chores I also created a blank document where you could write down the chores that match your monthly house cleaning.
It's also editable which means that once you download it to your computer, you can type in your specific tasks and print off!
Both monthly cleaning checklist printables are housed in our exclusive Creative Home Keeper Resource Library that is available for our email subscribers. To gain access, enter your email list below.
I keep mine in my home management binder and every month I check off the task that I completed. You could also keep it in a clear plastic page protector and use a dry erase marker too.

What other chores do you try to complete on a monthly basis?